Flawed in its execution or not, Malacañang had come out locked and loaded when it ordered Cebu Governor Gwendolyn Garcia suspended for alleged "grave abuse of authority" on the 19th December 2012. Yet ten days later, what could've been a clean strike has turned into a quagmire.
What's the big delay anyway? If the government of President Benigno Simeon "BS" Aquino III had really been serious about carrying out the suspension order to its conclusion, then either the police or the army should have stormed the Cebu Capitol and thrown a blatantly defiant Garcia in jail days ago. The swiftness with which the order was issued and Vice (now "Acting") Governor Agnes Magpale installed in Garcia's place does not seem to match any resolve on Malacañang's part to finish the job. Is this another national exhibition of that renowned half-arsed ningas-cogon character of Da Pinoy?
If BS Aquino was truly serious about taking control of Cebu, he should have gone the whole nine yards within 24 hours of issuing the order. It is the same sort of limpdickedness in execution that resulted in the deaths of nine Hong Kong tourists in the hands of madman Rolando Mendoza back in 2010 owing to uncoordinated management of the crisis and less-than-surgical use of state armed forces. It is interesting to note that both in the Mendoza hostage tragedy and the current loss of control over the situation in Cebu unfolding as of this writing, it is the Department of Interior and Local Government (DILG) that is copping the big FAIL rating here.
SUPPORT INDEPENDENT SOCIAL COMMENTARY!
Subscribe to our Substack community GRP Insider to receive by email our in-depth free weekly newsletter. Opt into a paid subscription and you'll get premium insider briefs and insights from us daily.
Subscribe to our Substack newsletter, GRP Insider!
Learn more
Even at any attempt to be Machiavellian, Pinoys seem to suck.
Aquino's ten-day flinch had become Garcia's Ace of Spades evident today as what seems to be the beginnings of another "people power" rally reminiscent of the ocho-ocho rally craze of the mid- to late-2000s is crystallising in Cebu City.
At first, a thin crowd of urban poor residents from Cebu City gathered for Mass presided by Fr. Dennis Boltron, with participants saying it was a Rizal Day activity until the priest announced in his homily that he hoped the impasse in the Capitol would be resolved.

Then more supporters appeared, and a larger group marched to the Capitol with placards, including one with a caricature of of Acting Governor Agnes Magpale grabbing the island of Cebu with the words "Gusto Ko Mopuli." (I want to take over)

Gwen vowed to face adversity "for the sake of Cebuanos" as she invoked the blessing of the Sto. Niño and St. Pedro Calungsod.

"Magkahi-usa kita mga Sugbo-anon sa lalaiwagan og sa dakbayan. Magkahiusa kita ning atong tinguha nga ang kamatuoran ug hustisya ibalik dinhis sa Sugbo," she said.

(Cebuanos of the province and city, let us unite to bring back truth and justice.)
Hilarious in it irony, isn't it?
As usual, Catholic icons are at the centre of this latest of Pinoy street emo fests. Wasn't BS Aquino supposed to have been the original Prayerful One? Seems like Filipinos of different partisan colours pray to different gods under the same religion. Too bad for President BS Aquino. He is now on top of the Catholic Taliban's List of People to Excommunicate owing to his lobbying for and signing into law of the Philippines' landmark Republic Act 10354 which legalises implementation of effective population control measures in the Philippines for the first time. So Aquino will certainly not be counting on the country's powerful men-in-robes for support this time. Who's he gonna pray to now? Seems like Garcia and her Cebu mob have gotten first crack at playing the Prayer Card on this round.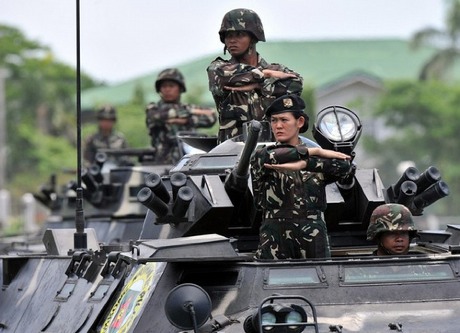 [Photo courtesy Flickriver.com.]
President BS Aquino seems to have forgotten one thing though. He's the President — the Commander in Chief of the Armed Forces of the Philippines and the boss of the Secretary of the DILG which commands the country's police forces. If there is anything to be learned from the current imbroglio he is already facing with China over the Spratlys and the Scarborough Shoal it is that guns get things done quickly.
Does Noynoy have the balls to see this thing through to where it should have gone to many days ago?
As always:
Abangan ang susunod na kabanata.
benign0 is the Webmaster of GetRealPhilippines.com.