As bodies recovered in the aftermath of the devastation wrought by Typhoon Pablo (Bopha) in pile up in makeshift morgues all over Mindanao, the casualty statistics begin to approach the levels hit by Typhoon Ondoy's flood waters which engulfed Metro Manila in 2009. However, the level of importance the Philippines' seat of culture and governance seem to be placing on the plight of their southern colonies seems to be not up to scratch.
Even as the astounding scale of the tragedy unfolds, the National Disaster Risk Reduction and Management Council (NDRRMC) still found the gall to trumpet on ABS-CBN News how "more prepared" they were for the calamity…
"There was an improvement in the preparation of local government, national government and our own people. When we said evacuate, they did," said Ramos.

"It should have been triple the number of casualties if they did not heed our call," he added.

Ramos also lauded weather bureau PAGASA for their accurate forecast.

"PAGASA did a splendid job. Eight days before it made landfall, PAGASA already informed us," he said.

The NDRRMC's official death toll due to typhoon "Pablo" is at 95. "Sendong", which also hit Mindanao last year, left 1,268 people dead.

NDRRMC also said 61 people were injured due to strong winds and heavy rains brought by Pablo.
Just like in the old days when one could not rely on the local media to report the news, the foreign press becomes the go-to point when searching for the latest uncoloured information, such as this Sydney Morning Herald snapshot of the devastatioon in the Mindanao town of New Bataan in Compostela Valley…
The farming town of 45,000 people was a muddy wasteland of collapsed houses and coconut and banana trees felled by Bopha's ferocious winds.

Bodies of victims were laid on the ground for viewing by people searching for missing relatives. Some were badly mangled after being dragged by raging flood waters over rocks and other debris. A man sprayed insecticide on the remains to keep away swarms of flies.

A father wept when he found the body of his child after lifting a plastic cover. A mother went away in tears, unable to find her missing children. "I have three children," she said repeatedly, flashing three fingers before a TV cameraman.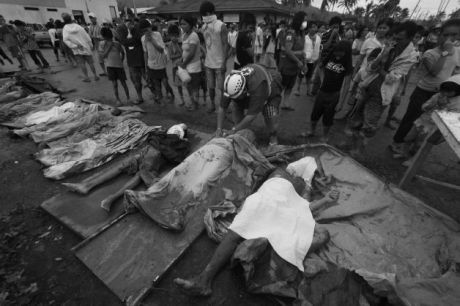 [Photo courtesy CTPost.com.]
President Benigno Simeon "BS" Aquino III was reportedly not impressed. In a statement issued yesterday he emphasised that "every casualty is a cause of distress and that he wants to strive for better performance on the part of government to avoid casualties." He also called on a moratorium on "disaster politics" and urged local government officials to do the right thing:
In his speech before the League of Municipalities General Assembly held in Manila Hotel, Aquino asked local politicians not to use disasters as opportunities to promote themselves and urged them to ensure that the people's needs are met.
Note, however, that the President and his entourage of senatorial bets for the 2013 elections had been severely criticised a few months back for mounting what looked to be a premature campaign in the aftermath of devastation wrought by heavy monsoon rains back in August.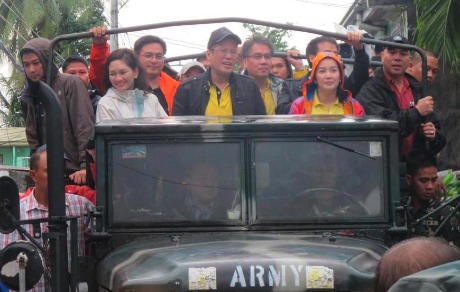 As columnist Tyrone Velez observed in a Sun Star opinion piece…
But more than disaster preparedness and response, the telling sign on this tragedy is how human-made activities aggravate the disasters. In one TV footage of the floods, tons of cut logs coming from Compostela Valley and Davao del Norte found their way to the rivers in Agusan del Sur. This shows that logging activities are rampant in this side of Mindanao.

In reports last year, logging activities are found to be part of the activities of large-scale mining in Mindanao, this as part of its clearing operations for its exploration and operations. In the two regions hit by Pablo, Compostela Valley and Caraga, eight major mining projects by the government are underway either at exploration or starting to explore.
Indeed, the lessons abound but the learning remains stunted. Considering that the same small handful of feudal clans (including that of the current president) have ruled the Philippine archipelago for more than a century it is likely that the learning challenge is more around a lack of will than a lack of resources.
benign0 is the Webmaster of GetRealPhilippines.com.