The death toll in the Philippines has skyrocketed as Typhoon Pablo (international code name "Bopha") ravages the Philippine island of Mindanao and makes its way through the Visayas. Most tragic is the town of New Bataan in Compostela Valley province where 66 people have been confirmed dead and 230 people remain missing after a mudslide buried a school and village hall that were being used as evacuation centres. The details were reportedly chillingly familiar, "rainwater had gushed down from nearby slopes, creating a deadly swirl of rainwater, logs and rocks that crushed everything in its path."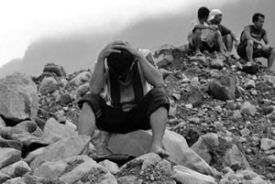 Loss of life at that scale in Mindanao may not make headline news in the Philippine party capital of Metro Manila, but to international observers, such preventable disasters are regarded as heartwrenching tragedies. It is a country where not much learning is embedded despite the vast sameness of most circumstances surrounding loss of Filipino life to "natural" calamities.
Back in 2006, a landslide struck and buried Barangay Guinsaugon in the municipality of St. Bernard in Leyte killing close to 2,000 people. This disaster followed a record 571.2mm of rainfall over five days — three months worth of average rainfall for that region. Fifteen years before that in the city of Ormoc in the same province, 5,000 souls perished in flashflooding and landslides also following heavy rainfall.
SUPPORT INDEPENDENT SOCIAL COMMENTARY!
Subscribe to our Substack community GRP Insider to receive by email our in-depth free weekly newsletter. Opt into a paid subscription and you'll get premium insider briefs and insights from us daily.
Subscribe to our Substack newsletter, GRP Insider!
Learn more
Even more astounding, these tragedies in Leyte province are only the tip of the iceberg. Recent Philippine history is marked by catastrophic loss of life due to flash flooding and mudslides all over the archipelago. Much of these are attributed to severely denuded mountain areas where lush forests once would have served to trap rain water and stabilise soil. Of the mostly mountainous islands of the Philippines, a New York Times report observes: "Thick tropical forest once covered their slopes, anchoring the soil and regulating the water cycle, which are important during the intense seasonal rains and typhoons." Furthermore…
Despite protected areas and environmental laws, the Philippines became one of the most severely deforested countries in the tropics. By the late 1980s, trees covered far less than 10 percent of many islands. The results were erosion, mudslides, flash floods and drought. The ecological decline helped impoverish the rural areas.
Indeed, the cash windfall reaped by Filipinos after decades of harvesting and exporting their forest resources is being paid in blood even today. Even more tragic, much of the earnings from the export of high-quality Philippine timber to the United States and Japan went to the pockets of a tiny elite cadre of feudal clans and probably squirreled out of the country into offshore bank accounts. That many of these clans continue to hold political and economic power in the country today means that the Philippines is actually governed by the descendants of these logging barons.
As Aussie journalist Jackie Dent wrote in a feature article on the 24th November 2012 edition of Good Weekend, the weekend magazine of major Australian broadsheet The Sydney Morning Herald…
It is normal in the former US and Spanish colony for families to control provinces for generations — the Laurel clan run Batangas, the Osmeñas control Cebu, the Lopez family manages Iloilo. The Aquinos — arch foes of the Marcoses — have run Tarlac for five generations and are currently the most powerful clan, with Benigno "Noynoy" Aquino III now president, a job held by his mother Corazon (or "Cory"), who succeeded Ferdinand Marcos in 1986. The animosity between the two families is akin to that of the Montagues and Capulets. Like a grand sporting game, Filipinos root either for a Marcos or an Aquino. Or hate them both.
It is difficult to not marvel at the closed circle of apathy, deceit, exploitation, and wretchedness that the Philippines is.
[Photo courtesy World Student Christian Federation.]
benign0 is the Webmaster of GetRealPhilippines.com.