The Reproductive Health Bill (RH Bill) was passed on Monday, December 17, in both houses of Congress here in the Philippines on the third and final reading. All it takes now for it to become an official law is for President Aquino to sign it and voila, we have the "Responsible Parenthood and Reproductive Health Act of 2012".
Filipinos were watching the progress of this bill closely. To many of us, it seemed like a "battle" between progressive thought and the seemingly unyielding forces of primitivism embodied in the Roman Catholic Church of the Philippines. The passage of this bill is considered a big step forward for the rights of women, progressive thought, etc.
Senator Miriam Santiago even went on record calling President Aquino a "hero" for finally putting an end to a more than 10 year old stalemate on the RH Bill.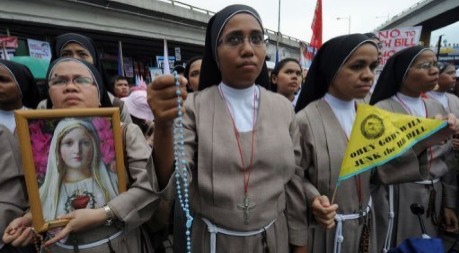 [Photo courtesy Yahoo! News.]
However, if you look beyond what appears on the surface you will also see that what was done to get this bill passed isn't as clean or clear-cut as it seems.
Did Congress allow itself to be influenced by the Palace again?
President Aquino certified the RH Bill as urgent after it cleared the second reading in Congress during the week of December 10. According to an RH bill co-author, what made the bill easier to pass is that some of the lawmakers decided to follow the wishes of President Aquino. The presence of Palace officials during the second reading certainly drew flak from the lawmakers who opposed the bill, and they considered it a case of the executive interfering/meddling with the legislature, a co-equal branch of government. President Aquino, of course, insisted that there was nothing wrong with it.
Is it just me, or does this look eerily familiar to the way 188 congressmen were herded into rushing the impeachment complaint against former Chief Justice Renato Corona last year? Related to that impeachment complaint is that Congressman Edcel Lagman was quoted as saying that the solons who refused to sign the complaint would have been deprived of their share of the priority development assistance fund (PDAF), better known as the pork barrel. In the case of the RH Bill, Antipolo Bishop Gabriel Reyes accused the Palace of dangling the pork barrel once again in order to get their way. Reyes claimed that he knew five (5) lawmakers who consistently voted against the RH Bill but changed their mind when faced with the prospect of losing their share, though he did not name who they were. Malacañang, unsurprisingly, denied the accusations.
The bottom line is, whether the accusations of pork barrel being dangled are true or not, Congress has shown once again that they are all too easily swayed by the executive. They are in effect abdicating their position as a co-equal branch of government, and have reduced themselves to being a rubber stamp of the sitting President. From what it looks like, if Malacañang hadn't "intervened", then this RH Bill would have languished in oblivion on the Lower House for who-knows-how-long. As Jojo Robles wrote, apparently we elected clowns who are most likely putting their own interests above the people whom they were elected to serve. Indeed, a little political will goes a long way here in the Philippines, and our politicians show that they don't really have it; they need to be motivated by dangling money in front of them (allegedly, of course).
Has the Roman Catholic Church become the next target for opposing Noynoy Aquino?
President Aquino, on the other hand, is now going to look like a saint to many Filipinos because of his "efforts" to get this bill passed. On one hand, you have the image of Noynoy as the champion of anti-poor progressive thought and the rights of women, and stuff like that. Strange, though; his mother Cory Aquino was a devout Catholic, and yet here he is defying the church as an institution and supporting a bill which they are unshakably against. On the other hand, you have the image of Noynoy Aquino the vindictive one. Here is a guy who is unyielding towards those he considers as enemies, or plain simply, those who are on the opposite side of whatever stance he takes. I bet if you ask people such as General Delfin Bangit (Ret.), Gloria Arroyo, and Renato Corona, they would tell you that Noynoy Aquino simply doesn't want to plunge a dagger into you, he wants to twist it too. Perhaps, Noynoy is simply telling the Catholic Bishops Conference of the Philippines (CBCP) and the other ministers of the Roman Catholic Church of the Philippines: I don't need you. Like other people or institutions who have found themselves on Aquino's opposition, he is simply putting them in their place. "You defy me, you get burned". The RH Bill looks like only the start of the RCC's "battles": a Divorce Bill is now in the works.
Somewhere along the road, I just have to say: it doesn't add up.
Did President Aquino really solve a "divisive issue"?
Ok, let's assume President Aquino is sincere in his wanting to resolve a "divisive issue" such as the RH Bill as soon as possible. I am highly inclined to disagree that putting your foot down and not allowing Congress to resolve the division on its own is the solution to the issue; it resolves the issue but not the divisiveness. Sure, Congress is such a lethargic body when it comes to passing big issue bills, but that's another matter entirely. Going back to President Aquino, he's got other divisive issues to resolve: his obsession with using the "laban" color yellow, for one. His "you're with me or against me" attitude and his hypersensitivity to criticism, for another, are two issues that are also clearly dividing the nation.
Considering the source, I am disinclined to believe the reason stated in this article as to why President Aquino supports the RH Bill:
Why does the President support the RH bill? In his speeches on the measure, he is fond of going back to a personal experience: meeting a teenage mother in Baseco compound in Manila.

"At 16 years old, she already has two children. How can she manage to feed the kids, or to send them to school, given that she and her husband don't have jobs?"

"Who is responsible for this? What pushed them into this situation? How did such heavy responsibilities end up on their shoulders?"

"And the most important question: What can I do about this?"
If I take this statement by itself, doesn't it seem like a non-sequitur? One of the main contentions I have with the RH Bill is this: "If you give Filipinos the choice, does it necessarily mean they will make the right one?"
The opponents of the RH Bill claim that it is merely a redundant bill, and that it is a potential haven for government corruption and kickbacks from the companies involved. Then again, what isn't anyway, wherever the Philippine government is involved?
Maybe we should give President Aquino credit where it is due. He has shown that he can get things done, when he wants to. As I mentioned above, he is going to look good to a lot of people now; he will be seen as a champion of the RH Bill. It keeps him popular. It certainly won't hurt his political party the Liberal Party (LP), now that the 2013 mid-term elections are near.
I quote from a movie to answer my statement earlier that things didn't seem to add up:
It adds up. You just don't like what it adds up to.
At the end of the day, let's ask ourselves: do the ends justify the means? Did the passing of the RH Bill justify the "railroading" that was used in order to accomplish it? Think about it; even if we feel that we may have won a "battle" against the forces of primitivism, what did we sacrifice for it? If I were to try to answer that question, I would say that we sacrificed any semblance of the idea of Noynoy not acting like a manipulative dictator. I would say that we sacrificed the idea of a Congress that truly represents the people who elected them, and doesn't put its own interests first.
Did we, the people, just get hoodwinked again, or what?
А вы, друзья, как ни садитесь, все в музыканты не годитесь. – But you, my friends, however you sit, not all as musicians fit.