In light of the recent hurricane Sandy that struck New York, and the upcoming presidential elections in the United States, it seems that our political leaders here in the Philippines are now suddenly striking up platitudes of "looking to the United States for lessons" on how to do this or that, what not to do, and most certainly bizarre (or not) of all, the application of political will.
I swear, I'm not making this up. Senator Loren Legarda was quoted as such by the Philippine Daily Inquirer:
"Their sense of preparedness is amazing and the political will of their leaders like Mayor Bloomberg is laudable considering he closed down the subways, forcibly evacuated residents as he did in Hurricane Irene," Senator Loren Legarda said when asked if there was anything the Philippines could learn from the US response to the "Frankenstorm."

"Even President Obama has been on national TV warning people to take it seriously," Legarda told the Inquirer.

Add to this the news item that two (2) Comelec officers are heading to the US to "observe their elections". Never mind that Grace Padaca, who is currently facing graft charges prior to her appointment to Comelec chair, is one of those who get to go.
Comelec Chairman Sixto Brillantes said one of the issues he would like the poll officials to learn is about campaign finance.

"Marami kasing seminars yan. Two days before maraming seminars yan so we can learn yung processes especially yung campaign finance kasi complicated yung campaign finance nila," Brillantes explained.

[There will be many seminars two days before (the elections) so we can learn processes especially campaign finance since theirs is complicated.]

However, he noted that the Comelec cannot yet adopt for the May 2013 polls what the officials would learn from the US.

He explained that to implement changes to the conduct of the May 2013 polls, the government would have to amend the Fair Elections law or Republic Act 9006.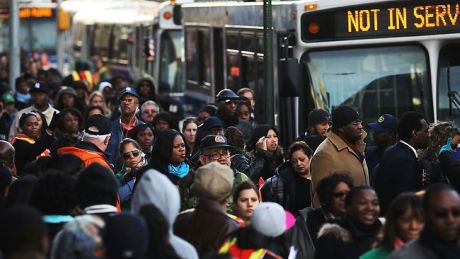 [Photo courtesy Herald Sun.]
Of course, it would be easy to conclude that Legarda's statement is apparently one of dumbstruck awe, complete with gaping jaw, because such "political will" is virtually non-existent here in the Philippines. And with regards to Padaca and company heading to the US to "observe the elections", it's also easy to conclude that it's simply a waste of taxpayers' money. It's a free opportunity to campaign the Liberal Party (LP) to absentee voters in the US, and even quite possibly, for Padaca to forever escape her graft charges, but I digress.
The point I want to make here is simple. Filipinos are hoping to learn something from the US in light of recent events? You can lead a horse to water, but you can't make it drink.
Why, suddenly, are we looking to current events in the US for lessons on both disaster management and election conduct, when our own situation here has provided us with ample time and opportunity to learn from our mistakes? Is this yet another manifestation of our behavior that we don't recognize something good in our midst until a foreign entity points it out for us?
Do try to remember that Ondoy, Peping, Sendong, and the nameless habagat have all passed us by, yet our recovery from typhoons is still lethargic; the infrastructure is still inadequate, and we're still brandishing our mediocrity as "resilience". Do try to remember that we've had five (5) elections, including Cory Aquino's win, to at least eke out a learning curve on how we elect our leaders, yet we're still managing to choose mediocre and severely under-qualified politicians into our government. Erap and Noynoy – there, I spelled out two outstanding examples.
If there are a few things that Filipinos should be learning from the United States, ironically it's that helping out without grandstanding ultimately helps the community better, and is in everyone else's best interests. They should also be learning that instead of waiting for and being ever-reliant on government hand-outs, people should stop brandishing their victim card and start picking themselves up. Third, if there's one overall lesson that Filipinos should learn from the United States, it's that we can't copy ideas from them without adapting them to our own situation; it has never worked for us. We've been stuck in reverse as a republic.
That "political will" that Legarda spoke of will not be obtained simply by gawking at New York's leaders; it will take a change of personality for Filipino politicians to simply act in the best interests of the country and put them above their own personal interests. The Comelec sending election observers to the United States to find a way to minimize poll fraud is doubtful; perhaps finding a way to legitimize skullduggery will be more likely to happen.
The US can be looked to for lessons, yes, but for us to apply them to our own situation? There's nothing the Americans can do to help us there. It takes a bit of thinking to do so. We're on our own there, unless we really want to be considered as the 51st state of the Union.
А вы, друзья, как ни садитесь, все в музыканты не годитесь. – But you, my friends, however you sit, not all as musicians fit.