In a statement marking the 30th Anniversary of his business forum, consultant Peter Wallace pretty much delivered an indictment on the very essence of the capital base of President Benigno Simeon 'BS' Aquino III's political power — popularity. In calling on BS Aquino to make "tough, unpopular decisions", Wallace is essentially offering the antithesis to Aquino's approach to leadership as the way forward for the country.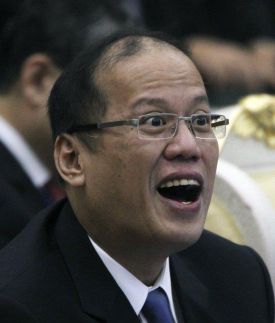 As we recall, the famous campaign rhetoric of the Aquino campaign in 2010 was that he would regard the Filipino as his "Boss". As such, presumably every want, need, and desire in all the renowned glory of the victim and dukha mentality of the Filipino people will be the command of the Chief Executive under the Second Aquino Administration. Indeed, the President and his cadre of "Communications" experts in the Cabinet have, over the last couple of years of the current administration focused on drilling into the heads of The Boss how popular the President is.
Wallace, for his part, acknowledges the power of this popularity, calling it the prized and "coveted political capital" of the presidency of Cory's son. But then he also observes…
[…] much more needs to be done if the Philippines is to break through the poverty trap, and unfortunately, Mr. Aquino does not seem committed and enthusiastic enough to see these needed reforms through, putting his considerable political capital to waste, Wallace said.
The principle at work here is quite simple:
Popularity has a poor track record when it comes to determining the validity of an idea.
If Philippine schools, for example, were designed to be run like democracies with learning programs determined by what is popular amongst the student body, then the Philippines today would be a nation populated by starstruck, jejemon-speaking, Tito-Vic-and-Joey-jokes cracking, ocho-ocho dancing ignoramuses today.
Thank goodness for our excellent public education system indeed!
The reality of living well is that it is the unpopular things in life that lay the groundwork for a lifetime of systemic success — discipline, frugality, critical thought, moderation, and focused concentration. Without the structure provided by considered rather than popular guidance, people become spoiled self-important brats.
Discipline, of course, can be learned. But people to whom discipline and hard work is inherent clearly have a head start over those who are still to acquire these virtues. Unfortunately for us, President BS Aquino was a learner in this regard when he ascended the presidency of this sad Republic. He was known to be a late riser, a slacker when it comes to holding regular Cabinet meetings, pre-occupied with bachelor issues (as one would be when one is a bachelor), and a connoisseur of fast cars. His only claim to the presidency was his popularity and not much else; which, to be fair, is what one gets in a country where presidents are elected by popular vote.
When we consider that the window to effect change of any president of the Phillippines is limited to only one six-year term, spending a good chunk of that time on learning to be a President constitutes an astounding waste.
Filipinos had the chance to do it right the first time in 2010 by electing a seasoned and qualified candidate to the most powerful office of the land. Instead, they voted BS Aquino.
"Hindi ho magagawa ng Pangulo 'yung mga na-achieve natin in the last two years and more kung isa po siyang 9-to-5 na Presidente," deputy presidential spokesperson Abigail Valte said in a press statement defending the President. Unfortunately she misses the point. Wallace had already cited specific areas where President BS Aquino had failed to make any concrete progress. What The Boss is looking for are results and not excuses or claims of best effort.
[Photo courtesy Associated Press.]
benign0 is the Webmaster of GetRealPhilippines.com.