Filipinos never pass up an opportunity to exhibit their renowned ethnocentrism. In the wake of Hurricane Sandy which devastated much of the eastern seaboard of the United States, there have been many heartening reports of how the level of preparedness and swift action of the US government to mitigate the foreseen effects of the storm yielded impressive results. Indeed, Philippine lawmakers were reportedly "amazed" with Americans' response to the natural calamity…
"Their sense of preparedness is amazing and the political will of their leaders like Mayor Bloomberg is laudable considering he closed down the subways, forcibly evacuated residents as he did in Hurricane Irene," Senator Loren Legarda said when asked if there was anything the Philippines could learn from the US response to the "Frankenstorm."
So it therefore comes across as a bit daft to be engaging in that usual Pinoy-centric backpatting when regarding the scale of both the disaster that has befallen East Coast Americans and their impressive response to it. Yet, daftness is the Filipino's middle name. A photo of what appears to be Filipino-Americans who were among the few lucky enough to still have electric power in their homes making extension cords available to anyone who might want to charge their mobile phones or laptops was shared on the Twitter timeline of ABS-CBN media outlet @ANCALERTS with the caption "New form of bayanihan among Filipinos in storm-ravaged Jersey City in New Jersey.."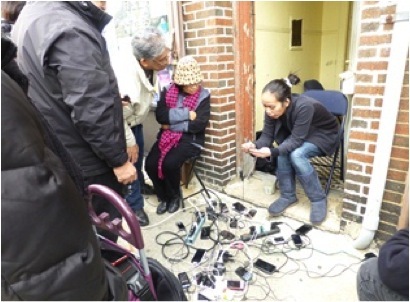 Now, it is as if Pinoys hold a monopoly over civic-mindedness in times of calamity. Ironic perhaps, considering much had been said about the so-called "resilience" exhibited by Filipinos in the aftermath of several storms that hit and killed hundreds of people in key cities like Manila and Cagayan de Oro over the last 2-3 years. It is, of course, that unique brand of resilience-by-default considering that there is hardly any evidence that Filipinos have learned anything from these disasters despite the far bigger death tolls they had wreaked upon the country.
Obviously, sharing electricity in times of calamity is not a Filipino-American invention and certainly not that "unique form of bayanihan" some "patriots" are quick to label it as. Just today in sunny Sydney, a similar photo was displayed in a similar story ran in one of the local tabloids and was given the caption "A good Samaritan provides vital phone-charging in Hoboken, New Jersey…"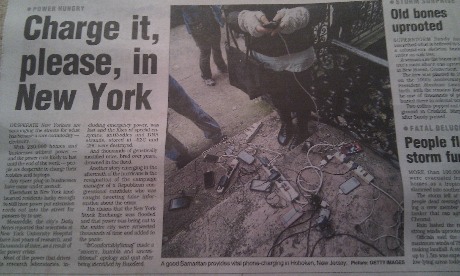 [Image taken from mX News (Sydney) Thursday, 1st of November 2012 edition.]
Not Filipino, not "bayanihan", and certainly not pride in something lent some sort of perverse credibility by one's ethnicity. Just a nod to good old-fashioned civic-mindedness that one could reasonably expect of any human being regardless of what nation or "race" she happens to be a member of.
benign0 is the Webmaster of GetRealPhilippines.com.