Not that there is any real difference between the two commie groups Akbayan and Anakbayan, but it is interesting that the two "left-leaning" groups are now baring claws at each other as every man and his dog races to grab a piece of the fat 2013 elections pie. During a recent Akbayan press conference, a "verbal tussle" reportedly erupted between the two former comrades-in-street-picketlines…
About five members of Anakbayan managed to slip through Akbayan's press conference and criticized their rival for their alleged pro-administration stance, calling for the latter's disqualification from the party-list elections next year on the basis of having members and nominees with government posts.

They also held a photo of Akbayan Rep. Walden Bello while chanting "Tuta ng gobyerno" and "Akbayan, fake party-list." Anakbayan is accusing Akbayan of being a Palace front in the party-list system.
Bagong Alyansang Makabayan (Bayan) secretary general Renato M. Reyes, Jr in a blog post already goes at length into explaining why Akbayan has lost its claim to the right to be called a "party list" organisation, highlighting how it might fail to convincingly respond to three key questions on the matter: "Is Akbayan marginalized and underrepresented? Are Akbayan's nominees marginalized and underrepresented based on what is required under the law? Can a group claiming to represent the marginalized be an integral member of the reactionary ruling clique?" Bayan, of course, is just another one of those commie groups. But now that elections are in the air, even the best of buddies will not think twice about stabbing the other in the back.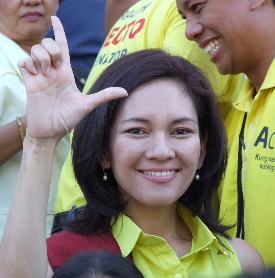 For the rest of us, it is quite easier to do a simple exercise of holding up a supposed role model of Akbayan politics in former Akbayan party list representative Risa Hontiveros — its highest profile member — to provide us an insight of the depths to which this "party list" organisation's "values" and "principles" had sunk.
Hontiveros, firstly, is noted for her seeming embrace of the Dark Side of epal ("grandstanding") politics. She has apparently been long campaigning in advance for the 2013 elections, even using the recent series of national disasters to gain some face time with the Filipino masses.
She was also an outspoken campaigner on the pro-impeachment camp during the impeachment trial of former Chief Justice Renato Corona going by the usually simplistic but moronic notion of how an official's salary should be the sole basis of determining whether he or she is leading a lifestyle of unexplainable scales. According to Hontiveros…
"the Chief Justice can no longer ignore allegations that he has enriched himself in office way beyond his legal salaries and allowances as a member and now head of the Supreme Court"
…never mind that Corona was a successful attorney practicing in the private sector before he entered the public service.
What seemed to be a bizarre fixation on convicting Corona to the extent of making and propagating pre-judgments about the man despite the on-going trial being conducted by the Senate was laid so clearly bare in Hontiveros's involvement in a snafu that linked her to a publicity stunt mounted by Manila Times "columnist" and Director of the Youth and Social Entrepreneurship Program of the Ateneo School of Government Harvey Keh. Keh along with Hontiveros and another person filed a "complaint" against Corona during the trial alleging that the chief magistrate possessed unexplained dollar-denominated bank accounts. The complaint, as it turned out, was based on unreliable sources with Keh ironically making the biggest song-and-dance about information about these accounts obtained from anonymous sources.
Keh, who was called to testify before the Senate Impeachment Court to clarify this "complaint" was then caught lying under cross-examination after he denied he had informed the media in advance of his going to Senate President Juan Ponce Enrile's office to present the dubious evidence. Under questioning by Senator Judge Jinggoy Estrada, Keh admitted that he had been in touch with reporter "friends" from the broadsheet Inquirer.net and the tabloid Abante shortly after he had received the documents.
Hontiveros and Keh are also members of the Kaya Natin movement whose co-founder is newly-appointed Commission on Elections (COMELEC) commissioner and former Isabela governor Grace Padaca. Padaca, was recently appointed commissioner of the COMELEC under questionable circumstances. Despite having an outstanding arrest warrant hanging over her head over charges of graft, Padaca was appointed by Philippine President Benigno Simeon "BS" Aquino III to the post early October. Aquino had also personally posted the Php70,000 bail required to secure Padaca's release from incarceration over the pending case. President BS Aquino, has since been adamant about his prerogative to appoint his buddy to the sensitive office, to the extent of making a public statement on his view as to whether Padaca is guilty or not in reference to her case that remains pending with the Sandiganbayan.
As the saying goes: "Tell me who your friends are and I'll tell you who you are."
Does Akbayan represent the "marginalised" amongst us? You be the judge. There are no "genuine politics", only genuine agendas.
It's simple, really.
benign0 is the Webmaster of GetRealPhilippines.com.