See, the thing with being in bed with rogue states is that you get bitten eventually. Governments tend to reflect the character of the people they subject. You can argue that Libya was ruled by an iron fist by Muammar Gaddafi for much of its recent history. But there is nothing really "victim-like" in how a mob of Libyan militants raided the United States Consulate in Benghazi last Wednesday. The resulting violence resulted in the deaths of four Americans including Ambassador to Libya Chris Stevens.
According to reports part of the violence traces its roots to religion…
The consulate was one of several American diplomatic missions in the Middle East to face protests Tuesday after the release online of a film mocking Islam and depicting the Muslim Prophet Mohammed as a child molester, womanizer and ruthless killer.
The report continues, "[The] Ambassador's killing shines light on Muslim sensitivities concerning Prophet Mohammed". Just the same, visibly-shaken Secretary of State Hillary Clinton met the media and issued the following assurance on the US's position on the matter of their continued relationship with the people of the former rogue state…
"This was an attack by a small and savage group, not the people or government of Libya. Everywhere Chris and his team went in Libya, in a country scarred by war and tyranny, they were hailed as friends and partners. And when the attack came yesterday, Libyans stood and fought to defend our post. Some were wounded. Libyans carried Chris' body to the hospital, and they helped rescue and lead other Americans to safety."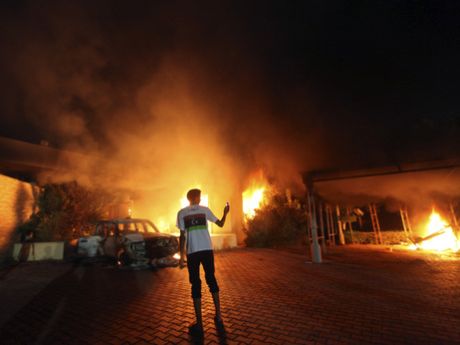 But Libyan Islamists have always been a force that could not be ignored. Back in August of 2012, Interior Minister Fawzi Abdelali had reportedly warned of their growing militancy and predisposition to violence…
"These people are a major force in terms of numbers and the equipment they have in Libya," said the minister as he reversed a decision to resign that he had taken after accusations of lax security.

"These people have arms and big groups. We must not close our eyes to this," the minister told a press conference, ruling out a head-on confrontation with Islamist hardliners.
The above report was published at a time when radical Islamist mobs went on a rampage destroying shrines and cultural sites around Libyan capital Tripoli prompting United Nations Educational, Scientific and Cultural Organization (UNESCO) head Irina Bokova to lament, "I am deeply concerned about these brutal attacks on places of cultural and religious significance. Such acts must be halted, if Libyan society is to complete its transition to democracy," while the US State Department issued advisories against non-essential travel to Libya. These forces were a big part of the much-celebrated "revolutionaries" who fought and ousted Gaddafi in 2011.
Interestingly, Libyan Islamists under Gaddafi have had a long history of influence on the internal affairs of the Philippines. In 1971, Gaddafi founded the World Islamic Call Society (WICS) which soon had offices operating in several countries in southeast Asia, including the Philippines. Gaddafi saw it as his personal mission to support the cause of the Islamic insurgency in the Philippines and was a major sponsor of the Moro National Liberation Front under Nur Misuari. The mission of the WICS then and now is to effect Islamic dominance over all the world's peoples. In a speech reportedly delivered as recently as 2009, Gaddafi reiterated his personal world view which he presumably also sees as the underlying premise of the mission of the WICS…
"[Islam] shall overcome all other religions ­before it. Their time has gone. It is his promise. Allah shall prevail this religion over the rest."
Under the new post-Gaddafi Libyan government, the WICS is reportedly under investigation for its allegedly "shady" activities…
A committee led by a leading anti-Gaddafi Islamic scholar, Sheikh Al Dokali Mohammed Al Alem, is now investigating the Society's activities. Their report may take months to appear, but a Reuters investigation has found Libyan officials in Tripoli now say openly what under Gaddafi was taboo – that the religious Society was allied to a huge shadow network, especially in Africa.

"There are still some loose ends in the Islamic Call Society in Africa," said Noman Benotman, a former member of an al-Qaeda-linked Libyan Islamist group who now works on deradicalization of jihadists at the Quilliam Foundation in London.

"They still have a lot of money going around through these channels that used to belong to the Islamic Call Society," he said. "Huge amounts of money are involved. I think we're talking about one to two billion dollars."
Just about anything can incite violence among Islamists, specially in Arab countries recently "liberated" from "tyranny" in the so-called Arab Spring uprisings — events that were much-celebrated by social media "activists". The violence in Libya that killed the American Ambassador traces its roots to a 14-minute video that is a trailer of the feature-length film Innocence of Muslims. The film allegedly depicted the Prophet Mohammed as "a villainous, homosexual and child-molesting buffoon". It was produced by a certain "Sam Bacile" who reportedly produced the film on a $5m budget from funds raised from "about 100 Jewish donors". The film itself is B-grade in terms of production quality, featuring "actors in anachronistic costumes, near flimsy sets and often stumbling through lines." Just the same, its massive effect on the radical Islamic community seemed to have lent its producers some validation.
"The violence that it caused in Egypt is further evidence of how violent the religion and people are and it is evidence that everything in the film is factual," [Morris Sadek, head of the National American Coptic Assembly which promoted the film in the U.S.] said in a telephone interview from his Washington home.
Back in the midst of the hoo-ha sweeping Filipino social media slacktivists as Tunisia convulsed in the first of what was to become a series of revolts across North Africa that was to be later dubbed the "Arab Spring", I already foresaw the underlying cancer that this fiesta might unleash…
But what "freedom" had wrought upon the Philippines in the aftermath of the 1986 Edsa "revolution" — the eventual takeover of the government by clueless Eraptards and Noytards — may not result in as benign an outcome in the Middle East. Indeed, the ominous shadow of Islamic fundamentalism cast by some powerful elements in those Egyptian and Tunisian mobs becomes more evident by the day. "People power" in the Philippines is unlikely to apply today and over there any more than the principles underlying the victory of allied forces against the tyranny of Adolf Hitler in World War II and the rebuilding of Germany and Japan paralleled themselves in the subsequent US invasions of Vietnam and Iraq.

Solutions that worked elsewhere cannot be turned into shrinkwrapped products to be sold in other societies without taking into account the nature of the culture of the societies being impacted. Perhaps we should observe the events unfolding in the Middle East with a more open and critical mind and not colour these with our pre-conceived notions that are propped up by nothing more than relics of 1980's thinking.
Not surprisingly, the United States is now turning to, shall we say, more traditional methods of effecting its foreign policy. CNN reports six hours ago as of this writing that US Navy destroyers armed with Tomhawk cruise missiles are moving in to within striking range of "specific targets" within Libya to give the administration of President Barack Obama "flexibility" while it evaluates its options as this crisis unfolds.
benign0 is the Webmaster of GetRealPhilippines.com.