"A Republican and a Democrat walked out of a bar after a drinking session and came across a homeless person begging outside the door. The Republican gave the homeless person his business card and told him to come to his business for a job. He then took twenty dollars out of his pocket and gave it to the homeless person.

The Democrat was very impressed, and when they came to another homeless person, he decided to help. He walked over to the homeless person and gave him directions to the welfare office. He then reached into the Republican's pocket and gave the homeless person fifty dollars.

Now you understand the difference between Republicans and Democrats!"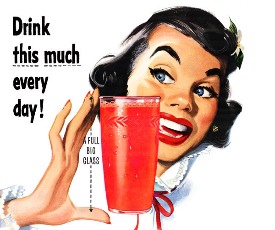 I am always amazed at Kool-Aid drinking liberals when I get into a discussion with them. These liberals (Democrats), of course, love to paint conservatives (Republicans) as the heartless capitalists who are greedy, and are even stupid bible-thumpers who desperately "cling to their guns and religion" (oh, and a bunch of racists too). Of course in contrast to the vilified conservatives, the liberals project themselves as the compassionate socialists who are fair, intelligent and tolerant folks who are champions of social justice and social responsibility. It's a classic good versus evil picture. But are the liberal projections and their conservative bashings true? Let's assess some of the common lines of thinking these paragons of virtue peddle to the public.
Let's start with "economic and social justice". This is very popular with hyper liberals especially those identified with the Occupy movement. They love to simply account economic and social injustice to "greed". The "evil one percenters"…. they are so greedy! They don't need all that millions and billions that they have and if they can only share their fortune to the rest of the ninety nine percenters, no one will be suffering. The liberal hero, President Obama, summed up his take on the conservative ideals in his 2008 convention speech in Denver. He said that his then opponent, John McCain:
"…subscribed to that old, discredited Republican philosophy: Give more and more to those with the most and hope that prosperity trickles down to everyone else.

In Washington, they call this the "Ownership Society," but what it really means is that you're on your own. Out of work? Tough luck, you're on your own. No health care? The market will fix it. You're on your own. Born into poverty? Pull yourself up by your own bootstraps, even if you don't have boots. You are on your own."
For President Obama, the promise of America is:
"…the idea that we are responsible for ourselves, but that we also rise or fall as one nation, the fundamental belief that I am my brother's keeper, I am my sister's keeper."
Bravo! What a speech! Left-wing MSNBC political commentator Chris Matthews even felt a thrill going up his leg as Obama spoke. However while Obama makes such great speeches of generosity and responsibility towards our "brothers and sisters", it's funny that he doesn't even help his brother, George Obama, who is living in Third World poverty. Heck, why couldn't he have given his illegal immigrant Aunt Zeituni a hand-out from his own pocket? Instead, his Aunt Zeituni shamelessly and happily lived in taxpayer-subsidized housing. I suppose for Democrats like Obama, very much like the joke at the beginning of this article, their idea of supporting the "needy" is through welfare and using other people's money. But never mind the hypocrisy. Let's just grant (for now) that this "redistribution of wealth" mantra that the liberals are promoting equates to being "just" or "fair".
In 2009, George Mason University student Alyssa Cordova asked her fellow students to support her petition for her school to redistribute grade point averages (GPA) to those who are not high academic achievers. The idea was that the top people in the University don't need the extra grades so in the spirit of fairness and equality, the university should allocate the excess points of the top students to those who are failing. Alyssa reasoned that it's not the fault of the people who have poor grades because they may be struggling and working just to get by. The response to Alyssa's petition was awesome! Some students said:
"Why would you take points away from people who earned it? People who worked for their grades should be allowed to keep them!"
Now here's Alyssa's question – Why would it be okay to take from people who earn their money (through increased taxation) but not from people who earn their grades? See, this is the epic fail for the liberal dolts. Socialism, which they love to put on a pedestal, does not spell justice at all! Justice is seen from respecting property and freedom. Isn't it interesting that liberals are all for "spreading the wealth" except when it's their own?
Now speaking of taxes, here's another one that liberals love to say. They claim that the rich do not pay their "fair share" of taxes. Really?!
In 2009, the top 1% earners shouldered 37% of all federal income taxes. As we can see from the data from the Internal Revenue Service, this shows that around 1.4 million people (who belong to the top 1% earners) a larger tax load than a combined 138 million people. If we look at the IRS data again, we see that the bottom 50% of total earners pay just about 2% of all federal income taxes. How on Earth are the rich not paying their "fair share" when in fact they are already paying most of the federal income taxes? The rich folks whom the liberals love to vilify create jobs. It is as if wealth creation is such a bad thing! But it is really mind-boggling how the liberal dolts seem to fail to see that when wealth is created, there are more benefits! The "rich" people invest, start businesses, and create jobs! But for liberals, for some reason this is all about "greed". They love to shout "People before profits!" Yet it is because of profits that people are better off! Jobs are created… innovative products are produced… these are some of the fruits of capitalism. Instead of thanking the job creators and making the conditions conducive to businesses such as keeping the taxes low, the Democrats would rather penalize success by taxing the rich at punitive levels so that they can sustain their Big Government spending that encourages a sense of entitlement amongst the leeching and mooching liberal brats. The Democrats would rather have people hooked on government because they know that government programs spell more dependence and this is their tried and tested formula for ensuring that they keep the power. Of course the liberal Kool-Aid drinkers are more than happy to be the useful idiots.
Now, I'm sure a lot of you have heard more of the usual shouts of the left. However, there was one babble that caught me by surprise. Recently I had a debate with a liberal who supported her justification of increased taxation using Judeo-Christian values, again appealing to the spirit of being one's "brother's keeper". I shared with her my objections to high taxes. I live in California which is one of the highest taxed States in America but I also still have to pay my taxes in Canada (yeah… talk about taxation without representation!). Now keep in mind that (socialist) Canada has significantly higher taxes than in America so I hope you understand why I seem to be so against increased taxation – it does hurt a lot! Anyway, I was told by this religious liberal that 28% (income tax in California) is not an absolute altruism so I was being painted as some selfish person who does not have any compassion towards the needy. Well, first of all I wish I only pay 28% in taxes but my case is around 40% (again, it is because I have to pay Canadian taxes too). I wish I were a Warren Buffet or a Bill Gates but I'm just a regular schmoe getting taxed close to half of what I earn. But even if I am only taxed at 28%, why should I necessarily find that rate acceptable or just? Everyone has different situations in life and if this liberal dolt thinks that 28% is good or reasonable enough why is everyone else mandated to adopt her value judgment? If liberals feel that it is perfectly reasonable to pay more taxes to support the needy then no one is stopping them from paying more taxes out of their own accord! Why should my own take on how much I should give to help the needy be dictated by other people's values? Oh but no… get this… it apparently is "Unchristian" to be such a cheap-o. It's funny, not only am I surprised to encounter a religious liberal (as most liberals I know have atheist or anti-theist inclinations), I am amazed how she seems to live her passion on this "spreading the wealth" issue out of the teachings of Judeo-Christianity. In I Samuel 8:7-17, it says:
The LORD answered Samuel, "Comply with the people's request—everything they ask of you—because they haven't rejected you. No, they've rejected me as king over them. They are doing to you only what they've been doing to met from the day I brought them out of Egypt to this very minute, abandoning me and worshipping other gods.

"So comply with their request, but give them a clear warning, telling them how the king will rule over them and operate." Then Samuel explained everything the LORD had said to the people who were asking for a king.

"This is how the king will rule over you and operate," Samuel said:

"He will take your sons, and will use them for his chariots and his cavalry and as runners for his chariot. He will use them as his commanders of troops of one thousand and troops of fifty, or to do his plowing and his harvesting, or to make his weapons or parts for his chariots. He will take your daughters to be perfumers, cooks, or bakers. He will take your best fields, vineyards, and olive groves and give them to his servants. He will give one-tenth of your grain and your vineyards to his officials and servants. He will take your male and female servants, along with the best of your cattle and donkeys, and make them do his work. He will take one-tenth of your flocks, and then you yourselves will become his slaves!
Samuel warned the people of Israel how they will be treated by the king they are seeking to rule over them instead of God. The king would be taking 10% through taxation and this amount is equal to God's tax requirement. The 10% tax by kings have been used as a measuring stick to determine whether one lives under tyranny. The idea is that man should not equal or exceed God's tax requirements. So for this religious liberal I was discussing with, 28% taxation (or perhaps even more) conforms to Judeo-Christian teachings? Gee, since when did Obama become more authoritative than God for Judeo-Christians?
So it seems to me that for liberals, despite how highly they think of themselves, it is more about control. They seem to have this feeling of manifest destiny to regulate and ration everyone's earnings because they think they are holier than thou! Oh good lord!
Calling a spade, a spade…