A baffling lack of confidence on the part of President Benigno Simeon "BS" Aquino III in his own cabinet officials was belied by a revelation today that Senator Antonio Trillanes IV was authorised by the President to act as a "backroom negotiator" to China on behalf of the Philippines. In a heated argument between Trillanes and Senate President Juan Ponce Enrile in today's Senate plenary session, Enrile pressed Trillanes to reveal the details of the discussions he had with former Philippine Ambassador to China Sonia Brady. Trillanes refused to answer Enrile's queries, accusing the Senate President of being "out of order" supposedly for reading out loud a transcript of the discussion he had with Brady which he insisted was "confidential".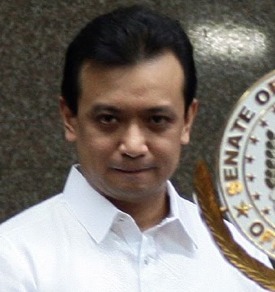 Enrile accused Trillanes of compromising the sovereignty of the Philippines in his talks with Chinese officials. The allegations Enrile made against Trillanes were mainly around what he perceived to be attempts to pacify the Chinese government by:
(1) Downplaying the priority given by the Philippines to the Scarborough shoal conflict;
SUPPORT INDEPENDENT SOCIAL COMMENTARY!
Subscribe to our Substack community GRP Insider to receive by email our in-depth free weekly newsletter. Opt into a paid subscription and you'll get premium insider briefs and insights from us daily.
Subscribe to our Substack newsletter, GRP Insider!
Learn more
(2) Undermining Foreign Affairs Secretary Albert del Rosario by allegedly stating that del Rosario no longer enjoyed the confidence of the Filipino people; and,
(3) Highlighting that the Philippines lacked the military capability to make good on its territorial claims and appealing to the Chinese to consider the plight of poor Filipino fishermen who subsist on the disputed waters.
Even when facing a potentially hostile foreign government, Filipinos fail in epic proportions to put forth a united front. What is disturbing is that considering Trillanes was supposedly acting under the authority of President BS Aquino, he made representations with the Chinese government that ran counter to the discussions being undertaken with them by Secretary del Rosario who also answers to the President…
Reading Brady's notes, Enrile said Trillanes, at one point, even asked businessman Manny Pangilinan to try to cajole del Rosario into softening his stance on the dispute with China.

Brady said Trillanes knew Pangilinan and del Rosario go way back, and that it was del Rosario who introduced Pangilinan to Indonesian shareholders for his purchase of the Philippine Long Distance Co. (PLDT). Trillanes supposedly said that del Rosario was the one who threatened the Yuchengco group to sell their stake in PLDT.

Nonetheless, Trillanes supposedly alleged that del Rosario was not for any peaceful settlement with China because he wants to boost Pangilinan's chances in the exploration of the Recto Bank in the South China Sea. That part is also being claimed by China.

Trillanes also supposedly asked the Chinese which official in the country they would prefer talking to as an "alternative channel." The Chinese officials supposedly asked for Vice President Jejomar Binay.

It was then that Trillanes suggested the name of Mar Roxas to become the channel between the Chinese and Malacañang. He also suggested that Roxas become DFA chief. "He's even intriguing the president and the vice president," Enrile said.
Why all the politics when all administrative lines of accountability in this fiasco lead back to no less than President BS Aquino, del Rosario being a Cabinet Secretary and Trillanes being an alleged presidential appointee to this special assignment? There was no need for politics, only strong and courageous leadership — something BS Aquino clearly did not exercise in this instance yet again. Why did President BS Aquino allegedly engage the services of Trillanes when he could have directly instructed del Rosario to act on these matters or directly given to the Secretary whatever new directions he wanted the negotiations to take?
It's all a mystery as of now.
One point to consider is whether Enrile did the right thing by reading out loud in front of the media the contents of Brady's discussion notes — mostly matters of critical concern to national security. These, after all, comprised information that reveals the strength (or, in this case, the weakness) of the Philippine position in its negotiations with China.
Indeed, the whole circus came about in the midst of a privilege speech Trillanes was giving on an unrelated matter, the passage of a bill to recognise the new province of Nueva Camarines — a bill Trillanes accused Enrile of railroading. Could it be that the topic of Trillanes's alleged "backdoor" negotiations with China was never intended to be revealed to the public and, instead, discussed behind closed doors but came out as a result of a pikon episode on Enrile's part?
Trillanes later went on record before the media to re-assert the "success" of his "mission" in China pointing to the resumption of banana exports there as "evidence" of favourable "results" coming out of this adventurism.
What else can we do but this:
Abangan ang susunod na kabanata.
benign0 is the Webmaster of GetRealPhilippines.com.