I recall that archaic metaphor used to describe guys who are in romantic relationships with two women — they are said to be swimming in two rivers. That's what red-faced President Benigno Simeon "BS" Aquino III is looking like now having been caught out overseeing two negotiation channels facing the Chinese government: one via what many consider to be the legitimate face of the Philippine government, the Department of Foreign Affairs (DFA) under Secretary Albert del Rosario and another via a "backroom" crack "negotiation" team headed by Senator Antonio Trillanes.
The thing with queridas ("mistresses") is that they tend to be aware of a far bigger picture than what the legal spouse can see. It seems (based on sketchy reports) that while the shadowy nature of Trillanes's "mission" required that he be fully-appraised on del Rosario's and the DFA's position and activities, the latter (del Rosario) may have been not as well-informed.
Trillanes expressed on record Wednesday his thoughts on how del Rosario had been handling the row over the Philippines' territorial dispute with China over Scarborough shoal, claiming that "he had been responsible for easing tensions with China after the dispute erupted in April"…
SUPPORT INDEPENDENT SOCIAL COMMENTARY!
Subscribe to our Substack community GRP Insider to receive by email our in-depth free weekly newsletter. Opt into a paid subscription and you'll get premium insider briefs and insights from us daily.
Subscribe to our Substack newsletter, GRP Insider!
Learn more
"Right now there is no more crisis involving Scarborough, but we were nearly brought to war. That was a treasonous act (by del Rosario)," Trillanes told AFP Wednesday, repeating a claim he made on local radio.

He said public statements made by del Rosario accusing China of bullying the Philippines nearly led to open confrontation.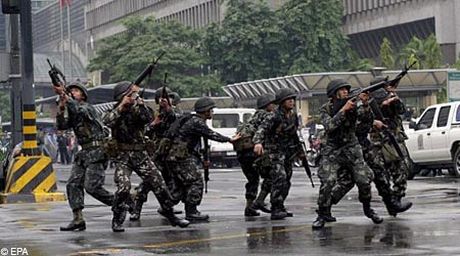 [Photo courtesy Metro.com.uk.]
"Senator" Trillanes was one of a number of Filipino ex-military personnel who allegedly mounted a rebellion against the Philippine government in 2003 and again in 2006. The zeal with which they mounted this rebellion against the government of former President Gloria Macapagal-Arroyo was eloquently described by Constitutional guru Father Joaquin Bernas using these words…
They [the alleged mutineers] went through elaborate ceremonies which were meant to be symbolic of their noble goal. They seem to have considered their deed a patriotic feather in their cap and they will willingly assert that, yes, we did, even if we now regret having done it.
So moving, perhaps, that President BS Aquino shortly after his ascent to power in 2010 granted amnesty to Trillanes et al under the so-called "Proclamation 50". The amnesty was based on the principles that…
(1) "there is a clamor from certain sectors of society urging the President to extend amnesty to said AFP personnel";
(2) The Constitution says the President can; and,
(3) It is in line with Noynoys aspiring "to promote an atmosphere conducive to the attainment of a just, comprehensive and enduring peace".
Yet, in all of the above, there was no reference to the unresolved question of Trillanes's culpability as one of the senior officers involved in the alleged rebellions made within the tenets of Proclamation 50. Nor was the unnecessary danger he and his team had exposed innocent civilians to in the course of mounting their alleged adventurism even mentioned.
The feudal clan of President BS Aquino had, for that matter, always been sympathetic to Trillanes. Suffice to say, even under the leadership of a President who made a standing for principles as the cornerstone of his campaign, in practice, said principles ultimately take a back seat to Old Reliable Pinoy-style Petty Politics. Recall the politics surrounding Trillanes's release back when BS Aquino and First Sister Kris Aquino were backing Kiko Pangilinan's bid for the Senate presidency…
First it was Kris Aquino trying to pay off (in political kind) senators to back Kiko Pangilinan's bid for the Senate presidency, now his brother President Benigno "Noynoy" Aquino III is trying to spring another Kiko supporter – alleged rebel and "Senator" Antonio Trillanes from the slammer.
Trillanes, still the rebel leader it seems, is at it again preferring backdoors and workarounds to facing issues and challenges head-on like a true statesman. The only difference between this most recent coup d'etat and those allegedly mounted against Arroyo in the past is that the earlier supposedly enjoys the blessings of none less thant the President of the Philippines.
Allegedly, of course.
benign0 is the Webmaster of GetRealPhilippines.com.