The Philippines has reportedly been identified in a National Geographic report as a major destination and market for ivory illegally exported from Africa. Elephants are classified as endangered animals and trade in any product made from them — such as ivory from their tusks — is illegal. The Philippines in 1981 became a signatory to the Convention on International Trade of Endangered Species of Wild Fauna and Flora (CITES). The convention was opened for signature in 1973, and CITES entered into force on 1 July 1975. Its aim is to ensure that international trade in specimens of wild animals and plants does not threaten the survival of the species in the wild, and it accords varying degrees of protection to more than 33,000 species of animals and plants.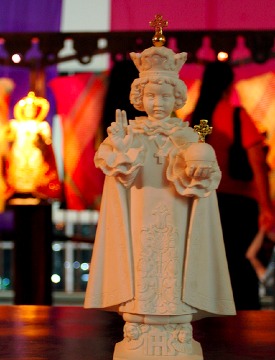 The National Geographic report specifically pointed to the use of ivory for the production of prized religious icons that had come to be owned by the Roman Catholic Church and shipped overseas to Filipino communities abroad…
The report, researched and written over a three year period, looked at supply and demand the elephant ivory market. It found that substantial quantities of ivory is being used to make religious trinkets including "ivory baby Jesuses and saints for Catholics in the Philippines, Islamic prayer beads for Muslims and Coptic crosses for Christians in Egypt, amulets and carvings for Buddhists in Thailand, and in China—the world's biggest ivory-consumer country—elaborate Buddhist and Taoist carvings for investors," according to a post on National Geographic News.
The report also specifically named Cebu-based Catholic priest Monsignor Cristobal Garcia who supposedly is "one of the best known ivory collectors in the Philippines." Garcia even gave advise on how to illegally bring an ivory product into the United States…
"Wrap it in old, stinky underwear and pour ketchup on it," he said. "So it looks shitty with blood. This is how it is done."

Garcia also suggested to the American author, whose family owns a funeral business, that he could hide a large Santo Niño [statue of the "holy child"] in a casket shipped to the U.S.
The people of the Philippine province of Cebu are particularly noted for their devotion to the Santo Niño. Although not officially recognised by the Catholic Church, many Cebuanos consider the Santo Niño their "patron saint". The Santo Niño de Cebú ("Holy Child of Cebu"), a statue thought to date back to 1521 is considered to be the oldest religious artifact in the Philippines. According to the National Geographic report, most illegally imported elephant tusks are traded openly in the Philippines and even "encouraged by respected Catholic priests in the community."
DNA sampling from ivory seized in Hong Kong in 2006 and in Singapore in 2002 Asia have enabled investigators to piece together an elaborate supply chain from herding areas across Africa through factories and transshipment points in Cameroon and Malawi. A study published in the journal Conservation Biology conducted by Samuel Wasser, a conservation geneticist at the University of Washington, Seattle revealed the details of this appalling trade.
They found that the Singapore and Malawi shipments came from savanna elephants in Zambia. The Hong Kong-Cameroon ivory, on the other hand, came from forest elephants along the border between Gabon and Congo-Brazzaville.

Documents from the Malawi factory indicate that it had made some 19 similar shipments over the preceding 3 years, says Wasser. If each had been about the same size–5.5 metric tons in weight–then some 17,000 adult elephants in total were killed, he estimates. His analysis for the Hong Kong-Cameroon shipments suggests that 5500 elephants were poached. Wasser says the soaring price for ivory–now worth as much as $850 per kilo wholesale–is fueling this round of killing, which he argues is worse than that of the 1980s.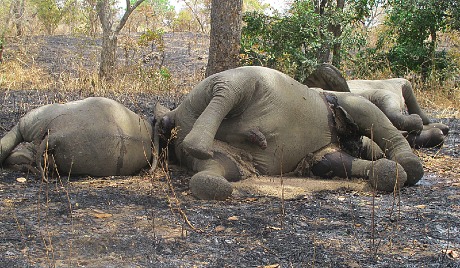 [Photo courtesy Yale.edu.]
The Chinese are the world's biggest buyers and end-consumers of poached ivory with traders operating on the African continent itself. The Chinese, for their part, value ivory carvings as status symbols and the demand for such products increase as the ranks of China's new rich swell. Vanity Fair reports that ninety percent of people arrested for illegal possession of ivory at the international airport in Nairobi, Kenya are Chinese nationals…
There are brokers just across the Tanzania border who are paying cash—around $20 a pound—for raw ivory and selling it to the Chinese. Or perhaps there is a series of transactions, a series of middlemen, but ultimately what is not being picked up by the Kenya Wildlife Service's sniffing dogs at Jomo Kenyatta International Airport, in Nairobi, is making its way by all kinds of circuitous routes to China, where raw ivory is now fetching $700 or more a pound.
The slaughter of elephants for their valuable ivory tusks also reportedly funds many brutal conflicts, perpetrated by rebels and warlords in Africa. According to a blog post on the New York Times in early September, ivory has taken its place along with "blood diamonds" as an African "conflict resource".
[NB: Parts of this article were lifted off theWikipedia.org article "CITES" and used in accordance with that site's Creative Commons Attribution-Share Alike License consistent with the same license applied by Get Real Post to its content. Photo of ivory Sto Niño courtesy OurAwesomePlanet.com.]
benign0 is the Webmaster of GetRealPhilippines.com.