Poor Korina Sanchez-Roxas. Her career as a "journalist" is practically in limbo for now. That's because her husband Mar Roxas has now been appointed to the post of Secretary of the Department of Interior and Local Government (DILG). That puts her alongside folks like Manuel L Quezon III who was once a trusted blogger but is now a senior officer in Malacañang's communication machine. Thing with being an "opinion shaper" is that it is hard enough to convince people that you apply the most rigorous and independent thinking process in crafting the views you articulate and publish. The "unbiased" nature (whether perceived or actual) of a point of view is, after all, what supposedly gives said point of view much of its value. But when an opinion shaper becomes backdropped by a clear and present conflict-of-interest, out the window goes the value of that person's opinion.
You then wonder now what the point would be in listening to what Korina has to say in her program "Rated Korina" on ABS-CBN-owned radio station dzMM. Her husband's department, the DILG, is a powerful ministry that touches the lives of ordinary Filipinos far more intimately than any other administration department. It is unlikely that she will be saying anything on the program that will be critical of her husband or the DILG. But then she also has to be cautious when giving any credit to it — even if it is due. ABS-CBN, after all, is itself owned by clansmen that owe a lot to the Aquinos and the Cojuangcos.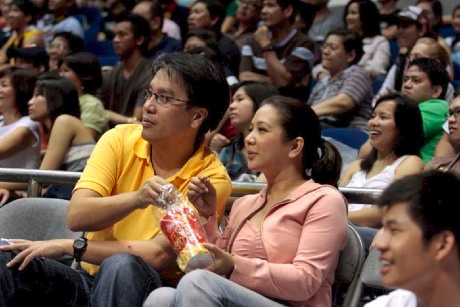 [Photo courtesy PinoyHalo.com.]
In short, Korina Sanchez-Roxas is now a washout. And that reality is evident in the latest imbroglio she is up to her neck to with Vice President Jejomar Binay. Binay is accusing Korina of precisely the scenario we paint above — reportedly using her position as a media personality to influence people's perception of her husband…
Binay felt alluded to when Sanchez, in her radio program "Rated Korina" on Aug. 24 (dzMM), referred to those who had postured to become interior secretary before the appointment of Jesse Robredo in 2010 as "mga maiitim at maliliit na mga maligno (dark, little ghouls)."

According to Binay's camp, Sanchez had said:

"Hindi ho ba kaya, noong wala pang DILG secretary ay maraming mga maiitim at maliliit na mga maligno ang siya pong naka-ano dyan, umaabang-abang para makuha po ang pwestong yan. Pero mabuti na lamang po, ay binasbasan po ng kaliwanagan ng pag-iisip ang ating pinuno na si P-Noy (Aquino) at si Secretary Robredo ang kanyang napili para dyan po manungkulan (Why is it when there was no DILG secretary, there were dark, little monsters who were on the lookout to get the position? But the good thing is, President Aquino has a clear mind that's why he installed Secretary Robredo to head the department)."

In a letter of complaint to ABS-CBN network, which operates dzMM, and to the Kapisanan ng mga Brodkaster sa Pilipinas, Binay's spokesperson, Joey Salgado, said Sanchez' remarks "constitute a clear breach of broadcasting standards and ethics."

He also accused Sanchez of "using her program and her stature in the network for personal and political ends."
The next presidential race is still four years away but Mar Roxas and Binay who are both likely rivals in that next race to that lucrative Malacañang seat have already been at each other's throats since the start of the Second Aquino Administration. Roxas, for his part has a lot to prove. He had to cede his presidential candidacy in the 2009-2010 presidential race to media and public darling Benigno Simeon "BS" Aquino III on account of that be-all-end-all political metric — winnability. But as Aquino's running mate, he lost the Vice Presidency to Binay. Binay had also long expressed an interest in the affairs of the DILG owing to his experience in local government — a fact that comes relevant now, in the aftermath of the death of the late Jesse Robredo.
Whatever the case, Korina Sanchez is toast. Nothing that comes out of her mouth or her show will now ever be free of any Yellow shade — whether perceived or actual. She may as well bow out — at least while hubby is playing DILG Secretary.
benign0 is the Webmaster of GetRealPhilippines.com.