It's a sign of things to come as far as how newly-minted Supreme Court Chief Justice Lourdes Sereno may be shaping the judiciary over the next 18 years she will be leading it. Defending her appointment against critics, Sereno reportedly said that "it was God's will, not politics that put her in that position".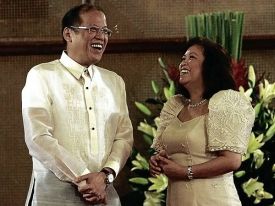 What exactly does that imply about Sereno's regard for the nature of her role in the Supreme Court? Does that mean she was anointed to the position by God himself?
That sort of self-regard coming from the Supreme Court Chief Justice — and a lawyer — is worrisome. Lawyers are supposedly trained thinkers. They are schooled in philosophy, some relevant sciences, and logic. So Sereno's inability to rationalise her filling the critical role she holds today in the nation without deferring to the supernatural can be attributed to either a pompous sense of self-entitlement or to plain intellectual laziness. It means she cannot even give credit even to her own presumed personal ability to fulfil the role of Chief Justice. It's really all up to God, according to her.
God help the Filipino people, then.
Following Sereno's less-than-lawyerly logic, it follows that Filipinos don't need her. They don't need the Supreme Court, don't need their prayerful President, don't need their plagiarising senators, nor their spineless House "representatives". In fact, they don't need any education, any professional skills, nor any money for that matter. Everything is all up to God anyway. So why worry? God will provide.
For something supposedly as "infinitely" mysterious as the "will" of God, Sereno seems to be an authority on the word of the Lord — even going as far as applying it in a proclamation of her own entitlement to her current post as Chief Justice. A check on a bit of the logic applied by a group called the Christian Apologetics and Research Ministry reveals the pointlessness of human life in the context of the notion of "God's will"…
Logically, God knowing what we are going to do does not mean that we can't do something else. It means that God simply knows what we have chosen to do ahead of time. Our freedom is not restricted by God's foreknowledge; our freedom is simply realized ahead of time by God. In this, our natural ability to make another choice has not been removed any more than my choice of what to write inside the parenthesis (hello) was removed by God who knew I would put the word "hello" in the parentheses before the universe was made. Before typing the word "hello," I pondered which word to write. My pondering was my doing and the choice was mine. How then was I somehow restricted in freedom when choosing what to write if God knew what I was going to do? No matter what choice we freely make, it can be known by God, and His knowing it doesn't mean we aren't making a free choice.
Suffice to say, I'd be apologetic too if I routinely applied logic like that.
Simplify the above convolusion into something we can relate to in the real world, and it is easy to find sensible practical analogies that will reveal just how stupid that sort of thinking is. Think of how a software engineer regards an application she designed. The application, once launched, is "free" to behave according to its design parameters. Our smart phones, for example, routinely decide what spelling best suits a word we just typed in. It even sometimes decides what word we were meant to type way before we had finished typing the word itself. It's designers allow the application to do its thing.
Does a spelling auto-correct application have "free will"?
Well, the fact that we often verbally abuse our smartphone's auto-correct systems attests to its ability to generate the illusion of free will to us users despite the obvious limitations of the degree of freedom of said will it exhibits. Yet, though most of us of course know the silliness of cursing an application that merely mimics intelligence, the illusion is powerful enough to ellicit an emotional reaction from a far superior intelligence who otherwise should know better.
Consider, therefore, how ever more sophisticated software that progressively generates better illusions of intelligence — and sentience — will progressively reduce the degree of silliness we feel after an emotional reaction to it. That is where the human mind comes in. Perhaps we are such a system — possessing of a complex enough hardware and software system to generate a convincing enough illusion of intelligence and sentience.
Perhaps then Sereno is right. Her being Chief Justice is not necessarily an outcome of her personal will.
But is everything that happens necessarily God's "will"?
I doubt if the designers of our phones' autocorrect systems foresaw days when we'd end up telling a friend her nipples are cute when we meant to compliment her on the appearance of adorable recesses on her cheeks whenever she smiles.
That is proof enough that no amount of Sereno telling us her being Chief Justice is "God's will" will absolve her of any personal accountability over how well — or how badly — she performs over the next 18 years. It also raises the possibility that her appointment to the office of the Chief Justice could just be an outcome of a glitch in the software installed between a certain person's ears.
[Photo courtesy PinoyBreakingNews.info.]
benign0 is the Webmaster of GetRealPhilippines.com.