A new touch-screen device that is supposedly "the world's first Christian tablet" has been announced by FamilyChristian.com, an online ministry that markets Christian products and services. Called the edifi, the device is equipped with a "Family Christian Reader", offers "Safe Search Wi-Fi" web browsing, and retails for USD149.99 putting it in direct competition with new low-cost tablets being offered by Web giants such as Apple, Google, and Amazon.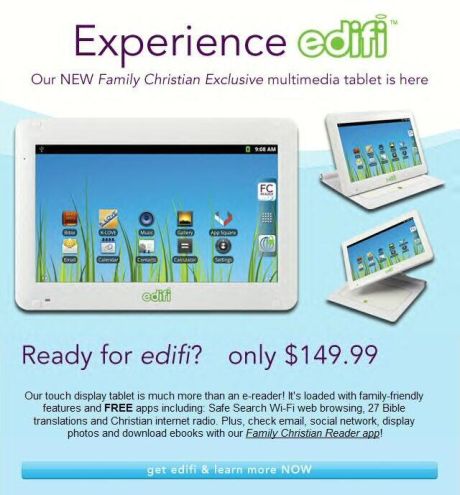 Holy iPad slayer! shouts a FoxNews.com report which features excerpts from an interview with Brian Honorable, technology supervisor at Family Christian…
It also comes with movie-watching capabilities, Christian radio stations, and even a web browser with built-in "safe search," so the tablet is safe for the whole family. "We put that on there just in case it was given as a gift to a child, so they wouldn't have access to things they shouldn't have access to," said Honorable. "We definitely had to tailor it to our customers."
This, indeed, is another case-in-point highlighting the commoditisation of tablet computing devices as a looming price war in the low-cost segment of the industry threatens premium products such as Apple's $500 iPads.
More importantly, edifi is an example of such a device that offers a tightly-controlled environment taylored for specific users — interesting for parents in particular who are increasingly concerned about the nature and quality of Web content that is getting in front of youngsters' eyeballs in greater quantities. What's stopping other content marketers from coming up with their own such tablets?
If Scientific American came up with a similar device, I'd buy that for my kid for $200!
benign0 is the Webmaster of GetRealPhilippines.com.