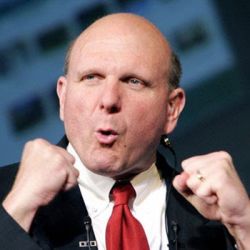 In his first public statement since Microsoft revealed plans to develop and market their "Surface" tablet computers, CEO Steve Ballmer in an interview with CRN.com vowed that they are "not going to leave any space uncovered to Apple" referring to the software giant's unprecedent push into a product develeopment approach of closely integrating hardware and software. This approach has been the long-time strategy of Apple which achieved spectacular success developing products that re-defined tech cool by keeping tight control over software and hardware design.
Microsoft, for its part achieved its own success initially when it became the leading vendor of what were to become the lingua franca operating system and programming languages.
The company founded by Bill Gates and Paul Allen came to dominate personal computing software on the back of the success of the IBM PC and the PC clones that subsequently proliferated. At one time Microsoft was a virtual monopoly, supplying Microsoft Disk Operating System (MS DOS) and Apple DOS to PC manufacturers and the Apple II line respectively. It also developed and marketed the programming languages MS BASIC and Apple BASIC, both of which along with its DOS products were practically single-handed creations of its two founders.
Just teenagers back then, Gates and Allen broke ground and blazed trails in the true spirit of the generation of tech garage startups they heralded in and in the real sense of innovation. This provides a backdrop to Ballmer's menacing words today: "We do feel empowered to innovate everywhere and bring our partners with us…"
Apparently the irony in these words escapes Ballmer who uses the word "innovation" within the same space of a virtual promise to catch up with the Apple juggernaut. Ballmer had defined his innovation crusade in terms of territory already mapped by Apple — mobile hardware, touchscreen tablets, sleek design, tight integration, cloud computing, and mobile apps among others. Is thinking outside the square dead?
Perhaps this is what sets apart the truly visionary startup entrepeneur from the merely competent professional manager. To "innovate everywhere" comes across as a quaint oxymoron when one considers how guys like Gates, Allen, and their peers Steve Jobs, Steve Wozniak, Jeff Bezos, Sergey Brin, and Larry Page set out to conquer the world. They all started out doing one thing really well.
benign0 is the Webmaster of GetRealPhilippines.com.