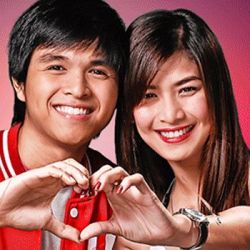 Seems like when the Dolphy also known as the Philippines' King of Comedy died, the country's sense of humour died with him. A tweet by social media sensation couple Jamvhille Sebastian and Paolinne Michelle Liggayu, "better known as the real life couple JAMICH" (according to the blurb on their twitter profile @ilovejamich) highlighting how their celebrated 50th "monthversary" (i.e. their 50th month as a couple) happened to coincide with the passing of the comedy icon drew some flak. Personally, the offending tweet came across as quite benign…
Kasabay ng monthsary namin ay pumanaw na ang hari ng komedya 🙁 RIP Dolphy #Legendary #KingOfComedy
[Translated: "The King of Comedy's passing coincided with our monthsary"]
The couple later issued a statement on their Facebook fan page…
Hello! Dami kasi nag react dito sa tweet namin. Kasi habang nagttweet kami about our monthsary (makikita niyo naman sa previous tweets) biglang nakita ko sa trending list na RIP Dolphy. I was so shocked! Ang sa amin lang ay monthsary namin ang saya namin kanina together tapos biglang bad news na pagkamatay ni Dolphy. Sorry sa mga taong namisinterpret. We respect Dolphy and his family. Our sympathy goes out to them. Wala kami intention na mambastos or what. We clearly understand na kapag pinost ng isang tao, minsan papalakihin but if you really think about our tweet open heart & mind, there's nothing wrong with that. At sa mga tao na nagsasabi ng masama against us, "May GOD bless you!" sana bago kayo magsalita ng respeto, bigyan niyo din kami nun. Peace everyone! 🙂
[Abridged translation: "This is to explain to the many folk who reacted to our tweet: we just happened to see 'RIP Dolphy' on the trending list [on Twitter] while tweeting about our monthsary. We respect Dolphy and his family. Our sympathy goes out to them. We had no intention of disrespecting anyone."]
Regardless of who reacted badly, overreacted, or misinterpreted who or what, the question is quite simple:
What's the big deal?
For starters, Dolphy was 83 and lived a full life. His passing away was hardly shocking. A guy his age confined for weeks under intensive care was most likely ready to go, and his family seems to have been prepared.
Second, I find it quite ironic that the fans of the King of Comedy couldn't find it in themselves to have a laugh over the debatable folly of a youthful couple. It's not like they taunted a world power like China into sending serious missile boats to the West Philippine Sea.
Lastly, there's really no point going up against social media sensations like Jamvhille Sebastian and Paolinne Michelle Liggayu. The Philippines is a country of young people. This is a society that is coming of age in the era of no-achievement celebrity. Indeed, the couple had already been conscripted by Philippine Media giant ABS-CBN which, suffice to say, is always on the lookout for cash talent.
Like media like society. Dolphy himself was famous for roles that reflected the character of the Filipino. So let's not get too fussed about what we see when we look into the proverbial mirror.
benign0 is the Webmaster of GetRealPhilippines.com.