Another big Hollywood divorce is upon us. Hollywood über-stars Tom Cruise and Katie Holmes announced they will be splitting after five years of marriage. According to Cruise's representative Amanda Lundberg, Holmes, former star of popular TV drama series Dawson's Creek "has filed for divorce".
"This is a personal and private matter for Katie and her family," said Jonathan Wolfe, the attorney representing Holmes. "Katie's primary concern remains, as it always has been, her daughter's best interest."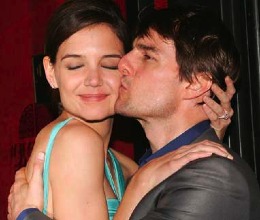 Back in 2005, Cruise drew much criticism after he so openly and publicly gushed about Holmes, then his new love, just shortly after ending his relationship with actress Penelope Cruz. Much of the critcism follwed Cruise's now infamous couch-jumping on The Oprah Winfrey Show in June of that year. In an interview with MTV News' Sway Calloway, Cruise showed how clearly smitten he was…
"Hey man, when I make a move like that, I'm saying, 'This is my woman,' " Cruise said. "People are going to do what they're going to do. Here's the thing, you can't think about it in terms of what people are going to do or say, it's 'I want to share my life with this woman. This woman is exceptional, she's special, she's extraordinary and I have great respect for her.' It's someone who's saying 'I've got nothing to hide, I'm happy.' I'm happy, man!"

Cruise went on to gush about how Holmes' dynamic personality and ability to keep up with him is what had him falling head over heels in love.
Cruise is an outspoken advocate for the Church of Scientology. He became involved with Scientology in 1990 through his first wife, Mimi Rogers. He has said that Scientology, specifically the L. Ron Hubbard Study Tech, helped him overcome dyslexia. In addition to promoting various programs that introduce people to Scientology, Cruise has campaigned for Scientology to be recognized as a religion in Europe. In 2005, the Paris city council revealed that Cruise had lobbied officials Nicolas Sarkozy and Jean-Claude Gaudin, described him as a spokesman and militant for Scientology, and barred any further dealings with him. Cruise co-founded and raised donations for Downtown Medical to offer New York City 9/11 rescue workers detoxification therapy based on the works of L. Ron Hubbard. This drew criticism from the medical profession, as well as firefighters. For these activities and others, David Miscavige awarded Cruise Scientology's Freedom Medal of Valor in late 2004.
Holmes was annually named by both the British and American editions of FHM magazine as one of the sexiest women in the world from 1999 forward. She was named one of People's "50 Most Beautiful People" in 2003; its sibling Teen People declared her one of the "25 Hottest Stars Under 25" that year;[75][76] and in 2005, People said she was one of the ten best dressed stars that year.[77] She has appeared in advertisements for Garnier Lumia haircolor, Coach leather goods, and clothing retailer The Gap.
In 2008, Holmes started a high fashion clothing line called Holmes &Yang with longtime stylist Jeanne Yang. In July 2009, Holmes, Nigel Lythgoe, Adam Shankman, and Carrie Ann Inaba announced the launch of a dance scholarship fund called the Dizzy Feet Foundation. Beginning January 2011, she became the new face of Ann Taylor Spring 11 collection.[82] In April 2011, she ranked 6th in People magazine's annual 100 Most Beautiful issue.
[NB: Parts of this article were lifted off the Wikipedia.org "Tom Cruise" and "Katie Holmes" and used in accordance with that site's Creative Commons Attribution-ShareAlike License consistent with the same license applied by Get Real Post to its content.]
benign0 is the Webmaster of GetRealPhilippines.com.