Queen Sofia of Spain will be in the Philippines from the 2nd through the 6th of July next week. Her Majesty and her husband King Juan Carlos have been the reigning monarchs of Spain since 1975 and have both visited the Philippine in the past in 1995, 1998, 2000, and 2003. They will be the guests of Philippine President Benigno Simeon "BS" Aquino III who will host a reception in Malacañang in her honour.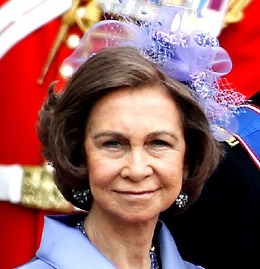 Princess Sophia of Greece and Denmark was born in Psychiko, Athens, Greece on 2 November 1938, the eldest child of the King Paul of Greece (1901 – 1964) and his wife, Queen Frederika (1917 – 1981), a former princess of Hanover. Queen Sofia is a member of the Schleswig-Holstein-Sonderburg-Glucksburg dynasty. Her brother is the deposed King Constantine II of Greece and her sister Princess Irene of Greece and Denmark. However, since the abolition of the Greek monarchy, the royal titles are recognized by the Dutch Monarchy and the Danish Royal Family.
Princess Sophia spent some of her childhood in Egypt where she took her early education in El Nasr Girls' College (EGC) in Alexandria, then went to South Africa during her family's exile from Greece during World War II. They returned to Greece in 1946. She finished her education at the prestigious Schloss Salem boarding school in Southern Germany, and then studied childcare, music and archeology in Athens. Sofia also studied at Fitzwilliam College, Cambridge a constituent college of the University of Cambridge. She represented Greece in the 1960s Summer Olympics sailing events .
SUPPORT INDEPENDENT SOCIAL COMMENTARY!
Subscribe to our Substack community GRP Insider to receive by email our in-depth free weekly newsletter. Opt into a paid subscription and you'll get premium insider briefs and insights from us daily.
Subscribe to our Substack newsletter, GRP Insider!
Learn more
On 14 May 1962 Princess Sophia of Greece and Denmark married Infante Juan Carlos of Spain, whom she met on a cruise of the Greek Islands in 1954, in Athens at the Catholic Cathedral of Saint Dennis. In doing so, she relinquished her rights to the throne of Greece and converted to Roman Catholicism from Greek Orthodoxy, an act of convenience in order to become more palatable to Catholic Spain. Further, the Latin transliteration of her Greek name, was changed from Sophia to the Spanish variant Sofia, which nonetheless is pronounced identically to the original Greek version.
In 1969, Prince Juan Carlos, who was never Prince of Asturias, the traditional title of the heir to the throne, was given the official title of Prince of Spain by the Spanish state; this was a title suggested by Sofia herself. Juan Carlos acceded to the throne as Juan Carlos I in 1975.
The couple have three children: HRH Infanta Elena, Duchess of Lugo born 20 December 1963, HRH Infanta Cristina, Duchess of Palma de Mallorca born 13 June 1965, and HRH Felipe, Prince of Asturias born 30 January 1968. The King and Queen have eight grandchildren, four boys and four girls: Felipe and Victoria from the Infanta Elena; Juan, Pablo, Miguel and Irene from the Infanta Cristina; and Infanta Leonor, and Infanta Sofia, named in her honor, of Prince Felipe; all of whom are in the line of succession to the Spanish Throne.
The Philippines was a colony of Spain for 400 years until 1898 following the defeat of Spain in the Spanish-American War after which the United States gained almost all of Spain's colonies, including the Philippines, Guam and Puerto Rico.
[NB: Parts of this article were lifted off the Wikipedia.org article "Queen Sofia of Spain" and used in accordance with that site's Creative Commons Attribution-ShareAlike License consistent with the same license applied by Get Real Post to its content.]
benign0 is the Webmaster of GetRealPhilippines.com.