Big budget for cash dole outs on an election year. That, it seems, is a lethal combination in the coming financial year ending 2013 when mid-term will be held. The "centrepiece" of President Benigno Simeon "BS" Aquino III's poverty alleviation program, the Conditional Cash Transfer (CCT) program is set to be allocated P45 billion if the budget for 2013 is approved. Gabriela Rep. Emmie de Jesus reportedly called the program, dubbed Pantawid Pamilyang Pilipino Program (4Ps), a "growing monster of deception in the face of 2013 electoral spending."
"The Aquino administration has not proven any long-term positive impact of the CCT on the lives of its beneficiaries, so why increase the budget now? Isn't it a suspicious coincidence that the proposed marked increase comes at a time when electoral spending will once again shoot up?" de Jesus asked.
According to The Economist, however, conditional programs actually work "because they are rules-based and relatively uncorrupt". Furthermore…
Though the stipends are usually a pittance, they make a difference to the poorest because they are reliable—unlike the rest of the poor's income. CCTs also help the next generation. By requiring children to have lessons and health checks, the programmes should make children better educated and healthier than their parents. Schemes in Bangladesh, Cambodia and Pakistan have all got more girls into education. That is good in itself and good for getting jobs.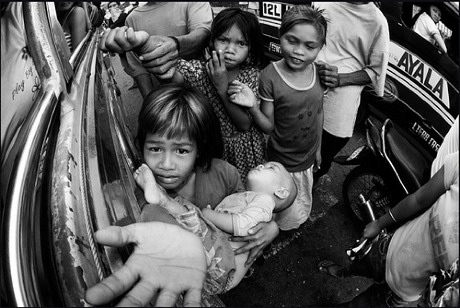 The key words here are, of course, rules-based and uncorrupt.
In a country such as the Philippines where the notion of being rules-based and uncorrupt tend to elicit more cynical snickers and less thoughtful reflection, the million dollar question is obvious: Do Filipinos have it in them to make a CCT program work?
The rules that govern dole outs under President BS Aquino's program are quite simple…
The CCT provides poor families with at least three children below 14 years old cash aid of P500 to P900 if the kids are sent to school.

Each child who turns 14 automatically loses the P300 monthly stipend.
But according to a "a recent survey on self-rated hunger conducted by the Social Weather Stations (SWS)", the Philippines in recent time has a greater proportion of self-described "hungry" people than ever. The survey conducted over the period fo the 10th through the 13th of March showed that incidence of hunger had increased from 22.5 percent to 23.8 percent since last December, 2011. For that matter…
According to the SWS, the hunger rate surpassed the highest record of 23.7 percent recorded in December 2008.
Could it be that we are seeing the Philippines is earning a distinction of being a country that may actually be defying generally accepted conclusions about the effectiveness of CCTs that no less than The Economist endorses? Perhaps if we look back at the Philippines' track record of perverting otherwise noble ideas, we need not be too surprised…
We have a stand-out track record of dubious achievement resulting from our penchant for perverting otherwise great ideas:

Jeepneys. they were an adaptation to post-war conditions but they are now a grotesque and poignant reminder of our lack of foresight and dismal engineering prowess.

Democracy. We supposedly popularised "people power" but then twisted it into the farce that it is today (at least in our country). Our institutions are — our country itself is –democratically-constituted to the letter but they — we — do not execute democracy's principles in spirit.

Religion. we are a famously church-going society – possessing an utter lack of secular ethic and tolerance that has no place in modern society. Our veneer of religiousness barely hides the decay of decency in the increasingly rotten core of our society.

…and most famously;

Christmas. We have earned the distinction of giving the greeting "Merry Christmas" a malicious and greedy ring to it.
Now we add conditional cash transfers to the above list.
The year 2013 is, after all, an election year. It is hard to imagine a government as desperate for Congressional support as BS Aquino's being the stickler for rules and keeping itself uncorrupt while in custody of a wad of cash to the tune of 45 billion bucks.
As always,
Abangan ang susunod na kabanata.
[Photo courtesy TropicalPenPals.com.]
benign0 is the Webmaster of GetRealPhilippines.com.