June 10 was at the very least a double header for sports that Pinoys like keeping track of. First-up was Game 7 of the National Basketball Association (NBA) Eastern Conference finals between the Miami Heat (MIA) and the Boston Celtics. After that was Manny Pacquiao's fight with Timothy Bradley. There was also a UEFA match between Italy and Spain, but exactly how many Pinoys keep abreast of soccer? Nonetheless, it was a very busy day for couch potatoes, indeed!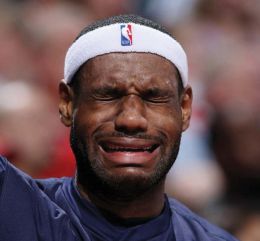 In case you have not heard, the Miami Heat won, thus they will advance to the NBA Finals where they will face the Oklahoma City Thunder (OKC). Will Lebron James finally be getting that elusive championship ring that will finally shut all his detractors and critics up? Will he finally be able to say that the King has found his crown? OKC is apparently very evenly matched with them; they will have a lot to say about that.
Manny Pacquiao lost via split decision to Timothy Bradley. The statistics showed that Manny Pacquiao landed more punches. If each round was to be scored, more rounds would have been in favor of Pacquiao. So, the big question is, why did he lose? There are quite a few conspiracy theories surrounding this; we'll get to them later. For now, Pacquiao says that "he accepts the verdict, but he believes 100% that he won."
I can remember around this time last year, the Miami Heat were also in the NBA Finals. Their opponent was the wily veteran team the Dallas Mavericks (DAL). I can also clearly remember that there were some Pinoys who were rooting for Miami to win simply because their coach, Erik Spoelstra, has Filipino blood. Oh well, talk about your Pinoy pride projection once again. At the same time, there were also those who were rooting for Miami to lose, because some felt that Lebron James did not deserve to win a title yet. Some of the things people said: mayabang(pompous), he's not mature enough, he hasn't shown himself capable as a leader, he chokes in clutch periods, etc. All well and good, but I won't be surprised if Pinoys do the same thing again this year. After all, they do expect different results while doing the same thing over and over. Pinoys are insane.
Manny Pacquiao's loss was harder to take for many Pinoys, naturally. The truth, according to Pinoys, is that they never lose; if they do, they were "cheated", they were "discriminated against", the match was "unfair", etc. There are rumors abound, that the local Nevada mafia had a hand in making sure that Pacquiao lost. Another rumor says that Bob Arum wanted Pacquiao to lose because the rematch is sure to make even more money for him.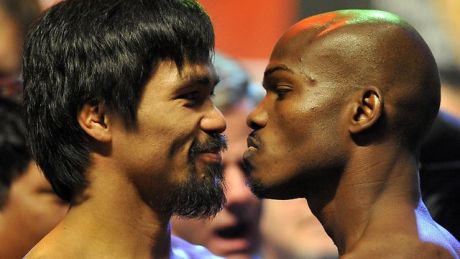 Why is it hard for Pinoys to take a loss gracefully? Do they feel that if they "lose", then their precious "Pinoy pride" is shattered to bits? Pinoy pride is a type that is empty to begin with!
Pacquiao's loss should be the thing that snaps Pinoys back to reality: they're not the best people in the world. Pacquiao is recognized because he is a good boxer, and not because he is Filipino. And, yes, professional sports is dirtier than people think it is.
Now that the boxing match is over, Filipinos should "move on" to more important issues, such as making the government accountable for their promises, and working with it to uplift our society. The world did not end when Pacquiao lost, but then again, Pinoy pride is the only thing that shallow Pinoys have to cling to. Is it any wonder then why our society is in shambles?
Ultimately, there's this thing called sportsmanlike conduct which Pinoys should learn from. This is not only applicable to sporting competitions, but to other aspects of life. I believe that we Filipinos, provided we've "moved on", should be able to take away a few lessons or so from these two sporting events:
Being cry-babies will not change reality
Rajon Rondo of the Boston Celtics called the Miami Heat out about incessant complaining of the referees' calls. Lebron James kept complaining that he shouldn't have fouled out in Game 4. Although the Heat went on to win the series, the lesson is clear: being a cry-baby or a whiner only makes you look pathetic. Regardless of whether it was really bad officiating or not, the athlete has a responsibility too: to learn from his mistakes
Bob Arum was such a pathetic whiner. Referring to the referees as three blind mice was something I think done in bad taste. As for Pacquiao, we will see in the coming days whether he really was true about "accepting the verdict". Yet, his "believing 100% that he won" runs contradictory to the first part of his statement, don't you think?
We must never forget to mention the Pinoys. We as a people have taken the victim mentality to an art form. This is one of the biggest stumbling blocks to our progress as a people. Unless we start taking responsibility and "move on", we will occupy the same pothole indefinitely.
If at first you don't succeed, change your strategy
Lebron James, together with the Miami Heat, has earned a second straight trip to the NBA Finals. The big questions: will the spectators see Lebron mature and take charge of the series, or is he doomed to repeat the same mistakes he made last year? Is Lechoke (Lebron James choking in clutch situation) finally going to be a thing of the past?
Similarly, Pinoys have been electing the type of politicians who have few accomplishments to brandish other than their family name or whatever showbiz gig they've done. The 2013 elections is a chance for us to prove to ourselves that we are not insane.
Learn to quit while you're ahead
Is this going to be the wake-up call for Pacquiao that maybe he is already past his prime? After all, he is already about 34-35 years old. Add to that the fact that his stints as Congressman and professional entertainer here in the Philippines have reduced his available time to train for fights. Better to quit a winner, than to leave either as a body bag or a shell of what you once were.
The world isn't fair; get used to it
So the match was allegedly fixed. Too bad. Life isn't fair. Are we Pinoys just going to sit and complain? If we think about it, the boxing match should mean very little to us because it has no bearing whatsoever with the plight of our nation. The bottom line is simple, Pinoys should get on with their lives and stop sulking.
Eventually, someone who is better than you will come around
Bradley is about 6-7 years younger than Pacquiao, and he's black. To be perfectly clear, I'm not saying that blacks are better than Pinoys, but physically African-Americans seem much tougher, much bigger, much more tenacious, and more imposing than whites or Filipinos. The age difference is a big factor too; around the early 30's the human body starts to deteriorate physically. In the end, that difference made Bradley a difficult opponent to knock down, end of story.
Pinoys are not the greatest thing since sliced bread. They don't even have a collective accomplishment to brag about. What exactly are we doing about it? Are we going to finally get to work at rebuilding ourselves?
All that bragging of how great you are is worth nothing without results
This is a simple truth that probably has been eating at Lebron James for his entire professional career. He still has no NBA ring to show for it. He's had many chances to win, but somehow he's his own worst enemy.
Similarly, Pinoys keep brandishing Pinoy pride all over the world when someone like Manny, Charice, or Lea Salonga makes it big overseas. Yet collectively as a people, we still have nothing, no accomplishments that we can show to the world. Our economy is not keeping up with our population boom. Politicking and persecution of political enemies still take precedence over improving the plight of our countrymen. Many Filipinos are still finding it hard to keep up with what to them are expensive costs of basic commodities and goods.
At the same time, I can never appreciate that Pinoys are very quick to complain that Manny Pacquiao was "cheated" out of a win, yet they never complained once that Renato Corona was denied a fair trial from the start. It's a case of misplaced priorities.
So where are the results? If we still keep on insisting on projecting Pinoy pride without being able to answer this question, then we will forever be kept out of "main contender" status in the global arena.
А вы, друзья, как ни садитесь, все в музыканты не годитесь. – But you, my friends, however you sit, not all as musicians fit.