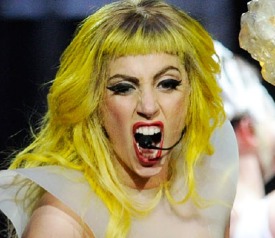 Pinoy hypocrisy has reared its ugly head – again. Just when I was wondering when we were going to hear from the Roman Catholic Church of the Philippines about banning or boycotting Lady Gaga's upcoming concert here in the Philippines, lo and behold. Protests apparently erupted last Friday, which were staged by at least one or more religious groups. According to news reports, these religious groups claimed that Lady Gaga's concert would promote "godlessness". To them, her songs are "blasphemous", particularly the song entitled "Judas".
What they claim superiority with is the stupid notion they have enough merit to their complaint, because her concert in South Korea restricted under 18's from attending, and that her concert in Indonesia was cancelled because she was unable to secure a permit from the national police.
Even local artists have weighed in on the issue. Their "advice" is for Lady Gaga to change some of her lyrics so that they won't be offensive to anyone here. To quote Martin Nievera from the report:
"Kung ako 'yan, papalitan ko lyrics ko, kung talagang offensive lyrics ko, parang directed sa ibang bagay," singer Martin Nievera said. "Sana gawin din ni Lady Gaga 'yun, sana mag-adjust siya sa Christianity natin." ("If I were her, I would change the lyrics, if they were really offensive, as if to be directed at other stuff." "I hope she really would do that, I hope she would adjust to our (brand of) Christianity."
What an arrogant sack of bullcrap coming from a has-been who tried to make in the States and failed. Does freedom of expression mean anything to these people? Is it always the Pinoys whose sensibilities should be adjusted to? The point here is, why should the people who don't seem to be offended by her lyrics have to capitulate to the wishes of the fewer but more vocal (read: bungangero/a) "offended ones"?
Why do I call these "offended ones" hypocrites? Because they're quick to protest about Lady Gaga's provocative and controversial manner of presentation, but nary have you heard a word from them lately about the lewdness ubiquitous in local TV. Dancing girls on local noontime shows, HELLO?! Apparently, something is offensive only if non-Pinoys do it. EXCUSE ME?! Can we say double standard?! Every time I want to shut up and believe that Filipino citizens are getting smarter, the inborn stupidity of Pinoys drags me down to reality, and it takes the quality of overall Filipino character even lower.
Friendly advice to people who are "offended": if you don't want to see the concert because it offends your sensibilities, then just simply don't. At the same time, don't go around acting like morality police telling everyone that they should be doing the same thing as you do. Those who are going to see the concert are there to watch an artist, albeit a provocative and controversial one, perform. Nothing more, nothing less. If you want to exercise your freedom of expression, for the love of everything holy, let others do the same.
I'd like to give the concert goers the benefit of the doubt, when I say that I don't think a lot of them will be looking for lesbian or homosexual sex immediately after the concert. I don't think that watching the concert would cause them to renounce their god, if they believe in one. I don't think that they'll be looking to burn a Bible immediately after the concert.
The message is simple: take the concert simply for what it is: a performance with high production and shock value. Leave your balat-sibuyas and restrictive religious and moral high ground sensibilities at the door, PLEASE. For "expressive" performances to work, these require a suspension of disbelief, and an open mind. Oops, I think the term "open mind" is sure to offend most Pinoys.
For the record, my friends and I wanted to watch the concert too, but the tickets were just too damn expensive.
А вы, друзья, как ни садитесь, все в музыканты не годитесь. – But you, my friends, however you sit, not all as musicians fit.