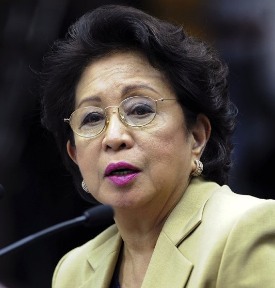 And the comedy of errors that is the impeachment trial of Chief Justice Renato Corona continues as today's session concludes. A long accounting made by Ombudsman Conchita Carpio-Morales of various funds movements between 82 bank accounts across several banks to the name of Chief Justice Renato Corona over a period beginning 2003 through 2011 revealed an anticlimactic bottom line: total funds moving into the Corona accounts over the period amounted to USD28.7 million while total outflows amounted to USD30.0 million. Assuming that the beginning balance in 2003 was zero, that amounts to an ending balance in 2011 of minus USD1.3 million.
The size of the amounts of the movements, of course, were quite notable and, indeed, makes for curious speculation as to what Corona may have been up to during that period. But an accounting of fund movements in and out is meaningless without a beginning balance — a crucial piece of information that was missing from Morales's testimony considering the bold claims that were made by the prosecution camp: that Corona held anywhere from $10 million to $12 million in these bank accounts. In finance parlance, such claims made by the prosecution camp were balance sheet (what in essence is a person's statement of assets, liabilities, and net worth or SALN) figures. What Morales presented were all to do with just cash flow. These are two different things — a difference which an attorney who, by some accounts, is "not good with figures" will most likely not have intuitively grasped.
My own bank statement is quite impressive — if you look at the total inflows and total outflow stated over a given period, that is. But that does not mean I've got lots of cash. It simply means those amounts moved through my bank account — my salary accounting for most of the inflow and my personal expenses accounting for most of the outflow. How I wish either the inflow or outflow figures were actually my cash account balance.
In short, after being subject to Morales's man-voice for close to an hour, we are nowhere near any absolute clarity over whether these claims about how much dollars Corona holds at any one time in his alleged bank accounts has any real bases. Yet Morales's original claim was quite clear:
Morales told Senator-Judge Ferdinand "Bongbong" Marcos Jr. that the 82 bank accounts contained an estimated $12 million as

"My computation arrived at with the assistance with CPA lawyers, fresh deposits amounted to $12 million," Morales said at the Senate impeachment court.
What exactly was the nature and approach of this "computation"? Did it involve any known form of mathematics? Perhaps rather than rely on PowerPoint slides prepared by an underpaid clerk, Morales should instead enlighten the court on the equations she may have applied to the task.
Earlier, "civil society" honchos Risa Hontiveros, Walden Bello and Harvey Keh filed private complaints with the Ombudsman making similar claims that they had information about Corona's dollar holdings in various banks. Keh claimed to have received the information to substantiate his complaint in a brown envelope. "When I opened it, I was surprised and shocked. I saw transactions records—the name of the bank, the name of the depositor Renato Corona, the deposits, the dates the account was opened, opening balance," Keh was reported to have said.
Indeed…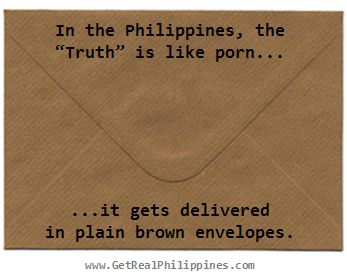 Senate President Juan Ponce Enrile, who declined to open the brown envelope saying that he's never met Keh had already issued a court subpoena summoning Keh to explain his claim last week. Nonetheless, Enrile did not seem to expect much from it. "I don't know whether he would say anything interesting. I don't know what information he has," Enrile was quoted saying of Keh. Keh along with Hontiveros had since denied that they had said anything about Corona possessing cash holdings of USD10 million.
One thing that Morales's testimony did highlight was how such enormous sums of dollar-denominated cash moved between 82 accounts over the period without any bank officer or branch manager from any of the banks involved raising alarm bells. Chief prosecutor Niel Tupas Jr himself described these movements as being "like professional money laundering". And yet the Anti Money Laundering Council (AMLC) of the Philippines apparently had seemingly not taken any steps to take the involved banks to task despite being in possession of this data. Indeed, AMLC executive director Vicente Aquino had earlier altogether denied being in the process of investigating Corona's accounts.
Obviously Morales and the AMLC not only did not contribute any clarity on the matter but muddled it even further. Could this be solid grounds for the defense panel to request that all bank managers involved in the transactions Morales itemised today be summoned to testify in court? Looks like Enrile's 31st of May ultimatum to conclude this quaint trial won't be met.
[Photo of Ombudsman Morales courtesy Yahoo! News.]
benign0 is the Webmaster of GetRealPhilippines.com.