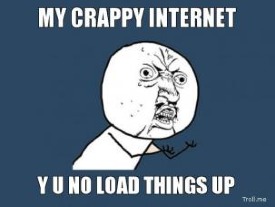 I always remember how disappointed I tend to be during the rainy season, when my Internet connection would go on and off at ten-minute intervals, and when my connection does shut down totally, how technicians arrive at three days minimum. Those are the good old days, and, considering that the wet season is just around the corner, I just don't feel like thinking about it. Thankfully, I am not alone in my sentiments.
A recent survey conducted in the Philippines reiterated an ever-present truth; Internet connection in the Philippines kind of sucks. The study was conducted by Ericsson's ConsumerLab in an attempt to understand consumer sentiment towards the telephone companies (telcos).
In the study conducted between 2010 and 2011, ConsumerLab found that 88 percent of those surveyed think quality of service is one of the key areas of improvement for Internet in the Philippines, followed by customer care (47 percent) and billing concerns (5 percent).

(Source: Link)
It is interesting to note that many Filipinos are even willing to pay more just for a guarantee of better Internet quality.
"At least a third of the population are willing to pay for better quality," said Vishnu Singh, head of ConumerLab for Ericsson Southeast Asia and Oceania. "So there's actually an opportunity [for providers] by offering services based on a segmented approach."
Furthermore, Singh noted the necessity of understanding the nature of the demand.
To harness this demand, Singh said providers must have a "deeper understanding of their customers' changing demands" and to deliver on the expectations of consumers.
The article also stated that mobile Internet services suffer the worst in the Philippines, given some factors such as "signal strength, interferences, and location that tend to affect the quality of the connection."
However, telcos responded by defending themselves against growing consumer dissatisfaction, stating that some "abusers" compromise Internet quality, forcing them to resort to inconvenient measures.
Telcos, on the other hand, argued that a small minority of users is actually "abusing" their subscription, which tend to affect the overall network quality, leading to the introduction of industry practices such as data caps and fair usage policies.

One telco executive went as far as to declare that their firm's unlimited data offerings would have to end eventually, citing smaller margins on unlimited data amid higher capital investments required to maintain the infrastructure.
Telcos respond to consumer dissatisfaction by dissatisfying them even further, trying to justify their shortcomings while doing next to nothing to improve their services to cater to growing demand, which is perfectly normal, given how much of the world's economies are tied to information technology. Given the current economic paradigm, won't you expect telcos to consider bettering their services instead of coming up with a pretty lame excuse like subscription abusers to justify more inconvenience for everyone.
Why, fairly recent news from Yahoo! shows just how mediocre our Internet quality is.
The Philippines, with an average Web page loading speed on desktops of 15.4 seconds, was named the world's second slowest behind Indonesia's 20.3 seconds, said a Bloomberg report which cited Google's study.

(Source: Link)
Given how Filipinos are becoming more and more dependent on information technology, it might come as a wonder how telcos seem unprepared for nothing but a normal increase in demand for better quality of service, offering a whole bunch of alibis and no real plans that can make customers happy. It seems that the incentive to profit by serving consumer interest is fading, as far as telcos are concerned.
In the midst of these events, one could say that the telcos' big men are ignorant, but I'm more inclined to think that they're complacent. It is possible that they are actually okay with whatever happens to the telecommunications industry, and that they find no need to robustly tackle the issue, which will demand more of their time and capital. After all, why work your butt off, when you and a few other companies are the only ones running the gig?