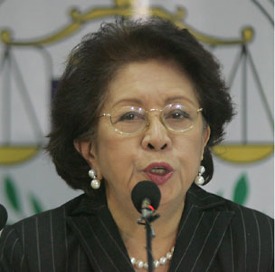 Recent reports narrated Ombudsman Conchita Carpio-Morales's outrage over respondent Chief Justice Renato Corona's statement regarding her allegiance; that she might be in cahoots with the Aquino administration.
"I was never ever used by Malacañang," Carpio-Morales told reporters in a press conference.

"Hindi ako magpapagamit. I have been trying to be impartial. I have been trying to be fair. I have been trying to be impervious to influence and I'd like to believe I succeeded," she said.

Carpio-Morales said she felt "maligned" by Corona's statements against her, adding that she will let the public judge who between them is telling the truth.

(Source: Link)
But then, recall that Corona was only compelled to answer senator-judge Jinggoy Estrada's question; a question about the possible reasons for the alleged distrust between the respondent and the Ombudsman in the good ol' Supreme Court days. Furthermore, it was not as accusatory as it seems; in effect, Corona was merely expressing his suspicions in response to a senator-judge's question.
(Transcript in English)
Estrada: Do you know of any other reason why she [Morales] would testify against you? Aside from the things you've mentioned.

Corona: Very well. I think—I'm sorry, I really apologize to this court to have to say it, but Senator Jinggoy Estrada asked a question… I think the Ombudsman let herself be used by the Malacanang.

Estrada: What makes you say that, Chief Justice?

Corona: Well, because, she waved around a document which is supposedly or allegedly coming from the AMLC. It's just not right because the document is not even authenticated. I didn't even know that I'm guilty of a predicate crime. What I knew is that I wasn't being investigated. There was no court order. There was neither this nor that. And yet she disclosed an alleged AMLC report and used Powerpoint Presentation to show it here. There is one other thing I wonder about regarding that event. This is because she sent me a letter, ordering me to reply within 72 hours. Now, emblazoned on the top of her paper in bold, black letters, was "strictly confidential." When my office received the letter from Ombudsman Morales, the envelope was sealed; thick-brown envelope. And we were in Baguio because we're having a summer session. When we arrived at Manila, it was only then that I got ahold of the documents from Ombudsman Morales which were still sealed. It means, they weren't opened yet by any member of my staff in Manila. What bothers me is that it's "strictly confidential" but Philippine Daily Inquirer has a copy…
Note that Corona did not express his theories in a conclusive, matter-of-factly way. At the same time however, he was also able to reveal another fishy fact about PDI's possession of the supposedly "strictly confidential" document.
As to Corona's allegation that his rejection of Morales's request for a bigger retirement fee being the cause for her animosity with the respondent, the Ombudsman expressed her contempt:
Carpio-Morales, however, said she never requested for Corona to increase her retirement benefits.

"It's not true. I did not ask for it. I suffered in silence. I never asked for his consideration, bahala siya," she said.
Also, she denied that she was the one who leaked the supposedly confidential documents:
She also denied that she was the one who leaked the "confidential" document to the Philippine Daily Inquirer.
Of course, whether Corona's answer is completely true is beyond our powers (and I will openly express my contempt should it be proven he's lying), but in the midst of all this, it would be very timely to ask the Ombudsman this question: how does it feel?
How does it feel that your credibility is being called into question, unable to personally deny it in court, having to put up with these allegations through press conferences, knowing that searching eyes peer maliciously into your carefully cultivated reputation? How does it feel that there might be people who are unconvinced of your sincerity no matter what you say? In short, how does it feel to have a dose of your own medicine?
After all, it was the Ombudsman who submitted the dubious AMLC documents in court, with the groundbreaking claim that not only Corona has 82 bank accounts, but he also has 12 million dollars in tow, which is, amusingly, exaggerated. By Corona's admission, he only had 4 dollar accounts and 3 peso accounts, and only 2.4 million dollars in his dollar accounts. But despite this revelation, the moral damage cannot be undone; Corona still took verbal blows from many Filipinos.
The medicine administration doesn't stop here, what with Corona's historic dare to his persecutors to also sign their waivers, so that the public will also know of their financial statuses. It seems the respondent has this intriguing ability of getting back at the ones who put him on tough times. I wonder if he can do the same to his vindictive persecutors out there…
But then, he can't, although he was able to show (perhaps unwittingly) how some Filipinos tend to don the "rule of law" mask when their anti-Corona sentiment is compromised.
Still, I have a personal manifestation for those vindictive Filipinos out there; they could really try putting themselves in Corona's shoes. It's fun.
Imagine yourself in the same situation as Corona's. You're on trial, everyone's watching. Now, let's assume you're innocent—no, please don't get back at me with stuff like "but Corona is guilty," because the verdict hasn't even been given yet. Innocent until proven guilty, standard procedure. Deal with it.
Now, how would you feel if you know, deep inside, that you're innocent, and yet people don't seem to care and they bombard you with expletives and insults? In the process, even your loved ones are pulled into the fray and get their share of condemnation from your fellowmen. And now your whole family is being barraged with cuss words and baseless accusations and mindless rants just because they're already convinced you're guilty no matter what; how would it feel? How would it feel to get a dose of your medicine by putting yourself on the respondent's shoes?
Perhaps this is one crucial step to realizing how we are supposed to tackle important issues like this impeachment trial. This trial has brought out the worst in many Filipinos; vindictiveness. Perhaps we should take steps (even baby ones) to change what we have become as a society. The solution's pretty straightforward; critical thinking.
Critical thinking is the intellectually disciplined process of actively and skillfully conceptualizing, applying, analyzing, synthesizing, and/or evaluating information gathered from, or generated by, observation, experience, reflection, reasoning, or communication, as a guide to belief and action. In its exemplary form, it is based on universal intellectual values that transcend subject matter divisions: clarity, accuracy, precision, consistency, relevance, sound evidence, good reasons, depth, breadth, and fairness.

(Source: Link)
In layman's terms, critical thinking is relying on facts for your reasoning, linking them together with logic, and not jumping into conclusions. Clearly, it does not involve mudslinging and unfairly ruining one's reputation with black propaganda, among other stuff. When unreasonably vindictive Filipinos start practicing critical thinking, they'll realize it has benefits:
1. It gives you multiple perspectives to work on, enhancing your analytical abilities. When you stop considering only one haphazardly formulated conclusion and start considering other possibilities, you gain more insight regarding an issue. You are able to tackle it in different angles, improving the precision of your observations. And then you can synthesize them at the end of your musings, eliminating contradictions and whatnot, until you're left with a more refined conclusion, which can then be refined even more, bringing you closer and closer to the truth.
2. It gives you access to a healthy, intellectual debate. When you've honestly and rationally arrived at a conclusion that is not really in good terms with the conclusion of others, that's perfectly okay. Intellectual debates exist for a reason; they exist so that people can exchange ideas with one another in an orderly fashion, learning from each other's insight in the process. By thinking critically, one can incite a civilized conversation rather than a chaotic mudslinging war.
Critical thinking in issues like the impeachment trial is a win-win situation. You become more rational, you gain intellectual friends and you sin less (if you're Christian).
The impeachment trial gave us lessons about our own society, the most important of which is the call for us to uphold critical thinking as a nation. If we truly uphold justice and aim to be a just society, then it's high time we drop the vindictiveness card and start thinking outside the box, so that we may prevent more unnecessary moral damage to those people who were accused, being accused, and will be accused by the present and future administrations.