The jeepney originally came into the public service for several clear reasons: (1) to address a post-war shortage of public mass transportation, (2) there was abundant raw material — surplus United States Army jeeps — for the product, and (3) Filipinos were not up to the task of rebuilding a systemised public transport infrastructure.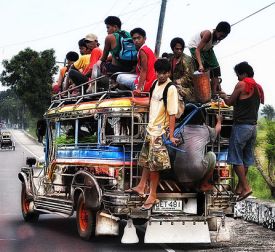 Fast forward to today and the situation had still not fundamentally changed. There still is (1) a shortage of public mass transportation, (2) raw material for cobbling together and operating the mediocre product remains abundant, and (3) Filipinos remains unable to step up to the task of building a systemised transport infrastructure.
Then as it is now, the enterprising private sector steps in to fill the gap. The result is an ungovernable free-for-all morass of rickety vehicles clambering upon one another to scoop up their daily bread from the teeming human cesspool festering over the length of the sides of the roads of big Philippine cities.
Suffice to say, mass transport has become a virtually intractable social and political problem in the Philippines — a democracy held hostage by a people who have imprisoned themselves in a uniquely-Filipino form of wretchedness held together by its own populist rhetoric.
After the jeepney came into being, it became the Philippine cultural icon. But it made an entire society comfy in that notion — paralysed by complacency — and then left it pathetically wanting in what should have been the foremost imperative once the short-term need had been addressed — development of a long-term systemic solution to mass transportation. As such, the jeepney remains a Filipino cultural icon today — but remains so now for the wrong reasons. It has become a symbol of every catastrophic missed opportunity that blights virtually every chapter of Philippine history as an independent state.
The Senate trial court officiating the impeachment case of Philippine Supreme Court Chief Justice Renato Corona is like the jeepney. It came into public service for several reasons: (1) to address a shortage of a sound vision for the Republic, (2) there was an abundant raw material: surplus politicians — many of them up for re-election — starved for media mileage, and (3) Filipinos were not up to the task of building a systematised criminal justice infrastructure.
Because removal of the Chief Justice from office was made out to be the urgent be-all-end-all singular prerequisite for the laying out of Philippine President Benigno Simeon "BS" Aquino III's "straight path" initiative, the Jeepney Court was cobbled together from various mutually-inconsistent notions of what this "political exercise" should be and rushed to production. Literally, the entire nation had been taken for a ride in the Jeepney Court and its tolerance for pwede-na-yan ("that'll do") patakarans ("guidelines") ranging from underpinning its very existence on a sloppily-written and baseless complaint document, admission of evidence coming from shady illegal sources, and up to playing degree of "flexibility" and "liberality" by ear depending on where the wind of public opinion blows.
Because the rules, like much of the others upon which we presume to base our attempts to govern an ungovernable people, are all negotiable — mere recommendations — the outcome of all this is likely to be a national-scale negotiation among the very same fat cats over how much or how little the Filipino people will be given their cut of whatever the imagined end-benefit of this circus will be.
Right now, the only thing Filipinos stand to gain is the empty trophy of the Chief Justice's head — as if such a trophy can fill the stomachs and fatten the bank accounts of the ordinary Filipino schmoes whose attention spans had so far been hijacked by this spectacle. The real prize — greater transparency and an improved ability to prosecute on the basis of what that transparency yields — remains nebulous at best; still a mere whimper of a "petition" for the 188+1 politicians to sign a waiver to open their dollar-denominated bank accounts to public scrutiny.
There is a clear lesson coming out of all this that is an obvious direction the government needs to take — starting, say, with a lesiglative agenda to reform bank secrecy laws — if it is really serious about making the plight of the Chief Justice an example for all public officials to behold in the coming months and years. Whether this lesson is taken onboard and applied remains to be seen.
Look no further than the jeepney to get a sense of what the prospects are for something like that to happen in Philippine society.
[Photo of jeepney courtesy Estoryahe.co.uk.]
benign0 is the Webmaster of GetRealPhilippines.com.