Chief Justice Renato Corona more than redeemed himself today after the minor debacle he got himself into when he left the witness stand before he was formally discharged on his first appearance in his own impeachment trial last Tuesday, the 22nd of May. Coming across today as forthright and sincere, Corona delivered a brilliant television performance, winning the hearts of the viewing public with his honest laying-everything-including-my-soul-on-the-table testimony and the steely gaze he maintained (occasionally interrupted by poignant emotional displays) as he responded to questions fielded by the Senator-Judges. Senator-Judges Miriam Santiago and Jinggoy Estrada threw leading questions almost as if to say answer our questions and tell us why you think this whole trial had been a farce from the very beginning.
From eight articles of impeachment down to three midway through, the once mighty case is now whittled to just one debatable accusation at the eleventh hour of the impeachment trial of the Chief Justice. It was a 40-day show featuring the Incredible Shrinking Impeachment Complaint. In the course of the trial, 45 properties the prosecution team alleged Corona owned turned out to be just five, and USD10-12 million alleged by no less than Ombudsman Conchita Carpio-Morales to be tucked away by Corona in secret accounts turned out to be no more than USD2.4 million.
So the one violation of the law Corona remains accused of — the remaining article alleging that Corona failed to declare all his assets in his Statement of Assets, Liabilities, and Net Worth (SALN) — remains in play albeit precariously debatable. Corona after all made it pretty clear in his testimony that he left out that USD2.4 million from his SALN by virtue of his interpretation of the Philippines' bank secrecy law, specifically Republic Act 6426 which the prosecution team themselves along with "online reporters" Magtanggol de la Cruz and Carmela Fonbuena of Rappler.com may themselves have violated in the earliest days of the trial as they mounted their vilification campaign against the Chief Justice. The relevant section of RA 6426 reads…
Section 8. Secrecy of foreign currency deposits. – All foreign currency deposits authorized under this Act, as amended by PD No. 1035, as well as foreign currency deposits authorized under PD No. 1034, are hereby declared as and considered of an absolutely confidential nature and, except upon the written permission of the depositor, in no instance shall foreign currency deposits be examined, inquired or looked into by any person, government official, bureau or office whether judicial or administrative or legislative, or any other entity whether public or private; Provided, however, That said foreign currency deposits shall be exempt from attachment, garnishment, or any other order or process of any court, legislative body, government agency or any administrative body whatsoever. (As amended by PD No. 1035, and further amended by PD No. 1246, prom. Nov. 21, 1977.)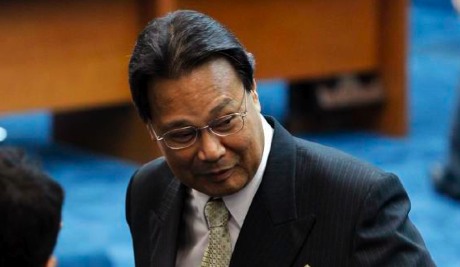 [Photo courtesy AllVoices.com.]
Ironically, Corona himself may have marked the beginning of the end of the very law that had saved him during his ordeal. In the wake of his much-awaited personal appearance in court, Corona bestows an unexpected legacy to a circus long criticised for being an appalling waste of time and a mere product of the vanity and vindictiveness of a Philippine president: a precedent call to the government officials of the land to sign waivers opening their foreign currency bank accounts to public scrutiny. The call so resonated across the public that it could pave the way for legislation that may reform the country's outdated bank secrecy laws.
Squarely in the cross-hairs of this call are the "188+1" lawmakers; the 188 Lower House representatives who hastily signed the sloppily-written articles of impeachment and one Senator, Franklin Drilon, who made no attempt throughout the trial to remain the objective Judge he was supposed to have stepped up to.
Who would have thought that Chief Justice Renato Corona might even come out of this a hero — the first top government official to voluntarily and unconditionally open his bank accounts to the public to precipitate long overdue transparency across the public service? So ironic that the man who President Benigno Simeon "BS" Aquino III singled out as the biggest roadblock to making good on his Daang Matuwid "straight path" campaign promise would actually be the one who'd blaze a trail for it.
One thing consistent about every Corona appearance in court is that a high profile loser emerges every time. Last Tuesday it was Senator Franklin Drilon, singled out by Corona among the Senator Judges to include in a challenge he issued to 188 others to sign the bank disclosure waiver. Today it is no less than Ombudsman Conchita Carpio-Morales wearing the dunce cap after coming across as a BS Aquino lackey. In a press conference hastily called by Morales shortly after Corona revealed some rather disturbing things about her character during his testimony, Morales stammered her way through her response to the inevitable question thrown at her: What was up with the USD10 million she claimed Corona squirreled away in secret accounts? She was either lying or dumb enough to have allowed herself to be grossly misled by her "researchers". Perhaps she should have thought twice about calling that press conference.
What do they teach in Math classes in Philippine schools nowadays?
One thing's for sure, the Senator-Judges will have to carefully calibrate their political radars to assess the public sentiment as they decide whether to acquit or convict. The thing with tele-impeachment trials is that it is all showbiz — and Corona put up a good show today. So good, that the usual suspects who, at the beginning of the trial months ago, gleefully highlighted the political aspect of this exercise as one that necessarily trumps its legal nature now wax rhetoric about its boring legalities. As modern-day philosopher Bart Simpson say: "Eat my shorts". Most revealing, and something Senator-Judge Chiz Escudero made it a point to highlight, was how the prosecution seemed to have nothing further to quiz Corona on despite a long noisy call for him to show up in the trial in person. That fact in and by itself says it all.
Chief Justice Renato Corona may be a lawyer, but apparently he was well aware that he was surrounded by emos today.
benign0 is the Webmaster of GetRealPhilippines.com.