Ricky Gervais's brand of humor may not be everyone's cup of tea but I have to say that the guy is brilliant. The English comedian is best known to Filipinos as the former lead singer of the New Wave pop duo, Seona Dancing. Their single More to Lose was said to be a massive hit in the Philippines in the 1980s despite failing to reach the Top 40 in the UK charts and this, despite its catchy tune and Ricky's boyish good looks. In his younger days, people could be forgiven for mistaking him for David Bowie's younger brother.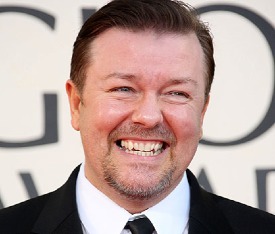 In international circles, Ricky Gervais is more popular as the actor who played David Brent in the hit British comedy show, The Office, which he co-wrote and directed with his friend, Stephen Merchant. The American version of the show has been a huge success and is still running in the US. He followed that with another British series called Extras and An Idiot Abroad. Gervais also made and starred in films in between making films such as Ghost Town and The Invention of Lying. If you haven't seen any of Ricky's work, you are definitely missing out on what the rest are 'avin a laugh about.
Gervais is a talented artist who has received numerous awards for his work. He is in his prime at the age of 50. He seems to be unstoppable. I don't think there is anything he can't do. He can sing, he can act and more importantly, he can write for himself. There are many talented actors out there but most of them just wait for the right script to fall on their laps or even have to beg or fight to get a part in a movie. Gervais doesn't have that problem because he can write his own character in his own film or show.
The thing about Gervais is that he is not above playing characters that make him look like a doofus or a mean-spirited bloke by everybody else's standards. He is quite dedicated to his craft and admits that he suffers for it. In his blog he wrote that when he plays one of his characters "… my jaw aches and I get a stiff neck from being hunched up all the time when I'm playing Derek. I suffer for my art, and now I want you to suffer for it too." He was referring to his character in his new show called Derek wherein he plays a greasy haired guy with some kind of learning difficulty. I have not seen any episode of the show but judging from his previous ones, I'm sure it is going to be one of those that make audiences cringe.
What is exceptional about Ricky Gervais's shows is that his characters touch people's raw nerves. He makes people uncomfortable in their seats while they watch these characters get into tight spots. Some scenes exhibit such awkward situations that they make you want to look away (though somehow you can't). In one episode of Extras where he played Andy Millman, he asked his friend Maggie to pretend that she is his personal assistant during an interview with a reporter just to make him look more interesting. But Maggie was such a simpleton and a bad liar that his fib gets found out soon enough. On print it might not sound too bad but you have to see it to believe how cringe-worthy the scene was. That is how good Gervais is at portraying a pretentious douche bag who means well.
It's the sheer honesty of the storyline that makes some of his characters too painful to watch for some people. In this day and age there are those who still have a problem talking about issues that come across as big elephants in the room, like religion, racism, sex and how to deal with people with disabilities. As a celebrity himself, Gervais has no problem mocking Hollywood stars and their massive egos during his stints as host of the Golden Globe Awards show in the US. And the fact that they keep calling him back as a host is proof of the statement that he has the effect of people wanting to look away but can't. Maybe deep inside some do want a grilling or want to see who he is going to be making fun of next. Call it some sort of schadenfreude but I have a feeling the organizers feel like, as long as it's not them Gervais is making fun of, he's cool.
In the series An Idiot Abroad, they sent his friend, Karl Pilkington around the world and forced him go out of his comfort zone. In the show, Karl plays himself and to copy and paste the synopsis at the back of the DVD, he "thinks that he's visiting the Seven Wonders of the world but along the way the 'little Englander' must endure camel rides, jungle treks, tribal customs and local oddballs while dining on toads and testicles and searching for a decent lavatory."
The show might be classified as comedy but it could also serve as a documentary of the lives of the country locals Karl visited. Its brilliance lies in the fact that it didn't really need a script, just a plan to showcase the lifestyle of people from various cultures with Karl participating in some of their traditions and even their mundane activities that some of us can't imagine doing.
When Karl went to China, he didn't need to say much. The camera just zoomed into what he was looking at. Watching a Chinese lady on the street munch on a centipede with gusto put a grimace on unsuspecting Karl. Various street food vendors in China sell all kinds of grilled insects on sticks. Some of them look like larger versions of the house cockroach. They also sell frogs that are skinned alive while you watch. The images will be etched in your brain for a long time after turning the video off. No wonder Karl had that permanent scowl on his face during his travels.
What's amazing about An Idiot Abroad is that the people from all the different places Karl went to where not even offended by the show. At first glance, one would assume that the show is mocking these people but it really is not. The show highlights that what's normal to some cultures can be considered strange and offensive to some. And the people have not complained about how they were portrayed in the show so far.
It actually makes me wonder how my fellow Filipinos would react had the Philippines been included in Karl's itinerary. How I wish Ricky Gervais and Stephen Merchant could send their friend Karl to the Philippines. They should visit during the Holy Week celebration and try being crucified like Jesus Christ. The problem is, there are so many onion-skinned Filipinos that are not mature enough to handle Ricky's brand of humor and would find him offensive. They would instantly declare them and his friend Karl persona non-gratta as soon as the crew touches down at the airport.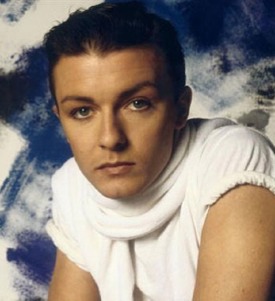 Ricky Gervais is the only celebrity I follow on Twitter partly because I am new to the social networking site and partly because I want to be updated on his upcoming shows. It's kind of awesome how even some of his most ordinary tweets get retweeted at least 50 times. He still gets some regular put-downs from average folks, of course. It's one of those hazards anyone has to put up with when one puts oneself out there on a social network. His rebuttals are quite interesting reads too though. As a self-confessed atheist, Gervais still gets the usual shocked reaction when he says he doesn't believe in God. It goes to show how the religious can be equally intolerant of other people's beliefs. One of his Twitter followers responded with "you're a multi-millionaire and you don't believe in god?" To which Gervais replied "Even when I was poor, I didn't believe in God".
I may not be an atheist but I see his point. Whether you believe in God or not, your success depends on how hard you work at what you do. And Ricky Gervais certainly works hard and is very passionate about what he does. Through his in your face comedy skits, he helps societies mature faster by raising controversial issues.
We could all learn from Ricky Gervais' style of honesty. After all, life can be harsh and we can't always use a buffer to deal with it. I may not be Ricky Gervais' number one fan, but I admire his ability to care less about what people think about his opinions. It is my sincere hope that I, and many others like me would be able to give a critical analysis about our society and not be dismissed as anarchists or worse, "unpatriotic". Only when more people can accept constructive criticism can we move on from being considered one of Asia's basketcase.
In life, things are not always what they seem.