Poor former beauty queen Miriam Quiambao (Miss Universe 1999 First Runner Up). She's recently been swamped by a deluge of online "feedback" on a quip she made about the lesbian, gay, bisexual, and transgender (LGBT) community in a recent episode of ABS-CBN talk show "The Bottom Line" with TV personality Boy Abunda. According to Quiambao, "Homosexuality is not a sin but it is a lie from the devil. Do not be deceived. God loves gays and wants them to know the truth…"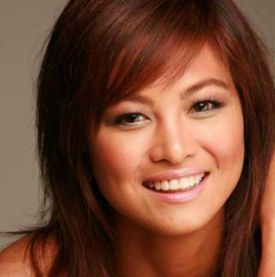 Quiambao who also admitted that she is "not a pastor" also harbours strong views about a recent ruling by the governing body of the Miss Universe beauty pageant allowing transgender (i.e. formerly male then surgically transformed into female) contestants to participate in the pageant. "In my humble opinion, transgenders should not be allowed to join the MissU because it's only for REAL women." Quiambao was quoted as saying over Twitter ealier.
And the Inquisition begins.
As usual, this being Philippine society — the last bastion of medieval thinking in 21st Century planet Earth — the wrong arguments on what are really no-brainer issues engulfed the ensuing chatter of the "intelligentsia" sparked by Quiambao's public insights. And this being Get Real Post, the only bastion of common sense in Philippine society, the following counter-intuitive ideas (to Filipinos at least) are hereby put forth:
Belief in an "evil force" — conversation-ender du jour
It seems that the underlying issue here is belief in some form of evil force or personification of said force most commonly known as a (or the) "devil". Quiambao invoked the mythical agenda of "the devil" to illustrate her personal position of how gayness stacks up in her personal hierarchy of moral rightness. Funny thing is that the chumps who actually took offense from this rather bemusing pronouncement themselves exhibited the renowned smallness of the Filipino mind by putting so much value in what said fabled "devil" has to say about sexual orientation.
Take "the devil" out of this quintessentially Filipino "debate" and we go all Shakespearean — much ado over nothing. Fortunately, there is so much nothingness that Filipinos so skillfully turn into the piles of somethings that keeps the national economy afloat by keeping many of our politicians and TV personalities employed. There is a silver lining to the darkness cast by Pinoy thinking.
A surgical strike on sensibility
Inclusion of transgenders in formerly all-female "beauty" contests raises many issues. One key issue is the obviously surgically-enhanced nature of transgender physiologies. As of this year, surgically-engineered human specimens are now allowed to participate in a contest that is all about feminine "beauty". Does this open the contest to female contestants whose otherwise natural feminine assets are also surgically enhanced? According to "thought leader" Carlos Celdran, Miss Universe, after all, is a beauty contest and not a "vagina contest". Is Belo Medical Group doing an IPO sometime in the future? Vaginas, it seems, have become but a technical loophole that begs lucrative technology solutions in today's world.
For the beautiful, the world is an oyster
This Quiambao circus has proven yet again: people take more of their validation (or offense as the recent case may be) from words uttered by beautiful people. This kind of says something about people who react to "insights" on certain sensitive topics issued (often in a glib manner) by celebrities on national television. Does celebrity or physical beauty necessarily confer a degree of weight to the opinions of people who possess either one or both?
Winston Churchill and Stephen Hawking will most certainly beg to differ on that notion.
But this is the Philippines. The unfortunate reality is that one's face and knockers are potent credentials in an age of Facebook, Twitter, and YouTube insta-fame, specially in societies where a capacity for thinking is seen more as an embarrassment rather than an asset. Add to those a talent for dressing like a moron and routinely making one's self the centre of meaningless public spectacles and you have a more-or-less complete profile of the future cadre of elite opinion-shapers that will lead Philippine society further down the path of mediocrity it had for so long blazed for itself.
What separates great minds from the pin-sized ones that dominate Philippine society is the ability to remove personalities, non-sequiturs and plain noise from the debates that suck all productive motivation from an already wretchedly impoverished society. It's not hard. You just need to think.
benign0 is the Webmaster of GetRealPhilippines.com.