Global warming is a natural phenomenon brought about by human activities and biological processes. Under normal conditions, plants and animals, including humans are capable of adapting to the environmental changes. However, global warming at it's present rate is aggravated by the release of a great amount of "GREENHOUSE" gases into the atmosphere which forms an enveloping barrier that blocks the infra-red radiation coming from the sun from bouncing back into outer space, causing the temperature of the Earth's atmosphere to rise.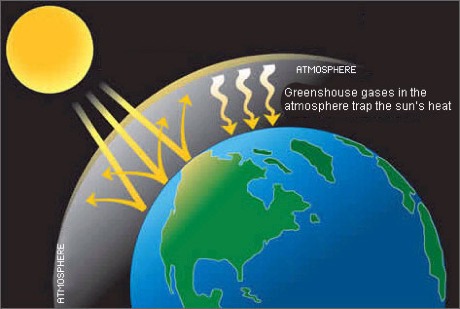 [Image courtesy cTrade.com.au.]
The principal and most common source of greenhouse gases, as we all know, is the burning of fossil oil and coal used to fuel energy generation for human industries and luxuries. With crude oil alone, there are about seventy thousand derivatives that can be obtained, each of which when heated, or burned emits into the atmosphere tremendous amounts of greenhouse gases such as carbon monoxide, carbon dioxide, hydrogen sulfide, nitrous oxide, methane, hydrogen cyanide, and various CFC compounds.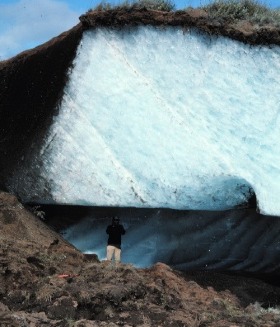 This on-going process, now threatens the very existence of our planet, as it happens at such a rapid pace that the inhabitants of our planet are largely unable to adapt themselves to the sudden changes in their environment that it induces. Global warming also triggers extreme climatic conditions which in turn results in destruction, calamities and death. Furthermore, as the temperature rises, it melts the glaciers and the polar caps resulting in sea levels arising and endangering life in the low lands. It also melts permafrost. Permafrost is permanently frozen remains of pre-historic rain forests buried along the Siberian plains and the polar regions. As the permafrost melts, it releases into the atmosphere tremendous amounts of "methane", a non toxic, colorless, odorless, but highly combustible greenhouse gas it held frozen for billions of years. This "methane release" augments the process of global warming.
Methane is an extremely combustible gas which will burn over a narrow range of concentration of 5-15% in air. It may form explosive mixtures with the atmospheric gases and is violently reactive with oxidizers, halogens and some halogen-containing compounds. What does this mean? We all know that our atmosphere is made up of 21% free oxygen, and some 2 percent of halogen and halogen compounds. But what we do not know is that there is already a dangerous concentration of methane gas within the explosive range in the Earth's atmosphere. This has become evident particularly in the polar regions as the gas tends to move to the cooler places.
Now, here is the dilemma:
If global warming continues unchecked, and the regions of the earth where there is a 5-15% concentrations of methane gas in the atmosphere reaches the temperature of 53 degrees Celsius, which is the flash point of methane gas, it could result in a spontaneous ignition of atmospheric gases and wreak unimaginable destruction to our planet.
Our planet has now become in reality, a "TIME BOMB" and the clock is ticking fast unless measures are adopted to avert this inevitable holocaust!…
[Photo of permafrost cross section courtesty International Polar Foundation.]
"We all lived under the same sky, ruled under one heaven…but see things on different horizons"