The Philippines is increasingly finding itself in the middle of military flash points across the Far East. Over at the West Philippine Sea, the country's biggest warship, the BRP Gregorio del Pilar is engaged in a standoff with two Chinese surveillance vessels standing in the way of the arrest of Chinese fishermen caught allegedly poaching in Philippine waters. On the northeast, the launch of an Unha-3 North Korean ballistic missile is being anticipated. The multi-stage rocket is expected to jettison its second-stage booster somewhere over Philippine waters off northeastern Luzon. However, in the event that the rocket veers off course, the Philippine mainland may be at risk from both debris and the rocket itself crashing into land.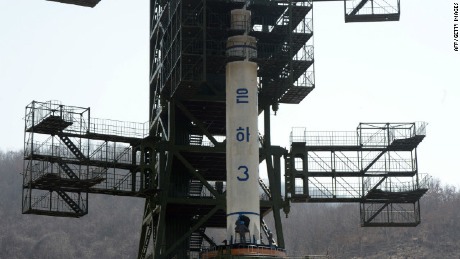 [Photo courtesy Zero Hedge.]
Any significantly adverse impact the North Korean rocket launch may have on Filipinos may be very highly unlikely, and the noise created around it by the media could be just a ploy on the part of (or an unforeseen bonus to) the administration of Philippine President Benigno "Noynoy" Aquino III that diverts the public's attention from its increasingly evident lack of achievement almost two years into its term. Nonetheless, the North Korean missile crisis and the Philippines' claims over the Spratly Islands that brings with it direct confrontation with China highlights the increasing complexity of international relations in the region that the Philippines needs to get on top of.
SUPPORT INDEPENDENT SOCIAL COMMENTARY!
Subscribe to our Substack community GRP Insider where you can opt to receive by email our more comprehensive and in-depth free weekly newsletter GRP Mail. Consider also supporting our efforts to remain an independent channel for social commentary and insight by sponsoring us through a small donation or a monthly paid subscription.
Subscribe to our Substack newsletter, GRP Insider!
Learn more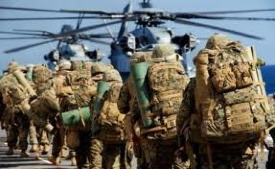 Already the United States is seen to be increasing its military presence in Asia. A U.S. Marine base had already been established in the Australian city of Darwin which is only 500 miles south of Indonesia. The base is expected to become home to up to 2,500 troops when it reaches full strength. For its part, Australia is planning to spend up to $100 billion on expanding its navy and air force, presumably to improve its ability to defend the booming offshore oil and gas extraction sectors of its economy.
The Philippines too is under pressure to develop capability to exploit mineral resources within its territory — including territory that is still under dispute. But the Philippines of the 21st Century is a far cry from the pompous and cocky persona it exhibited back in the early 1990's when twelve senators duly elected by the popular vote (and as such presumably representing the Filipino people's "will") voted to boot the American Military out of Philippine shores…
Thanks to the 12 bozos who voted against US military bases in the Philippines in 1991 — Senate President Jovito Salonga, Sens. Wigberto Tanada, Teofisto Guingona, Rene Saguisag, Victor Ziga, Sotero Laurel, Ernesto Maceda, Agapito Aquino, Juan Ponce Enrile, Joseph Estrada, Orlando Mercado, and Aquilino Pimentel — Filipinos have, right in their faces today, a sad lesson twenty years in the making in what it is like to languish outside the American sphere of what is globally relevant.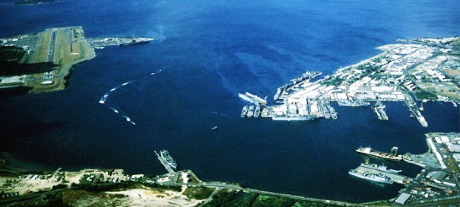 Former US Navy Base in Subic Bay [Photo courtesy SBMA.com.]
Nonetheless, America continues to make its albeit distant embrace felt by its former colony. Back in early 2011, despite claims made by the US Government that the US "has no plans to reestablish military bases [in Subic Bay] or anywhere in the Philippines", there were reports of "high level" meetings between US officials and Subic Bay Metropolitan Authority (SBMA) and Olongapo City officials. Subic Bay used to be the largest American naval base in the Far East and was home to the US Navy's Seventh Fleet. US Senators Daniel Inouye and Thad Cochran who respectively chair and officiate the US Senate appropriations committee reportedly at the time expressed (1) interest in "the possibility of an increased presence of the US military in the [Philippines]" and (2) "curiosity" around "the reception in the country of an [increased presence of the US military]." This raised the possibility that Americans may soon be back in Subic Bay and Olongapo City.
For now, spending on a capability to wage war with a foreign country seems hardly the sort of priority that would trump other more "conventional" domestic problems like education, reproductive health, and unemployment in the Philippines. The only measures taken by Philippine authorities in light of the perceived threat from North Korea's missile launch includes diversion of civil aviation from air space within the missile flight path and temporarily banning shipping in waters deemed at risk from falling rocket debris. Japan and South Korea, in the meantime have expressed their intention to respond with military force against the rocket if any risk to their interests is detected during its flight. Japan has a Patriot missile defense system already scanning the skies in its Okinawa military air base while South Korea announced that it is prepared to respond with appropriate "countermeasures".
With regard to the naval impasse in the West Philippine Sea, the Philippines has reportedly deployed a second vessel, a search and rescue coast guard vessel, to support the BRP Gregorio del Pilar. Earlier in mid-March of this year, the Philippines signed a standard operating procedure that will govern a joint patrolling of some waters around the Spratly Islands by Philippine and Vietnamese naval forces. Both countries are also increasing its military ties with the US which had also expressed an interest to "continue its efforts to ensure freedom of navigation" in the disputed waters. The Philippine government is seemingly supporting a move on the part of the US to increase its military presence in the region but is cautious with associating this support to its Spratly Islands issues with China…
Aquino emphasised there were many reasons the Philippines needed to increase its military capabilities, including combating terrorism, helping deal with natural disasters and evacuating Filipinos from crises overseas.

But he also talked in depth about the Philippines needing to protect its rights to parts of the South China Sea that are within its 200-nautical-mile exclusive economic zone and are believed to sit atop vast oil and gas deposits.
For now, the Philippines can only rely on diplomacy and a re-invigorating of its frayed military relationship with its former colonial master to secure its interests. But it seems the need for greater self-sufficiency in its ability to defend its sovereign territories is become more relevant.
[Photos of US Marines courtesy UpdatedNews.ca.]
benign0 is the Webmaster of GetRealPhilippines.com.