Being "cool" is not about wearing the right clothes or having the latest gadgets. Being cool is about having the right attitude. Take the case of former Supreme Court associate justice, Serafin Cuevas. Cuevas is not what most people would consider a poster boy for GQ magazine. If you bumped into Cuevas on the streets without knowing who he is and what he represents, you probably wouldn't even give him a second look because he looks like everybody's grandpa. It is not because Cuevas is not a looker in his own right. It is because in a world obsessed with youth, most people would dismiss someone his age as irrelevant. But at 83, his age is actually part of the reason a lot of Filipinos think he is so awesome.
Let's face it; a lot of people are afraid of the thought of getting old. Apart from the fear of looking like a dried prune, there's this misguided notion that once you reach a certain age, you should be taking a back seat. That's because every year, one younger-looking hotshot or another who thinks he is brighter than you comes along more than eager to replace you.
Just to give you an example of what some people are willing to do in order to remain relevant in society, British supermodel Agyness Deyn had until recently, pretended to be six years younger than her actual age. She had to admit that she was already turning 30 not 24 after some of her former high-school classmates created a Facebook group called "Agyness Deyn You're not 18". In her confession, she said that lying about her age was the only way she could get signed up by modeling agents when she decided to be a model at 18, an age that is already considered too old in an industry obsessed with youthful looking people.
That is the harsh reality model Deyn and a lot people have to deal with in an industry where people have to maintain a certain image just to look fresh and give the appearance of "cool". Of course the environment in the fashion industry is not exactly the same as that in the professional services industry. It may not be as glamorous but at least in the professional services industry, those who have been in the business longer than everybody else are seen to be the ones possessing the wisdom and expertise to know exactly what they are taking about. And I can be sure that this is the reason why Cuevas does not have to pretend he is 18 just to get some respect as a lawyer.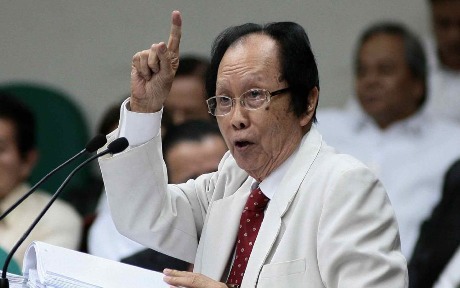 It is no secret that in the Philippines, most Filipinos would rather idolize celebrities like Kris Aquino and professional athletes like Manny Pacquiao. We all know that idolizing the wrong role model has resulted in the dumbing down of our society over the years. Recently, however, octogenarian Cuevas who was virtually unknown to Filipinos who are under the age of 26, has given young Filipinos enough reason to idolize someone outside of the showbiz industry. This is encouraging news, indeed. And the former associate judge is the kind of person Filipinos should be looking up to.
Cuevas owes his return to the spotlight to the televised impeachment trial of Supreme Court Chief Justice Renato Corona. Despite being retired from practicing as a lawyer, the daily telecast of the proceedings from Monday to Thursday has endeared Cuevas to the public. Some even now refer to the trial as the "Serafin Cuevas School of Law" because he often ends up giving a lecture about the rules of court during the trial. His impromptu lectures are mostly for the benefit of the prosecution who he says still acts more like students than lawyers. It is hard to imagine that in just a few weeks time, Filipinos had learned to appreciate those who were otherwise long forgotten. Cuevas at his age even had to open a Twitter account and a Facebook page just to accommodate his new fans who want to know more about him.
Just like a revival of an old song, the new generation is dancing to the new version of an old hit. It's not hard to explain why. A lot of educated Filipinos have for so long been disillusioned with the crop of leaders the country has had so far. They have been consciously and unconsciously looking for someone with conviction to turn to for real leadership. Most of the country's public servants who include President Noynoy Aquino (PNoy), have not demonstrated enough statesmanship; they have not inspired greatness in the people. All of a sudden, an old man wearing a shiny white suit and a distinguished hairstyle blew Filipinos away with his sharp wit and wisdom. None of the hotshot wannabe lawyers who are half his age even come close to the way Cuevas presents himself.
There are those who try to question Cuevas's credibility but fail because they use flawed logic. One of them is so-called "investigative journalist", Raissa Robles. Ms Robles managed to unearth some pieces of information on Cuevas then desperately tried to insinuate that he was once a rule-breaker — her "proof" being that Cuevas swore into office former President Ferdinand Marcos's Vice-President Arturo Tolentino after Marcos fled to Hawaii in 1986. In short, Robles would like us to believe that Cuevas in his capacity as a Supreme Court Judge, did not recognize the Aquino government and took it upon himself to attempt to right a perceived wrong. And if we need to be technical about it, Cuevas was actually following the rule of law then because the Vice President naturally takes over in the absence of the President of the Republic. Since no court has proven the allegation that the election win of Marcos-Tolentino was fraudulent, it means that it was the Cory Aquino government that was illegitimate.
Robles even tried to make a big deal out of Cuevas's association with Senate President, Juan Ponce Enrile who he defended after the latter was implicated in the August 1987 coup attempt against former President Cory Aquino and charged with a "rebellion-complexed-with-murder" case. Her inclusion of this information in her so-called blogsite simply fails the "So what?" test. Cuevas was a lawyer and Enrile was his client then. You could say that it is indeed, a bizarre twist of fate now that the two are back in the ring wearing different hats. In any case, it shouldn't be a problem as long as the two stick to upholding the rule of law. It's unfortunate that so many Filipino journalists who claim to be after the "truth" are spreading irrational drivel instead. What's worse is that so many Filipinos believe them.
Fortunately for Cuevas, many young Filipinos nowadays who did not witness the 1986 Edsa revolution are not beholden to the Aquinos. They can see through the propaganda being spewed by journalists who appear to be allied with Philippine President Noynoy Aquino (PNoy). Thanks to the dawn of the age of social media, people who are open-minded enough can easily get both sides of the story from the Net. And that is exactly what some Filipinos are doing. Never before has an opportunity been available for everyone to see what the so-called "yellow-magic" is all about – nothing more than a big fat lie.
Now that the prosecution has finalized the presentation of their case against Chief Justice Corona, the coming weeks are going to be more exciting than the past several weeks. Filipinos will finally see more action from lead defense counsel Cuevas who in the past had been limited to voicing his objection to most of the prosecution's childish violations.
It is easy to see why people can't get enough of Serafin Cuevas. Some members of the prosecution particularly Congressman Niel Tupas, Jr have become laughingstocks because of their cockiness. They have annoyed people from both the pro and anti-Corona camps. In contrast, Cuevas looks very relaxed and unperturbed by all the fuss. He can be the poster boy for Zen.
Cuevas also appears to be very comfortable in his own skin and unlike some members of the prosecution team; Cuevas does not need to use stunts to get respect. He is certainly not afraid to be different even while just being himself. One can be forgiven for saying that he might be cooler than the father of cool, James Dean — because Cuevas still rocks at his age.
[Photo courtesy Interaksyon.com.]
In life, things are not always what they seem.