Do you know anyone who has ever had a meltdown? How about this flight attendant who became infamous after pulling the emergency-exit chute of an airplane in the United States in 2010? Apparently, this JetBlue airlines flight attendant got upset with an uncooperative passenger on a just-landed flight and "unleashed a profanity-laden tirade on the public address system, pulled the emergency-exit chute, slid off the plane and fled Kennedy International Airport". It was classic. He even became some sort of a hero to those who are fed up with customers who bully employees in the service industry. But of course the flight attendant suffered the consequences of his actions, got fined and fired at the same time.
On the 26th day of the impeachment trial of Supreme Court Chief Justice Renato Corona, one of the private prosecutors for the House of Representatives also had an infamous meltdown. Just before the presiding officer, Senator Juan Ponce Enrile announced the "court is adjourned", lawyer Vitallano Aquirre had a "You can't fire me, I quit!" moment.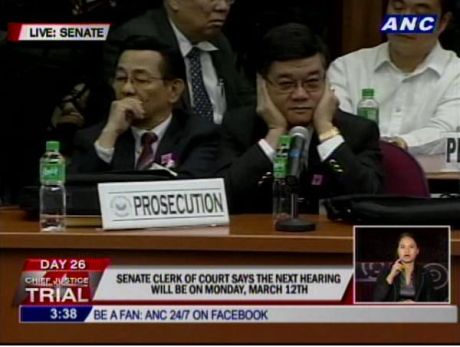 Senator Miriam Santiago was probably the only one who missed seeing Aguirre covering his ears with his two hands while the Senator was giving one of her regular lectures for the prosecution during the trial. Most people watching the proceedings live on national television would have found it hard to miss Aguirre giving his version of the "Up Yours!" gesture in front of the camera. It was Senator Jinggoy Estrada who called Aguirre's attention to his unusual behavior, which riled up Senator Santiago who quickly moved to cite Aguirre in contempt of court which, in turn, was concurred to by Senator Pia Cayetano. In granting the motion, Senator Enrile agreed that, "it's a sign of disrespect to a member in this court and that can't be allowed to pass and must be dealt with according to the rules."
To those who have been watching the impeachment trial every week and following the drama like a compelling television soap series, the last episode was certainly a cliffhanger. The next session will be a highly anticipated one, indeed.
The reaction to Aquirre's contemptuous act was mixed. There are those who say that he deserves to be cited for contempt — 73.26 percent of respondents in a recent survey agreed with the impeachment court's ruling while only 26.74 percent disagreed with it. Many of those who disagreed with the court's ruling see Aguirre as some kind of hero. They think that he just stood up to Senator Santiago who they thought was being a bully. Obviously, these people do not see the point. The point is, no matter how badly you feel about someone who is in a position to make your life miserable, you just don't do anything that would give that person more reason to make things even worse for you.
It was one thing for Aguirre to cover his ears but he didn't have to "pull the emergency-exit chute" when he was called to explain why he was covering his ears. He could have just done an Umali or a Banal and mumbled something about a "small lady" or a "document under the gate" just to get out of that sticky situation. But no; Aguirre seemed like he wanted to be a "hero" when he spoke on behalf of those who he felt have taken on the "last straw" as far as the beratings dished out by the feisty lady-Senator go.
But to echo the words of Senator Santiago, "Whaaaaat the hell was he thinking?!?" If Aguirre thought he could get some respect by provoking someone who is already seething with annoyance for the prosecution, then he was totally mistaken. His decision to be honest about what he thought of Senator Santiago could not have gained him enough sympathy because he was not in the best position to do so; Senator Santiago had a point when she was highlighting the prosecution's incompetence; and the fact is, everyone knows that Santiago really has a high-pitched voice and her Ilonggo accent probably makes her voice sound even more agitated even when she's not, meaning most people — especially the prosecutors — should have been used to her mannerism by now.
In crying out for respect, Aguirre and some of the prosecutors seemed like the sort of Filipinos who are good at playing the "victim card" in the way they appear very sensitive and emotional. They obviously like playing the victim card in front of the public to get as much of their sympathy as possible. Filipinos like them always try to get around following any rules and regulations or even simple guidelines by appealing to emotion. Likewise, they always want to play the victim even though they actually act like an aggressor most times. Certainly in this case, the prosecutors were the original aggressors in filing an unverified impeachment complaint against Chief Justice Corona and conducting a trial by publicity.
Aguirre is probably asking himself now, "Was it worth it?" He has apologized for offending Senator Santiago but he is not sorry for what he did. Considering that he managed to piss off a few of the other judges, most people would agree that his stunt wasn't worth it. There might be some judges who are sympathetic to Aguirre like Senator Panfilo Lacson, but that is only due to his association with Aguirre who used to be his lawyer. What Aguirre didn't or still doesn't realize is that, there's no way he would get majority of the judges on his side because everyone knows that Senator Santiago is suffering from hypertension. One just doesn't antagonize someone who is ill. You'll just end up looking like the douchebag even if you think the other party did something foul. Plus, I don't know what planet Aguirre comes from but on planet Earth, you just don't embarrass a woman if you want to earn some respect.
Most Filipinos who tuned in might consider Aquirre the prosecution's mere "Side Show Bob" but what happened between him and Senator Santiago during the impeachment trial is actually a microcosm of what is wrong with Philippine society. Like what I wrote previously: "If you read Philippine publications, watch local talk shows on TV or even just peruse other popular collective Filipino blogsites, you can pretty much tell what the national preoccupation is about. The national preoccupation is centered on the Filipino ego. To be specific, it's all about who has offended who and who needs to apologise to whom. This preoccupation pretty much prevents our country from moving forward.
Rather than focus on ideas or the concept of what a person is saying, most Filipinos focus more on whether or not the person was disrespectful or polite. They can't seem to take a bit of the bigger perspective and brush things off and take what are really small things with a grain of salt. It is a characteristic that seems to defy our Catholic upbringing. Jesus Christ needs to come back down to earth to reiterate a lesson or two in humility to Filipinos.
There seems to be something wrong with a psyche that makes us so vulnerable to getting upset or offended so easily. Most Filipinos get offended so easily from a perceived indiscretion and are often unable to move on to something bigger or higher than such trivial pursuits. We tend to be consumed with words that should mean nothing to us if they were untrue. This demonstrates a real sign of having an unhealthy ego and being beset by insecurity. As someone aptly put it, most Filipinos can be onion-skinned-cry-babies."
We all have the option to walk away from a perceived slight. We all have the option to take the high road and shrug off criticism. Private prosecutor, Vitallano Aguirre could have done both if he only had some respect for himself.
In life, things are not always what they seem.