One thing I can absolutely say about the Senator Judges in the impeachment trial of Supreme Court Chief Justice Renato Corona is that they have been a very respectful lot. Although there were some instances where witnesses were made uncomfortable by their lines of questioning (which is by nature part of the hazards of being called to the witness stand in any case), I have so far seen no incident where any of the Senator Judges showed undue disrespect or spoke with a tone of condescension to any of the witnesses.
You'd think then that the people who constitute the self-styled "heroes" of Filipino "freedom of expression" that is the Philippine Media would take care to behave in a manner at least a notch above the politicians they presume to pontificate about in their hallowed pages and lucrative broadcast minutes.
Then again, you never quite know when they would outdo themselves as far as plumbing the depths of ill-breeding. The 14th of March 2012 edition of the Aquino Family newsletter — the Philippine Daily Inquirer ran what, to put it mildly, has been described as "unflattering photos" of defense witness Demetrio Vicente who appeared in yesterday's hearing.
SUPPORT INDEPENDENT SOCIAL COMMENTARY!
Subscribe to our Substack community GRP Insider to receive by email our in-depth free weekly newsletter. Opt into a paid subscription and you'll get premium insider briefs and insights from us daily.
Subscribe to our Substack newsletter, GRP Insider!
Learn more
Right underneath the sort of screaming headline you'd expect of the tabloidesque "broadsheet" are four close-up photos of Vicente in various states of grimace as he undertook a gallant effort to attest to the character of the Chief Justice.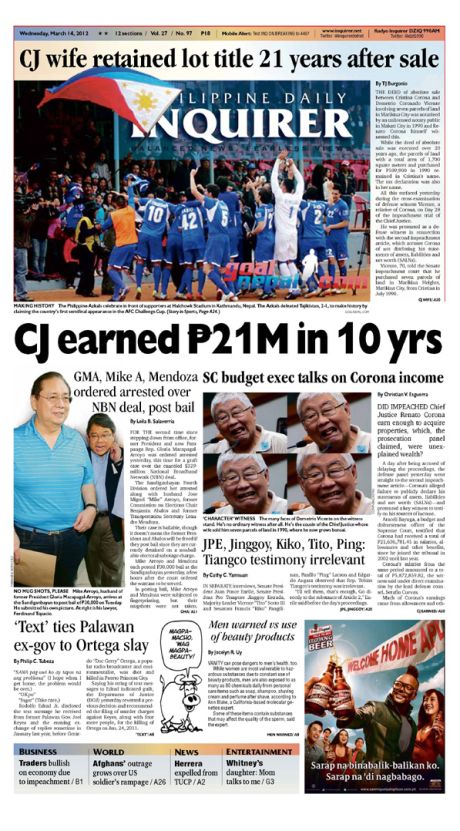 Vicente reportedly previously suffered from a stroke, which explains his slurred speech and, shall we say, less-than-optimum faculties for managing his facial expressions. This, in no way, undermined the soundness and monolithic consistency of his testimony which he delivered in an unblinking and candid manner — the hallmarks of a man obviously telling the truth. His outstanding performance on the stand considering his physical challenges earned him the affections of an admiring audience and a markedly extra-dignified regard from the officers of the court.
It is unfortunate then, that the Philippine Daily Inquirer editors did not take their cue from yesterday's audience response. Ironic, considering that their sponsors have for so long insisted that this the impeachment trial is ultimately one that will be judged by "the people". There is indeed no substitute for good breeding. We can thank this very public trial for helping reveal who has it and who doesn't.
[Image courtesy Inquirer.net.]
benign0 is the Webmaster of GetRealPhilippines.com.