Recently we exhibited the most current case study of the banal bias that top-dog Filipino media network ABS-CBN consistently applies in its "news reporting" when it featured as its top headline a blog post by "investigative journalist" Raissa Robles on the alleged vast United States property portfolio held by Chief Justice Renato Corona.
According to Robles, the information that went into this "report" was obtained "through 'crowdsourcing' in her blog". By this, she means that she was given "leads" by a mob of readers and commentators who follow and participate in the "discussion" on the comment threads of her blog — a self-styled "Plaza Miranda" of Filipino "netizens".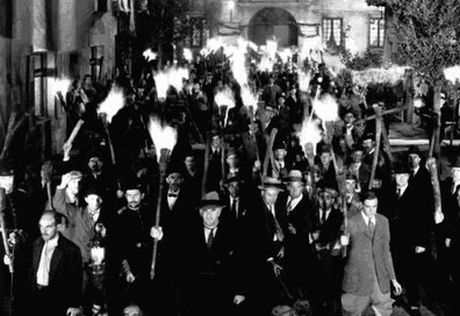 For those who are not familiar with the buzzword, "crowdsourcing" is turn-of-the-century consultingspeak for the process of obtaining the sort of information Pontius Pilate worked with when he had Jesus Christ crucified. In short, it is not a new concept. Like the good consultants that concocted the Y2K scam that built the tech carpetbagging empires of the late 1990's, Robles merely applied a glossy coat of tech-speak over a medieval approach to inquiry. She follows the tradition of other famous atrocities that justified themselves on groundwork laid by "crowdsourcing" — the Inquisition, the Salem Witch Trials, and the Holocaust to name a few.
Crowdsourcing is a distributed problem-solving and production process that involves outsourcing tasks to a network of people, also known as the crowd. This process can occur both online and offline. The difference between crowdsourcing and ordinary outsourcing is that a task or problem is outsourced to an undefined public rather than a specific other body.
Mmmbut of course it is, Moneypenny.
To be fair, perhaps we live in a society where the mantra "if we can't beat 'em, join 'em" has proven to be an excellent survival strategy. Indeed, Philippine politics and governance is built upon that elegantly simple philosophy. So let's apply a bit of Robles's investigative expertise to our own mini-Inquisition on the perceived "fairness" and "objectivity" of some Philippine media honchos, shall we?
Since Robles is in the habit of using only one "crowd" as her "source", perhaps we should also lazily confine our journey to a single crowd as well — the netizens of pioneering discussion forum PinoyExchange.com (PEx). In the thread titled "On Karen Davila, Raissa Robles, ABS-CBN, Inquirer and other members of Yellow media", the crowd has spoken. Tele-journalist Karen Davila is perceived to be "neutral" though one commentor called her "an airhead" who only speaks English with the right accent and tends to disproportionately agree a lot with "Senator" Antonio Trillanes. Former vice president Noli de Castro is also perceived to be neutral (perhaps a tad critical of the present administration of President Benigno "Noynoy" Aquino III), though some call him Noli "Kabayad".
One commentor came to Davila's defense (responding to the "airhead" dismissal) but also provided a counterbalance to his/her said defense…
She's probably a good person, and is one of the most well known news readers sa Pilipinas, pero di ko talaga gusto style nya ["though I really don't like her style"].

Parang medyo mababaw ang pinag huhugutan, at medyo forced ang style nya na gawing ["A bit shallow and rather forced in a way that makes…"] more important and historic and earth shattering yung news than it actually is.
But it seems that there is consensus that Conrado de Quiros, Ted Failon, Rene Saguisag, Willie Esposo, and of course Raissa Robles are biased in favour — perhaps even under the payroll — of the ruling Aquino-Cojuangco feudal clan. Some words used to describe them include "ultimate Aquino Apologist", "real yellow media zombies", "Noytard", etc. The "crowd" there was also quite convinced that "social news network" Rappler.com is as Yellow a media operation as yellow gets. Reacting to the way Davila retweeted Robles's tweet, "Pls. compare Villaruz' testimony with my piece interviewing Dumayas. He signed actual tax declaration 4 Corona condo http://bit.ly/wdV8MR", a PEx member there observed:
umepal na naman sa Twitter ang Yellow zombies na sina Karen Davila at Raissa Robles. here's a Tweet of Yellow Zombie Raissa that was retweeted by fellow Yellow Zombie Karen … [above quote of tweet followed]
Translation of Tagalog parts: "Yellow zombies Karen Davila and Raissa Robles are grandstanding on Twitter again…"
…which was followed by a query on whether both (or maybe just Robles) wrote for Rappler.com — it seems, a natural assumption considering that Rappler.com is seen to be "so yellow [too]". As another observed while, at the same time, indicting veteran tele-journalist Cheche Lazaro as another one of them "yellows": "Cheche Lazaro is, if i'm not mistaken, one of the founders of Rappler. we all know what Rappler's real color is." It seems that many in the "crowd" mistakenly consider Robles to be a Rappler.com conscript as one observed that "naglalabas ng lagim ngayon ang rappler.com since nawasak ang prosecution" ("The gloves are off at Rappler.com now that the Prosecution case had been demolished") in reaction to the posts "hindi pa rin nagbago itong si Raissa Robles" ("Raissa Robles still hasn't changed") and "ginagawa lang ni Raissa ang trabaho na ipinatrabaho sa kanya" ("Raissa is just doing the job she was commissioned to do").
Some of the dynamics between supposed "Twitter friends" Davila and Robles raised eyebrows…
Just in DZMM.

Reporting about the alleged properties.

Vic Lima: Who's Raissa Robles??? Blogger ba yan?

Karen Davilla: (quiet, no answer)

I find it odd that they "seem" to be "acting" that they don't know her all of a sudden. Aren't Karen and Raissa twitter friends? I find it hard to believe that for once Karen has no comment nor a backgrounder on said person.
It seems the "crowd" had noticed the way Davila suddenly distanced herself from Robles after her status as a blogger (given undue profile by Davila's employer) came to light.
And this…
Anthony Taberna just now stated on air that Raissa Robles is a contributing reporter for ABS-CB[N].

Um. Didn't Vic Lima and Karen Davila [get] a memo/notice about their co-worker?

Quite peculiar indeed.
The plot thickens as another member of the "crowd" noted just yesterday, the 27th March that "Karen just confirmed that she does not know Raissa 'personally' and that her work is 'balanced journalism'. Let's hold on to this."
Most intriguing of all was a post as of 3:22 am (Philippine time) today, the 28th of March…
gash! is it also true that Raissa Robles is a KLEPTOMANIAC?!

She was caught in a posh botique shop somewhere in greenhills (one of my amiga personally know the owner of the shop and we have shops in greenhills din no, so ang news madaling kumalat yan! hahaha!) and her husband only arranged to the owner of the shop not to file charges as an exchange she will undergo a psychiatric evaluation!
As of this time, that piece of information remains unverified. But then, hey, if über network ABS-CBN News is in the business of publishing "unverified" reports delivered to them from "investigative journalist" wannabes, then I suppose there's no harm in highlighting a few choice gems from the PEx "crowd", right? What was the term again? Oh yeah, crowdsourcing.
Well there it is. To give credit to myself, I used a "crowd" for my sources that is not directly affiliated with moi. Can't say the same for some "investigative journalists".
benign0 is the Webmaster of GetRealPhilippines.com.