Philippine television host and radio disc jockey, Grace Lee has been gracing the headline reports of major media networks lately. The Korean expatriate has been thrust further into the limelight after President Noynoy Aquino (PNoy) admitted that they are "seeing each other".
Despite the age and racial difference, Lee willingly spoke about the status of her relationship with PNoy and confirmed in an interview that she is dating the 52 year old Chief Executive. The 29-year-old even said that PNoy's courtship style is "normal." She said that as if everyone is expecting PNoy to be abnormal. His reputation for being a ladies' man probably precedes him. Here is what she had to say:
"I don't know about calling everyday, I don't wanna divulge too much details, pero yes very normal, like any normal guy," Grace said in an interview on "24 Oras," Feb. 2.

She has also received "a couple of chocolates and flowers" from the chief executive.

"He's just very sweet," Grace added.
Lately, it's hard to tell whether Lee and PNoy are already officially an item or are still dating. It's even harder to tell if she is just gushing with excitement about dating PNoy or if she is acting as the President's spokesperson because she has been making a lot of statements that seem like an attempt at giving PNoy an image makeover.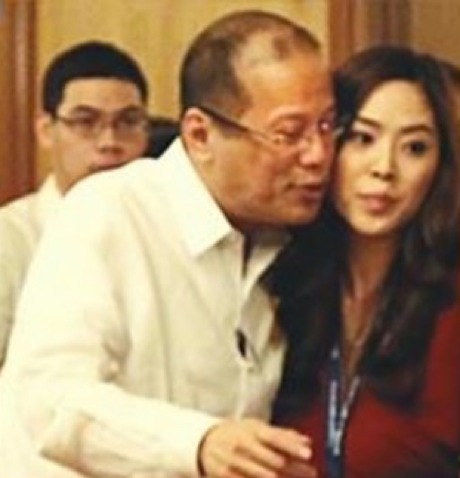 If Lee is not yet PNoy's girlfriend, why is she going out of her way to fanatically speak on his behalf? A recent news report claimed that Lee is even "willing to debate with critics of President Benigno Aquino III who say the Chief Executive is not smart." This is very surprising coming from someone who, just a few days ago said that "We're still at the stage of getting to know each other."
But apparently, a few dates with PNoy were enough to move Lee to say that "He's brilliant, he is the most intelligent man I've met in my life," Here's the most revealing — if not disturbing — of all:
"Whatever we talk about — whether politics, economics, books or music — he's so knowledgeable. He knows a lot. Whenever some critics say bad things about him, that he's not aggressive or that he's not matalino, I'd debate them and tell them he's very smart,"
Now, we've all had girlfriends who fall for guys who we do not agree with. We might even ask, "What do you see in him?" We ask this question because we are concerned for the welfare of our girlfriend because we might see something they don't. It could be the guy they are dating is either "facially challenged" or acts like what one would call a douchebag. And our girlfriend's typical answer would be something similar to what Lee says about PNoy – trying to justify why she likes him – to which we will likely simply nod in agreement despite failing to find any substance in our girlfriend's claim.
Regardless of whether what Lee is saying about PNoy is true or not, it seems like she is very much infatuated with the President. And her very vocal praises for PNoy comes at a time when the Filipino people are getting so frustrated with his leadership skills. Indeed, it could even be possible that Lee is just another front in Malacañang's on-going media blitz to win over the hearts and minds of Filipinos even as PNoy's efforts to deliver real achievements so evidently falter.
I'm sure a lot of Filipinos wish that they too could get a glimpse of PNoy's brilliance before his term ends in four years. The Philippines could use some of that knowledge PNoy shared with Lee at least even the part of it that has something to do with the economy.
In life, things are not always what they seem.