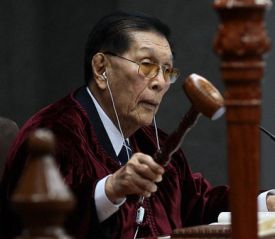 Juan Ponce Enrile, in his expert presiding over the impeachment trial of Supreme Court Chief Justice Renato Corona brings honour to the venerable institution of the Philippine Senate. The now seminal admonition of lead prosecutor Neil Tupas Jr during the trial session on Tuesday, the 24th of January 2012 is certain to go down in history. Responding to Tupas's "nervous" plea that Enrile "be 'more liberal … so the truth will come out'," Enrile let out these words that will likely be quoted for decades to come…
"What way do you want me and the court to be more flexible? Are you suggesting that we should allow misleading questions? Are you suggesting that we should allow hearsay evidence? Are you suggesting that we should allow argumentative questions?"
Enrile was, of course, smart enough to recognise the toxic politics surrounding the impeachment trial and demonstrated this effectively in a veiled challenge to anyone in the room who might be entertaining the thought that they could do a better job than he was…
Enrile later urged the impeachment court to express its observations whether he had indeed been overtly strict as presiding officer. He also said he was "open" to surrendering his post "to anyone who wants to replace me."

"I am not siding with anyone in this case. I will not be an instrument of anyone here and I will not issue a decision that would not be just," he said. "I will not allow this court to be used. As the presiding officer, I will make sure there will be no unjust or unreasonable system here."
Juan Ponce Enrile was born Juanito Furagganan in Gonzaga, Cagayan, to Petra Furagganan, the daughter of a poor fisherman. He was born out of wedlock—his father was the already married powerful regional politician and renowned lawyer Alfonso Ponce Enrile. He is the second great-nephew of Mariano Ponce. He was reunited with his father by the time he reached his high school years.
He graduated cum laude in 1949 with an Associate of Arts degree at the Ateneo de Manila University. Afterward, he attended the University of the Philippines College of Law and graduated cum laude with a Bachelor of Laws degree. While in law school, he joined the Sigma Rho fraternity. Upon graduation, he was elected to the prestigious Pi Gamma Mu and Phi Kappa Phi international honor societies. He achieved the 11th highest score in the 1953 bar examinations with a 91.72% rating and a perfect score in mercantile law. As a scholar at the Harvard Law School, he earned a Master of Laws degree with specialized training in international tax law.
He taught law at the Far Eastern University and practiced law in his father's law firm before taking responsibility for then Senator Ferdinand Marcos's personal legal affairs in 1964, especially during the latter's term as Senate President. After Marcos was elected president in 1965, Enrile became part of his inner circle.
After opposition leader Senator Benigno "Ninoy" Aquino, Jr. was assassinated on August 21, 1983, Enrile knew that he had to break away from the increasingly unpopular Marcos dictatorship. He began aligning himself with dissident elements in the army, particularly the Reform the Armed Forces Movement – which was then headed by his Aide-de-camp, Lt. Col. Gregorio Honasan. Officers from this group, with Enrile's support, launched a coup d'état against Marcos in February 1986.
Juan Ponce Enrile went on to emerge as one of the heroes of the People Power Movement, although the reasons for his involvement with the movement were highly disputed. In the post-martial law era, rumors spread that Ramos and Enrile were among those involved in Aquino's assassination. It is alleged that, in order not to be accused along with the Marcoses, the two plotted a coup against the president.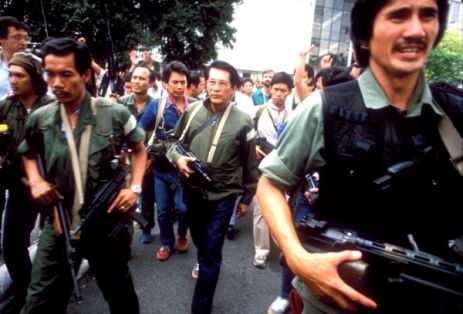 Enrile served as Secretary of National Defense under Corazon Aquino, who had replaced Marcos as president, but he increasingly differed with Aquino, specifically on the administration's handling of insurgent leftist opposition. As a result, he was forced to resign as Defense Secretary in November 1986.
This sent him down the path of a shining career as a member of the Philippine Senate where, today, he is becoming instrumental in laying the groundwork and setting a precedent for a future of excellence in the conduct of Senate trials.
[NB: Parts of this article were lifted from the Wikipedia.org article "Juan Ponce Enrile" in a manner compliant to the terms stipulated in the Creative Commons Attribution-ShareAlike 3.0 Unported License that governs usage of content made available in this site.]
benign0 is the Webmaster of GetRealPhilippines.com.