Politics in the Philippines is in a big mess thanks to President Noynoy Aquino (PNoy). Because of his singular desire to get rid of people he perceives to be getting in the way as he pursues his presidential "agendas", the Filipino people have become somewhat paralyzed and confused about their social and moral obligations. Through his mouthpieces in the media, PNoy has managed to wreak considerable havoc on the minds of average Filipinos who know very little about the law. As a result, more and more people have become disillusioned with the prospect of ingraining a robust sense of justice in the country.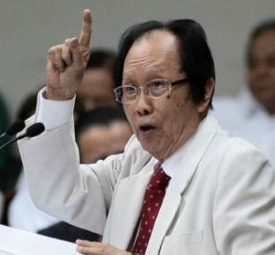 It's bad enough that Philippine society is already suffering from a basic lack of an ethic of trust. Now the situation has gotten worse because PNoy has further damaged the credibility of the people running the country's institutions. As a result of PNoy's relentless pursuit of his own idea of how to achieve "transparency" — which is to shame those who do not agree with his views – some Filipinos find it even harder to trust anybody else but PNoy and his allies and, instead, quickly assume the worst of anybody who disagrees with him. After all, who would dare criticize the son of a so-called "hero" and a "saint", right? Rather than ingrain a sense of trust in institutions and process in Philippine society, PNoy has only succeeded in further reinforcing the sort of traditional trust that is based on personalities and personal agendas.
The lack of the right kind of trust in Philippine society is evident in how the seemingly lack of admissible evidence or credible witnesses demonstrated in court so far by the prosecutors in the impeachment trial of Supreme Court Chief Justice Renato Corona is still ignored by his supporters. Even the obvious incompetence of the prosecution team is being presented by the prosecution's spokespersons as more of an outcome of a ploy by the defense team to delay the proceedings. They actually think that they can fool the viewers of this televised trial. The news of the prosecution's lack of ability to put things in motion has been documented and recorded by media and bloggers alike.
The prosecution team headed by Congressman Neil Tupas Jr comes across as a bunch of spoiled brats and crybabies when placed side-by-side with their counterparts in the defense camp. They asked for more "flexibility" or a more "liberal" approach to the proceedings despite already having received a lot of help from some of the Senator Judges and even the leader of the defense team, Serafin Cuevas. Since Day One they have shown that they were ill-prepared to present what was supposed to be their much-anticipated "explosive" evidence. For some reason they do not possess the same confidence they project in front of the media when they are in the courtroom. They always cry foul even when the defense team is clarifying or objecting to their ambiguous and even dubious claims.
Congressman Tupas for his part had the nerve to flat out deny that they were not prepared. Senator Miriam Santiago who joined the session after a spending time recuperating from an illness wasn't at all amused with the prosecution…
Santiago then went directly to ask the prosecution and the defense teams about the number of witnesses that they would present in the entire trial.

"Your honor, we will present today [Tuesday] at least seven witnesses," said the chief prosecutor, Iloilo Representative Niel Tupas Jr.

"For today? But for the totality of the trial period, how many do you intend to present?" asked Santiago.

And when Tupas could not immediately give an answer and started shaking his head, an irate senator said, "And don't shake your head at me. You should have known, you should even have a trial brief."

"So what? What's the answer, how many witnesses do you intend to present? Do you have any idea?" said the senator.

"I have to ask your honor"¦" Tupas said but was interrupted by Santiago, "That's not acceptable. You come to court prepared. You will not waste the time of this court."
Tupas was not spared from a refresher course from Senate President Juan Ponce Enrile either…
Enrile said a lawyer who does his homework would be confident "because my trial brief would just be in front of me. Any argument that my opponent would present, all the answers are there in my trial brief. Note that when I asked Justice Cuevas about the rules, he would answer immediately. That is the result of constant study."

In last Tuesday's hearing, Enrile took the prosecution to task for apparently letting the Christmas furlough go by without consolidating their evidence and witnesses after transmitting the Articles of Impeachment to the Senate, hence Santiago's outburst.
In court proceedings, you'd expect that it would be more of the defense team who would be asking for more leeway, because presumably the prosecutors would always come prepared for the case for the simple reason that they are the ones who filed the case. Surely they wouldn't have filed if they did not have any compelling evidence to begin with? But it does seem like they actually don't.
A lot of people are baffled by how the prosecutors are getting frustrated with having to follow the rules of the court. The prosecution folk are probably the sort of people who are so used to cutting others off in traffic or disobeying rules in general. It seems like following procedures is a totally alien concept to them. Indeed, like what I had said before, there is very little evidence that most Filipinos are capable of living by the "rule of law". This is because each individual harbors this baseless sense of being more important than everybody else and they tend to put their own interest first before other people. In a nutshell, feeling more important than everybody else is how the prosecutors come across. They probably think that since PNoy is behind them, they should be given more leeway — more special treatment.
Filipinos in general do not appreciate the value of following the law. In a country where everyone seems to think they are always right, it is very important that we treat our constitution as sacred. It should stand out amidst the sea of incoherence. We need to strengthen our institutions because these are our only check and balance against our world-renowned "padrino" system. A weak leader presiding over weak institutions is a bad combination because such a leader will mask his weakness or understanding of the law by acting like he is above the law.
It is wrong for the prosecution team to keep stressing that rules should be more relaxed just to suit them. In fact, in a serious proceeding such as the impeachment of the highest member of the Supreme Court, we need to adhere to the rules as much as possible. The professionalism and perfectionist personalities such as those exhibited by the defense team particularly by Serafin Cuevas, is the correct recipe to applying real justice with regard to the accused.
[Photo courtesy Interaksyon.com.]
In life, things are not always what they seem.