Due process is better than no process. After much talk on the matter of the Philippines' Supreme Court (SC) allegedly being beholden to and therefore supposedly necessarily opposed to whatever "reforms" President Benigno "Noynoy" Aquino III claims to be looking to institute, an impeachment complaint against SC Chief Justice Renato Corona has finally been filed at the House of Representatives today. Thus begins a journey within the framework of the law to remove what has long been made out to be a roadblock to Noynoy's "reform" agenda. Presumably with Corona out of the way, any further excuse Noynoy might have to what so far has been a no-results administration will be removed.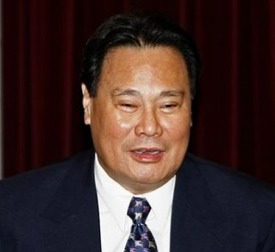 The Philippines has a long history of holding up excuses for its failure to prosper. The sorry state of the country — the least promising in a region of high achievers — has been blamed on imperialism, foreign meddling, dictatorships, bad weather, lack of "freedom", and corruption. The strongly plausible possibility that the Philippines failed to prosper simply because Filipinos consistently fail to achieve much of anything of consequence as a collective is not palatable to people looking for scapegoats. As such, catchy campaigns were built upon the notion of one crusade or the other against any one or a number of these national demons.
The most recent incarnation of this tired approach to building rapport with a famously dim electorate is Noynoy's "war" against "corruption"; billed Kung walang kurap, walang mahirap ("No corruption equals no poverty"). The key emotional hook used by Noynoy's propaganda machine in this agenda is a demonisation of former President Gloria Macapagal-Arroyo as the primary if not sole perpetrator of much of what is wrong with the Philippines today. As such, a Malacanang-led initiative to bring Arroyo to "justice" is the centrepiece of Noynoy's reform platform. Chief Justice Corona being a so-called "midnight appointee" of Arroyo makes him the natural choice for a scapegoat to hedge against a likely failure on the part of the Aquino administration to tame the deeply entrenched beast of Philippine-style corruption.
If there is one thing we can be certain of, the outcome of an impeachment process whether it is successful in removing Corona or not will divide the nation. Regardless of how much of a semblance of due process is observed, it will come down to whether one is for or against one or the other protagonist (or antagonist) in this latest one of what has been series of all-too-familiar Philippine political circuses going back decades (or at least since the time a "free" press has turned Philippine politics into a spectator sport). Indeed, back in 2005 during the impeachment bid against Arroyo for alleged "electoral fraud", this phenomenon had already been observed and documented by Connie "Sassy Lawyer" Veneracion in a Manila Standard Today article…
We have the entire Lower House debating an issue which is no longer about whether there is clear evidence that Gloria Arroyo did commit electoral fraud. The debate has become, quite simply, whether one is for or against Gloria Arroyo. And the media is propagating that twisted debate.
Fast forward to late 2011 and what this whole circus is really all about is readily evident — it is all about who in Congress is loyal to who. It's all politics and much of whatever otherwise important things that remain pending in Congress will just simply have to take a back seat for now. Congress is preoccupied by this drama, and the public is fixated on it like it was the next Manny Pacquiao match.
But will the Philippine Government ever be able to get back to the business of building a nation?
For that matter, has it ever focused on said business?
A divided nation is not exactly the sort of fertile ground conducive to instituting reforms against the real hard problems — like endemic corruption. Indeed, rooting out corruption is really not as straightforward as the typical political slogan makes it out to be, much less the whole notion that the cause of poverty is something that can be directly attributed to corruption per se.
Which brings us to the real question:
What happens next once Corona is removed from the SC?
And, just the same, what then if he isn't?
Will there be something about the Philippines that will be fundamentally different after this circus unfolds?
There better be.
Time, resources, and attention spans that Filipinos can ill-afford to squander on Fiesta Politics are at stake here. For this investment, we are expecting to see real results once the project is done and dusted — (1) an order of magnitude improvement in our chances of winning this so-called "war" against corruption and (2) the proceeds of that victory coming in the form of the promised elimination of poverty from the face of our sad archipelago.
Kung walang kurap, walang mahirap, right Chief?
As we, "the people" have now come to believe thanks to all the state-sponsored demagoguery we have so far been made to swallow, Chief Justice Corona is the roadblock to this promise of a corruption-free and poverty-free Philippines.
So for now;
Abangan ang susunod na kabanata.
benign0 is the Webmaster of GetRealPhilippines.com.