Consider the reality of democratic politics. Just about anyone can be President. Guys like former President Joseph "Erap" Estrada and current President Benigno "Noynoy" Aquino III are a testament to this truth. For that matter, any position in government that only requires that its occupant be elected by popular vote is subject to the tyranny of the majority ignorant. And the Philippines, to the tune of a hundred million and rapidly growing shows no signs that the quality of the Majority Vote will be changing anytime soon. What with basic public education and health services unable to keep up with galloping population growth, the essential ingredients to building intelligence into the "voice" of the people — world-class education, proper nutrition, and lead-free air — are woefully in short supply.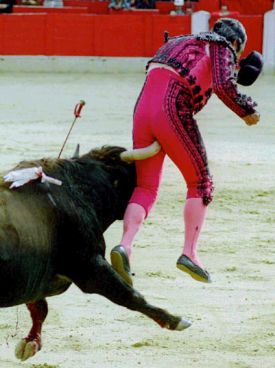 As such, it is not surprising that the prevailing wisdom — the national perspective — is easily monopolised and perverted by a powerful clique of political engineers — because popularity rules. The Court of Public Opinion still remains the de facto beacon for the public perception of what is supposedly "right". This is no less than a national tragedy considering how this perception is shaped largely by the country's mainstream media and entertainment industries — both of which can hardly be cited as beacons of intellectual pursuit. I cited in my book the observations made by eminent columnist Isagani Cruz in an Inquirer column back in 2006…
The Philippine entertainment industry is not only a vast wasteland, as television has been described in America, but a vicious instrument for the abatement of the nation's intelligence. The shows it offers for the supposed recreation of the people are generally vulgar and smutty, usually with some little moral lesson inserted to make them look respectable, but offensive nonetheless. On the whole, they are obnoxious and unwholesome and deserve to be trashed.

The indiscriminate audience eagerly laps them up because it has not been taught to be selective and more demanding of better quality shows for their pastime. In fact, the easily satisfied fans have been taught the exact opposite reaction — to accept whatever garbage the industry offers them and, to add insult to their injury, to pay for it too.

The leaders of the entertainment industry are supposed to be responsible people but they have evaded their duty to elevate the taste of their mostly unthinking supporters. They have instead cheapened them into a mass of automated individuals whose ultimate joy is to roll up in the aisles at the lewd jokes of potential senators.
Back then it was mainly the entertainment subset of Philippine Media that was engaged in wholesale degradation of what meagre intelligence Filipinos collectively possess. What is disturbing is how this effort to subtract from what is left of the smarts of Philippine society is now being mounted by some of the more trusted "intellectuals" of the country. Indeed, people we once thought to have a better-than-average head on their shoulders (by Philippine standards) have for one reason or another (perhaps depending on what personal stake they might happen to have on the status quo) come down upon Philippine society unleashing a plague of misguided ideas and notions.
The following is a sample of some of the most appalling ideas I have come across within the small cross-section of the media and popular culture I observe the most closely.
* * *
(1) Rule of Law is a detestable notion.
This one was made famous by ABS-CBN contributing reporter Raissa Robles who on one hand wrote how she "grimaces" whenever she comes across the term while, on the other, herself admits that she is "just" an English major and probably knows no better than the "far wiser" justices of the Philippine Supreme Court.
Robles's basis for slapping her verdict upon the venerable edifice of Rule of Law upon which the great civilisations of this planet were built was a "well researched" account of the performance of the Philippine Supreme Court during the regime of former President Ferdinand Marcos. She then uses this account to show that the SC of today cannot be relied upon to act in a manner that is aligned with "the interests of the Filipino people" and, as such, their being the institutional embodiment of the Rule of Law necessarily makes that notion de facto detestable.
Classy. Ms Raissa Robles should leave the thinking to those of us who know how to do it properly.
Perhaps the above cognitive gaffe of a reporter can be excused. But what is really scarily disappointing is how a stalwart thought leader of Philippine society can get it so wrong…
(2) Popular support for a person or idea necessarily makes said person or idea right.
This is according to the venerable Professor Randy David who recently got inducted into the Demagoguery Hall of Infamy that counts as its members many high-profile bozos who've made a career of highlighting how political power is lent "legitimacy" by the nebulous notion of "the people's will". Referring to the recent presidential tirade against the Supreme Court even as its Chief sat a couple of metres away, David noted, "It is an encouraging sign that the public seems to side with President Aquino, whose shaking voice betrayed not only anger but a certain discomfort at having to tell people to their faces that they ought to be ashamed of themselves."
The key assumption at work here is that Noynoy still embodies the "spirit" of the Laban ("Fight") movement that is a relic of 1980's politics. Unfortunately, the notion of some sort of "fight" going on in Philippine politics becomes absurd considering that much of the institutional governance measures that were lacking back then are pretty much now in place.
Despite the basic institutions and processes now being in place (flawed as they may be), the imperative to build upon these seems to have not captured the spirit of the society. We are pretty much still looking for a fight where there is none.
Indeed, as the eminent constitutionalist Fr Joaquin Bernas SJ reminds us…
Government officials have only so much authority as is given to them by law and the Constitution, and not what they might assume to be given to them by popular rallies.
"Professor" Randy David should update his thinking to 21st Century standards.
(3) Former President Gloria Macapagal-Arroyo is "evil" and had presided over one of the darkest chapters in Philippine history.
This is a popular sentiment that's been cultivated and propagated over many years. In her seminal article Ten reasons why Filipinos blame Gloria Arroyo for everything, my colleague Ilda articulated the specifics around how the underbelly of the Filipino psyche — that world-renowned Filipino Condition — served as fertile ground for this virulent memetic beast to successfully infest the Filipino mind.
But it was President Noynoy Aquino himself who crystallised the notion of the Arroyo administration as the Evil Regime. After failing to get the presumptuously-named "Truth Commission" up and running at the start of his term as President, an exasperated Noynoy sighed, "We established the 'Truth Commission' to close one of the darkest eras of the history of our society," effectively putting the Arroyo era in the same league as the 20-year dictatorship of former President Marcos and the Japanese occupation of World War II.
* * *
Perhaps it is high time Filipinos get a grip, step back and regard the din of clever mind tricks being played on them by the very politicians they detest and the media personalities that they idolise, and think. Is the Rule of Law really negotiable? Does the popularity of an idea necessarily confirm its validity? Was Arroyo's regime really that bad?
Consider these questions and start to understand what Noynoy and his extended network of family and cronies are really after. Perhaps when we look back and see how little Noynoy actually did first as Congressman, then as Senator, we begin to wonder: Why froth in the mouth about evil, injustice, and corruption now? And then everything falls into place. The family jewels are at stake. If I were Noynoy, I'd be shittin' bricks too.
benign0 is the Webmaster of GetRealPhilippines.com.