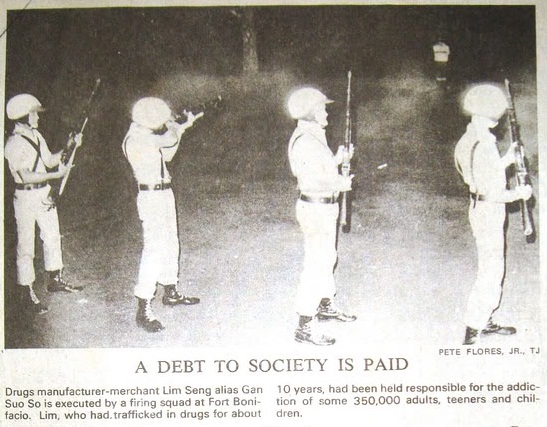 One of the rationales I've heard from people who cheer for the punishment of former president Gloria Macapagal Arroyo is that it will be like the case of Lim Seng, a drug trafficker who was executed during martial law times.
Lim Seng, or Gan Suo So was a Chinese drug trafficker who was apprehended and sentenced to death in December of 1972 for drug trafficking. He was brought to a space in Fort Bonifacio (not Luneta as some say) and shot by firing squad. This execution is said to have dissuaded other drug traffickers and stopped the drug trade, even for a while. It has become the stuff of legend, even giving rise to a silly story about Assumptionistas dipping their handkerchiefs in Seng's blood as a souvenir to show their classmates, and more.
Now some say that if GMA is imprisoned, it will be as effective as the execution of Lim Seng, scaring other people from committing corruption. However, I have my doubts. My reasons:
1. Scare shows like the Lim Seng execution are likely to have short-term effects. It may work, but likely for only a while. Some proponents of GMA's jailing even admit that. Thinking from a long-term perspective, Lim Seng's execution actually failed to persuade drug traffickers to quit their ways permanently. Drug traffickers still prowl the country's alleys today. Another piece of proof: the "drug mules," some of whom get caught and executed in China. Even if the executions happen, drug mules still continue to ply their trade. They go for quick money – because they likely need it. This is likely to continue for many reasons, but the executions in China certainly won't stop it.
(Come to think of it, Lim Seng was a Chinese national. Now China is executing Filipino drug mules. Tit for that, huh?)
"It will stop corruption for a while." That's it: for a while. short-term thinking. Intimidation tactics seem too overrated. Long-term solutions â, perhaps with a more positive reinforcement – are more needed.
2. Not all corrupt people are on the same side. Surely, many of them hate each other; thus, GMA has enemies who are also corrupt. They may even be backing up the effort to imprison her. They won't be intimidated, but may even rejoice at her imprisonment, if it happens. And they may continue playing like the mice while the cat is away. That's why I don't buy the idea that GMA will be a lesson against the corrupt; they're probably the ones who set her up. Lim Seng's execution was intimidating to the drug pushers then, because they know they're on the same boat. Much different from GMA's and other politicians' cases.
But what if GMA is jailed and it did scare the other people from being corrupt, but in the end no other person is jailed for corruption? It will not only be hypocrisy; it most likely won't last. The other corrupt officials may realize that no one's going after them, and thus, they will return to their ways. Again, a short-term solution. The problem of impunity cannot be solved by jailing one corrupt, it has to be done by jailing all of them. This is unlikely however given the nature of the current administration.
3. Lim Seng was likely caught in the act with evidence and convicted before he was executed. But government officials charged with corruption were not caught in the act. Corruption is hidden and it is hard to get the evidence. But judgment must be based on evidence – not on opinion and hearsay. Unfortunately some people love jumping the gun and immediately condemn people without evidence.
—————-
I think Lim Seng's execution worked for its time. But today, we have more complex times. The old ways may no longer work.
I also wonder about the circumstances of Lim Seng's death. Was he really a drug pusher, or just some random guy used as a scapegoat and example for the public? Was the figure of 350,000 lives that he reportedly affected real, or exaggerated for propaganda? But say it's not Lim Seng; imagine if this happened to a dear friend of yours who you knew to be honest in his dealings. Then he was suddenly picked up and executed, and the executioners say, "he is an example to scare the corrupt." But you know your friend is not corrupt! Who would that scare: the corrupt, or law-abiding citizens like you?
Yes, I would like to see the real criminals put away and punished accordingly. We do need a properly working justice system. Perhaps jailing GMA may be seen by some people as a sign that one thing at least works right in this country. But it can also be the opposite. Jailing one corrupt official is one thing; but once they stop there, you know you've been had.
Moreover, it would be dangerous to hold on to the "Lim Seng mentality." I feel that people today are overrating the impact of Lim Seng's execution, GMA's punishment and the effectiveness of intimidation. It may even lead to people wishing for the return of martial law days – which is very dangerous. The Lim Seng execution is a relic of a time most Filipinos would want to forget. Best not give too much credit to intimidation tactics like this, and instead focus on long-term solutions that center on positive reinforcement, such as solving the country's economic problems.
I believe, as my cohorts here do, that what Filipinos embrace as their culture is what actually pulls the country down. And those who seem to be anti-dictators, who may also believe themselves to be "heroes," are the real dictators.