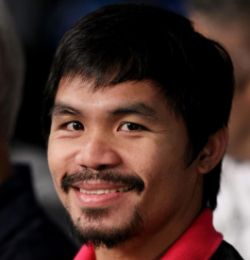 Reresentative Emmanuel "Manny" Pacquiao of the lone Congressional district in Sarangani province was not among the 188 House solons who signed up to the impeachment complaint against Supreme Court Justice Renato Corona. Asked about what he thought about the whole circus surrounding former President Gloria Macapagal-Arroyo in an early December interview, Pacquiao said "We have our laws and she has her lawyers, the law should be upheld." Pacquiao is considered to be a political ally of Arroyo and was a member of Arroyo's party when she was President.
The speed with which the impeachment complaint progressed through the Philippines' House of Representatives is unprecedented. It was reportedly an exercise "to appease an angry President Benigno Aquino III"…
[House Speaker Feliciano] Belmonte and another Liberal Party stalwart, Cavite Representative Joseph E.A. Abaya, revealed that a "furious" President Aquino wanted a "fast" impeachment against Corona after he and seven other Arroyo appointees had issued a temporary restraining order (TRO) to block the travel ban against Arroyo.
Yet earlier, Deputy Presidential Spokesperson Abigail Valte was quoted by ABS-CBN News as saying that the Palace was "not privy to the discussions of the Liberal Party in the House" referring to what at the time were preparations being mounted in the House of Representatives to lodge an impeachment complaint against Supreme Court Chief Justice Renato Corona.
Observers have noted that if Aquino succeeds at removing Corona from the Supreme Court and replacing him with a Chief Justice loyal to him, the Second Aquino Administration will be one of the most powerful in Philippine history — commanding obedience from both the Supreme Court and the House of Representatives — an amount of power not seen since the dictatorial regime of former President Ferdinand Marcos.
Navotas Rep. Toby Tiangco reportedly resigned from the Liberal Party recently after being told that the impeachment complaint against Corona was "non-debatable". He also encouraged Corona to "fight the complaint to maintain the independence and integrity of the Supreme Court."
Following an impassioned speech delivered by Corona before his supporters yesterday where he affirmed his commitment to do just that, Presidential Spokesman Edwin Lacierda challenged the emerging perception that the Aquino administration was on its way to turning into a dictatorship saying that the Aquinos were themselves victims of a dictatorship which many criticised as a non sequitur (does not follow) argument.
* * *
Look who's laughing all the way to the bank…
benign0 is the Webmaster of GetRealPhilippines.com.