Not too long ago, almost as soon as he assumed office in July of 2010 following his "landslide" election, Philippine President Benigno "Noynoy" Aquino III, made a bold assertion directed to the public: "Kayo ang boss ko" ("You all are my boss"). Drawing upon the tired notion that it is "the people" who provide him the democratic mandate to rule, Noynoy would like us to believe that it is the Filipino people who is his real "boss".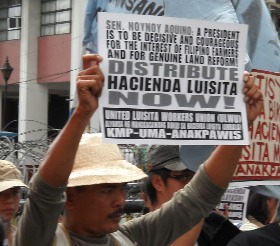 Fast forward to today and Malacañang's stormy relationship with the Philippine Supreme Court (SC) and its Chief Justice Renato Corona which unfolded like a bad Filipino telenovela from the time Noynoy refused to recognise Corona as Chief of the SC to the time his top Justice lieutenant Leila De Lima baldly defied a temporary restraining order (TRO) issued by the SC on a travel-ban slapped by Malacañang on Arroyo becomes a backdrop to an even more interesting plot.
SUPPORT INDEPENDENT SOCIAL COMMENTARY!
Subscribe to our Substack community GRP Insider to receive by email our in-depth free weekly newsletter. Opt into a paid subscription and you'll get premium insider briefs and insights from us daily.
Subscribe to our Substack newsletter, GRP Insider!
Learn more
We now find out from an "exclusive" report by Charlie V. Manalo and Virgilio J Bugaoisan in The Daily Tribune article Noynoy out to reclaim Luisita through CJ's impeach who Noynoy's real bosses are — the "elders" of the Cojuangco feudal clan — and the true implications to them of Noynoy's epic failure to manage Malacañang's relationship with the Philippine High Court…
The Tribune source said that the plot to oust Corona was hatched at the Bahay Matanda, the ancestral house of the Cojuangcos after elderly members of the Cojuangco clan reportedy [sic] berated President Aquino for attacking members of the High Court which they believe was the reason the SC justices revoked the stock distribution option and ordered the distribution of the [Hacienda Luisita] sugar estate to its tenants.

"From the time of (President Ramon) Magsasay, the hacienda land was never lost. When Martial Law came, we still did not lose our land. GMA (Gloria Arroyo) and Cory had a fight during GMA's presidency, we Cojuangcos still did not lose our land. Now that that you (Noynoy) are president, we lose the hacienda!", the Tribune source quoted an elderly Cojuangco as he berated Aquino in the vernacular.

"You are the reason for our loss of the hacienda, because even the Supreme Court you had to fight with!," the elderly Cojuangco was further quoted as telling the President.
[Refer to my article Aquino-Cojuangco feudal clan: Too wealthy to fail?! for a background on the financial position of the Cojuangcos' Hacienda Luisita estate.]
Not only has Noynoy seemingly compromised the interests of his vastly landed real bosses, he may also have rendered himself virtually unfit to be President having severely handicapped his ability to govern the Republic objectively. It is likely that Hacienda Luisita alone is a big enough elephantine agenda that it could take up what meagre cognitive bandwidth Noynoy's mind is capable of mustering for his presidential tasks.
In my previous article, Is saving Hacienda Luisita from Agrarian Reform Noynoy Aquino's real SINGULAR mission as President?, I added the tongue-in-cheek caption "Will Noynoy get a spanking from his uncle if he fails to save the family jewels?" underneath a photo of presidential uncle Jose "Peping" Sumulong Cojuangco, Jr.
Turns out that cheeky quip of mine wasn't too far off the mark after all.
Could it be that Noynoy lied to the Filipino people when he told them that they were his boss? That all depends on how credible this Tribune "source" is. But then some people have been accused and even impeached on the basis of even shakier grounds.
As always;
Abangan ang susunod na kabanata…
Don't look now, but it seems somebody may not be laughing all the way to the bank after all…
benign0 is the Webmaster of GetRealPhilippines.com.