Impotent is a word that can describe someone who lacks physical strength or vigor. It can also mean someone lacking in power or someone helpless. To paraphrase a famous quote, "Power without morality is barbarous; morality without power is impotent."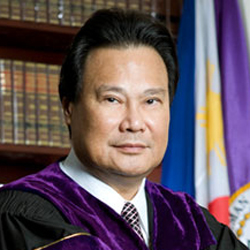 On not one but a few occasions, President Noynoy Aquino (PNoy) has demonstrated his impotence. In his most recent speech at the first ever National Criminal Justice summit held at the Manila hotel, PNoy acted like a toddler throwing a tantrum and hurling insults at the people he perceives to be getting in the way of what he wanted. One such "enemy" who happened to be within spitting distance at the said summit was Supreme Court Chief Justice Renato Corona (who acted with dignity through it all).
Of course the summit turned into another opportunity for PNoy to grandstand. Everyone knows that PNoy never misses a chance to attack either his critics or his political opponents but this time he has gone too far. His captive audience had no choice but to listen to him diss Justice Corona in front of everyone.
A lot of people were taken aback and felt disgusted at PNoy after he repeatedly emphasized that Justice Corona was a "midnight appointee" and questioned the legality of his appointment by former President and Congresswoman Gloria Arroyo (GMA) yet again. It had only been less than a week since he did the same thing in his speech in front Makati Business Club (MBC). His speechwriters definitely have the easiest job for they just keep rehashing content for PNoy's speeches again and again.
Was Chief Justice Corona's appointment really unconstitutional? If there is truth in what PNoy is saying, why can't he do something about it? Obviously Chief Justice Corona's appointment was within the bounds of the law because the high court itself already ruled that Corona's appointment was legal and constitutional.
PNoy must know that once appointed, Supreme Court Judges serve until they die, resign, retire, or are removed by impeachment, which requires a majority of the House of Representatives to bring charges, then the Senate to remove someone from office. And this is the part where PNoy shows how powerless or impotent he is to do anything about Corona's appointment.
But PNoy is not happy about it so he keeps trying to make everyone believe that it is unconstitutional. A lot of people can see that his actions look like a prelude to what could be another people power revolution geared towards the Supreme Court. Because he is powerless to remove Justice Corona himself, it seems like he is asking the people to remove Corona for him, unconstitutionally.
To build up the pressure, PNoy points out what he considers "unfavorable" rulings by the Supreme Court. Even a lack of jobs is being blamed on the SC. This is what he said:
"The very first promise that I had during the campaign was jobs and it's still the economy that is still the priority. However, these things do not exist in a vacuum they all interact — a Judicial system that doesn't… shall we say promote stability and certainty does not enhance the economic environment."
It suits PNoy well to say that the judicial system doesn't promote stability considering it is he who keeps creating tension between the independent branches of the government. In what way does he think the Supreme Court does not promote stability anyway? Was it in the way the Supreme Court ruled against his family's Hacienda Luisita holdings, especially when they ordered that they distribute the land to the Luisita farmers? It is no secret that PNoy's late mother Cory Aquino "hatched the Stock Distribution Option (SDO) scheme when she was still the President 25 years ago". Now the SC has also ordered an audit to be done on the hacienda, following reports of the estate being saddled by a P2 billion debt.
It is quite bothersome that PNoy is singling out justice Corona considering the SC voted unanimously against the Cojuangcos. To quote Valeriamo Avila from his Philstar article:
"Of course, Pres. PNoy conveniently forgot that in the Hacienda Luisita case, the Supreme Court voted 14-0 which is a unanimous vote against the Cojuangcos. Even the newly appointed Justices who were elevated to the bench under Pres. PNoy also voted en banc with the rest of the other Justices."
Could it be that someone from the family is pressuring PNoy to do all he can to damage the credibility of the SC? And could it be that the real reason PNoy keeps pressuring Corona to remove himself from the picture is so his family can get a reverse ruling on Hacienda Luisita once he appoints someone favorable to him? It is becoming apparent that his relentless pursuit is not for "justice" but of the judges. Either way, PNoy's impotence is showing
In life, things are not always what they seem.