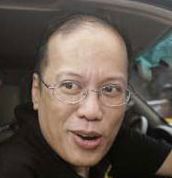 What's going on with the economy? Don't ask the President. He's too busy delivering bloodsport to a bloodthirsty mob. Reporter and blogger Ellen Tordesillas raises some important questions in her latest article with regard to the shameful behaviour of Philippine President Benigno "Noynoy" Aquino III during a speech he delivered before the First National Criminal Justice Summit held at Centennial Hall, Manila Hotel last Monday…
(1) Considering Noynoy supposedly has control over a "cooperative" House of Representatives and the "approval" and "trust" of a happy populace, then why does not he mount a proper impeachment bid against Chief Justice Renato Corona?
(2) Considering the process of mounting a proper impeachment may be an "exhausting process", is President Noynoy Aquino opting instead to make use of coercion and harrassment to "compel" the Chief Justice to resign?
(3) If President Aquino is adamant about calling out anomalous calls made by the Supreme Court in the past, why did he not raise his concerns about their rulings on Hacienda Luisita?
And the million-dollar question…
(4) Could it be that President Noynoy Aquino is using political circus and entertainment to mask an anemic performance as far as the more serious issues at hand — like the Philippine economy?
To be fair to Noynoy, the self described "fiscalizer", he knows what not to do. Learning his schoolboy lessons from the dismal performance of the economy last year, he's reportedly vowed not to underspend this year…
MANILA, Philippines – President Benigno Aquino III has vowed not to repeat this year's underspending that resulted in the country's dismal growth performance for the first nine months of 2011.

But Aquino was quick to add that "safeguards" should be maintained to ensure that there would be no anomalous contracts while the government accelarates [sic] spending.
Malacañang is desperate to pump-prime the Philippine economy. On a per capita basis, the country's economic performance cannot keep up with rapidly escalating costs of living and population growth galloping along at a rabbit colony's pace. In short, when all variables are taken into account, real economic growth — the sort that real people can touch and eat — continues to elude Filipinos.
So perhaps Noynoy can mouth off cheap talk like this…
The President said that he had not changed priorities, and that the economy would remain on top of his agenda.
…so long as he can, in the long run, answer this simple question:
Where are the results?
benign0 is the Webmaster of GetRealPhilippines.com.