There are times when I think that President Noynoy Aquino (PNoy) says something that seems like it makes sense. It makes sense up until he moves on to his next sentence in which he takes a jab at his predecessor, a habit that we have come to expect of him when he is being interviewed or giving a speech. In his recent interview on YouTube, which they claim is the a first of its kind among Asian leaders – obviously another public relations stunt to give an image of "catching up with the times" – he said the following: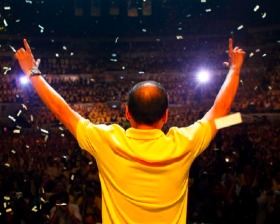 "If I were to wish on people who have goodwill towards their fellow men, what would I ask for? More than anything, we really have to shift, to those of us still left in the 'criticize anything and everything' phase to transforming ourselves into how can we assist our neighbor, our sister, our brother or whoever, somebody we don't even know," he said.

We contribute towards the improvement of the whole rather than how do we concentrate on envy or concentrate on our ability to criticize daily to ad infinitum that leads to nowhere."
If I pretend for a moment that it wasn't PNoy who said the above, I'd say that it was something that a statesman would say. Except it was PNoy who said it and we all know that he does not follow his own advice especially since he is part of those who still "criticize[s] anything and everything" about the past administration. And ironically, it is his administration that keeps using GMA as a scapegoat for his own government's many shortfalls over his last two years in office.
During the same interview on YouTube, PNoy took the opportunity again to blame the past administration for the people's "apathy" and, according to him, the people's new habit of "nitpicking." Never mind that his critics are already being very specific about what they want. To quote PNoy:
"Because previously the people seem to be… so apathetic already, not cathartic about issues that befell my predecessor's government. Now, it seems there's a fixation to go on the opposite extreme which is to find fault and nitpick as much as possible and becoming… for certain quarters it's quite their obsession," he said."
In his mind, PNoy thinks that being vocal about the dissatisfaction with the way he is running the country is "nitpicking". I beg to disagree. The correct word he should be using is "vigilant". A lot of Filipinos have become vigilant as a result of their disgust over yet another unqualified politician being voted into the Presidency just because of popularity and pedigree. PNoy seems to be unaware that a lot of Filipinos have sworn to watch out for any inconsistencies in his election promises. To say that the people are "nitpicking" is tantamount to telling people to piss off.
If I were to "nitpick" for example, I would have written about his every gaffe from Day One and that would have meant writing a lot of articles. In fact, I have chosen to choose my battles with PNoy and have given him some slack on a lot of matters. For example, I let slide his unwise decision to meet secretly with the rebel group Moro Islamic Liberation Front (MILF) in Japan a few months ago because the results of that hasn't yet fully materialized and therefore still cannot be evaluated. But obviously, his move not to tell the people about it before it happened is valid enough reason for Filipinos to be upset especially after the deaths of 19 soldiers in Basilan during an alleged ambush by the members of the MILF. Well, now we know why PNoy does not want to prioritize the Freedom of Information (FOI) bill. He obviously seems to like the freedom to do as he pleases without giving much thought to the consequences of his actions.
It is apparent during the interview that he is showing signs of weariness. He said that his fears about running for the top job have come true to "a worse degree". It seems like criticism bogs down PNoy to the point where he looks forward to the end of his term. This was evident when he said that when he sees people appreciate his efforts, "then the four years and about eight months remaining does not seem to be that long," he said. I'd be totally weary too if I read the news that the Philippines has been ranked Number 4 in the world's Ten Worst Countries for Business.
To quote the report:
The Philippines is the lowest ranked Asian country on the list of the most difficult places to do business in. It attracted just 2.5 percent of the $76.5 billion of foreign direct investment that flowed to the 10 members of the Association of South East Asian Nations (ASEAN) in 2010.
Speaking of YouTube, there is a video on the PinoyMonkeyPride channel that has gone viral recently. The video describes the history of the Aquino and Cojuangco clans – the side — warts and all — that the mainstream media manages to leave out of the public eye for reasons we already know. The video going viral is very surprising considering much of what the video is claiming has already been written about by some bloggers and columnists from various publications even before the 2010 Presidential election. But the video going viral has a lot to do with the producers' good story telling skills plus the fact that there is a growing number of Filipinos who are seeking answers because they have become restless and dissatisfied with PNoy's performance.
The video showcased some information that the Aquino minions do not want us to know based on anecdotal evidence. However, even self-proclaimed historian on Facebook, Xiao Chua cannot seem to refute the claims in the video. He even admitted that "There is nothing here (in the video) that is new for those who read Philippine History books".
Like most Aquino apologists, this so-called historian resorted to argumentum ad hominem by saying that it is pro-Marcos propaganda. Indeed, the guy fails to realize that he himself dishes out baseless accusations without hesitating. He is also fond of exaggerating as evident when he claimed that "Ninoy Aquino sacrificed his life willingly for the bayan" and that "Cory Aquino restored free press and the democratic institutions" while admitting that Cory and Ninoy were not saints. Unfortunately, Xiao Chua is the kind of "elite" Filipinos look up to because he tends to say the things that people want to hear. Maybe before the election, most Filipinos could not get enough of the "Cory and Ninoy magic" but, sorry to say, the people are now ready to hear more of the other side of the story. I'm glad PNoy's critics persists because just like what Mahatma Gandhi once said, "First they ignore you, then they ridicule you, then they fight you, and then you win".
In life, things are not always what they seem.