Ain't timing a bitch. Just shortly after Philippine President Benigno "Noynoy" Aquino III's "historic" appearance in the popular video sharing site YouTube, a video called AQUINO COJUANGCO: FACTS THEY DONT WANT YOU TO KNOW HD painting an alternative — and unflattering — narrative of the history of the Aquino and Cojuangco clans surfaces and goes viral. The video, published on the PinoyMonkeyPride channel — also on YouTube — had garnered more than 250,000 views as of this writing since being uploaded on the 21st October 2011.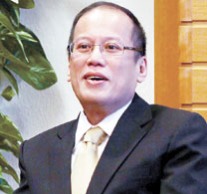 The Inquirer.net in a 5th November 2011 "report", trumpeted Aquino's being "southeast Asia's first interviewee" on YouTube's World View series. The headline of the "report" was pure irony: "President Aquino's X'mas wish: No more pointless criticism"…
"More than anything, we really have to shift, to those of us still left (from) the criticize-anything-and-everything phase to transforming ourselves into how we can assist our neighbor, our sister, our brother or whoever, somebody we don't even know," President Aquino said.

President Aquino said people should think of how to contribute "towards the improvement of the whole rather than concentrate on envy or concentrate on our ability to criticize daily to ad infinitum that leads to nowhere."
Considering that Aquino runs what is likely to be the most well-staffed public relations machine of any Malacañang resident in history and had been a pioneer in Web-based political campaigning demonstrated during the 2009-2010 presidential campaign, his administration had consistently been dogged by one PR snafu after another. Many of these had seen traction over the Web across social media channels — the very channels where his propaganda army did their work.
Since the "FACTS" video had been unofficially certified "gone-viral" after hitting the 100,000 views mark last weekend, mainstream media had been conspicuously silent on the matter. This is remarkable considering that much of traditional Philippine Media, which has been widely-criticised for its strong bias towards Aquinoist politics have been known to be quick off the mark whenever an opportunity to air "positive" news about Noynoy's government arises. The bloated "Communications" Team of Malacañang is also led by personalities considered to be "New Media"-savvy and more likely than not, already have the "FACTS" video on their radars by now.
benign0 is the Webmaster of GetRealPhilippines.com.