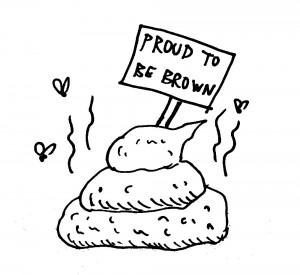 It already irks me to keep hearing Filipinos complain about other Filipinos using skin whitening products or liking foreign shows and products, saying it's a sign that Filipinos are ashamed of themselves. I disagree with that view. I think loving white skin has nothing to do with shame.
It's just common sense. When something is color white, it is usually perceived as clean. When you do laundry, how do you describe clean laudry? White. "Ang puti ng labada." And what's usually the color of dirt? Black or brown (kulay tae)! When you look at underarms, what would you prefer? A brighter or darker color? Besides, even white people are looking for skin whitening products.
I also earlier junked the idea of colonial mentality as a problem of our country. A researcher from UP already debunked the idea that Filipinos use whitening products as an effect of colonial mentality. The researcher makes the point that desiring whiter skin is prevalent even in Thailand, Malaysia, Indonesia and other Malay-descended countries. Quoting Wikipedia's summary then of that research in its Colonial Mentality entry:
Many Filipinos believe that the idealization of fair skin had its roots during the Spanish colonization. Actually, fairness of complexion was attested as a characteristic of the upper class women and appears as the standard of beauty among the Austronesian peoples of the pre-Hispanic Philippines. The desire for white skin is definitely not a result of colonial mentality during the Spanish rule. Besides, the Philippines was a colony of the Majapahit Empire (1293–1527) based in Indonesia prior to Spanish colonization (1565-1898)
If you want to discourage skin whitening products, the health reasons are much better to use. They're found in the same Wikipedia article. Also, I agree the money is better used elsewhere.
Another issue bothering me is the slamming of half-Filipinos, half-foreigners like the Azkals' Younghusband brothers. It seems they want to the Younghusbands to stop calling themselves Filipino just because the lads keep their British accents.
Wait a minute! Aren't you supposed to be glad these lads chose to be Filipino? Where's the appreciation for their loyalty to our country? Isn't it hypocrisy to be hitting the Azkals like this? Maybe it's because the Azkals lost, the critics slam the Azkals. So now that the Azkals won, they'll bootlick the Azkals? Hypocrisy indeed.
And brown? Indians are also brown. In fact, they're browner than us! Brown is definitely not exclusive to Filipinos!
I think the real reason people want to raise brown and put down other colors is that they're just ego-tripping. They probably think it looks cool. Unfortunately, it isn't cool at all. It's just as stupid as saying "I'm proud to be Filipino" after the Manila Bus Hostage Crisis.
Why should anyone claim that Filipinos should only be brown? "Brown is great," "Brown is superior" and similar slogans comprise another collection of great folly. Welcome to the brown version of Nazi Germany.
So what if some brown people want to use skin whiteners? So what if some white people want to get a tan? Or what if the Azkals want to call themselves Filipino? Let them! And mind you, when white people get a tan, they're color tan, not brown, so they're not trying to be Filipinos (or anyone brown).
Brown pride is yet another manifestation of Da Pinoy's hubris. It's time to drop it.
I believe, as my cohorts here do, that what Filipinos embrace as their culture is what actually pulls the country down. And those who seem to be anti-dictators, who may also believe themselves to be "heroes," are the real dictators.