It irritates me to a great extent whenever I encounter or hear about other people in the United States stealing resources that should only belong to American Citizens.
Take the case of Jose Vargas, a journalist who wrote about the Virginia Tech shooting and was awarded a Pulitzer Prize for it. He came to the Bay Area at age 12 and found out when he was 16 that he is an undocumented immigrant. He was able to go to San Francisco State University on a student loan and landed excellent jobs after college.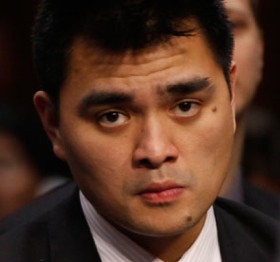 I am assuming that he is ignorant at best about the fact that journalism regards truth with absolute importance because otherwise, he wouldn't have done what he did. He would have submitted himself to the authorities upon realizing that he should not be in the United States at all. He would have gone back to his native home which is the Philippines and waited until it was the right time to apply for a green card. He would've done the right thing which is to do what millions of other people do – fall in line and wait for hours at the embassy so they can be admitted to the United States LEGALLY.
Mr. Vargas, if you think that championing the cause of eleven million illegal immigrants like yourself is a noble thing to do, keep in mind that there are Americans like us who you've robbed of the opportunity to get a student loan or a job in journalism because you are staying in our country illegally. Just because you've been here longer than I have or that you are a smart ass (by constantly finding ways to escape the law and falsifying documents) doesn't mean you are an American.
I can't reiterate enough how I find this man exceedingly arrogant by making an appeal that we not make him feel guiltier than he is. How in the world does he expect us to react? Does he want us to apply a double standard just because he is working a white collar job? Well Mr. Vargas, in America, we don't do double standards. I will not give you special preference because to me, you're no different to the Mexican guy who does landscaping or yard work. The law here applies to everyone regardless of whether or not they are rich or poor. In America, your status in life is inconsequential when you are in trial. You can't escape the law by saying that you have contributed to our country because I'm pretty darn sure that other Americans are willing to do what you have done if only they weren't robbed of the opportunity to do so. If you think we can't find a journalist as good as you are among our population of 300 million, you better think again. I can guarantee you too that someone without the same contempt for American laws will be willing to take your job.
Americans supporting Jose Vargas are downright stupid. They probably have no idea that illegal immigrants are contributing to the rising unemployment rate in the United States. Moreover, they probably haven't heard of the people who have the same situation as Jose Vargas but voluntarily went back to their native countries so that they can enter the Unites States legally. These Americans I am talking about are traitors. They would rather support illegal immigrants than their own countrymen. They either have no loyalty to their country or that they are too stupid to figure out what is going on and how the illegal immigrants are bringing about catastrophic effects to the already downtrodden U.S. economy.
Lying to the federal and state government of the United States is a big deal. If we let Mr. Jose Vargas get away with this, just think about the effects of this in the long run. Millions of people will start disregarding the laws that were made for the betterment of the country. Illegal Immigrants will feel invisible and would start thinking they have the same rights and privileges as American Citizen. The United States would be so chaotic and just imagining that makes me sick. Seriously, why do some people have so much sympathy for illegal immigrants and not jobless Americans struggling in their day to day life? The thought just seems too disgusting for me.
Correct me if I'm wrong but Mr. Vargas mentioned in his New York Times article that he is sick of hiding and pretending and that he will own up to his mistakes. If that's the case, then we should deport him immediately and teach illegal immigrants some serious lessons. It wouldn't be too bad for him since he has a degree from the United States and that would help him land a job there in the same field. Or maybe, he can write a book about his lying, cheating, and how American he is. I'm pretty sure a lot of those liberals who have bleeding hearts for him would purchase it.
[Photo coutesy: The Observer]